The Last Word: Arsenal settle for role of bridesmaid
Wenger faces new rebuilding project as his best players are lured away by offers they can't refuse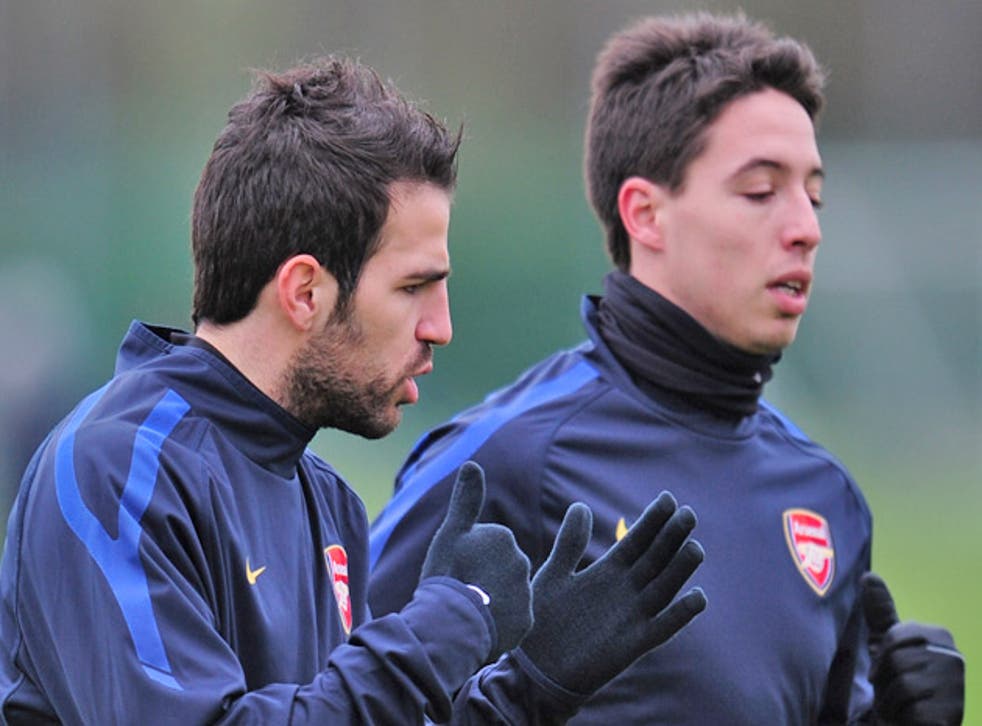 Just imagine yourself in the same situation. You work in an industry in which employees are only ever awarded short-term contracts and yours expires in a year's time. You are only 24, but this is a business in which most workers are finished by the time they reach their mid-thirties. You are happy where you have worked for the last three years, but another employer is offering you a long-term deal, doing the same job, on vastly improved wages.
Much as Arsenal fans will be disappointed to see Samir Nasri leave for Manchester City, whose reported offer of £165,000 a week is said almost to double what was on the table at the Emirates, only the most hard-hearted of Gooners would fail to understand why footballers are keen to maximise their earnings while they can.
The rest of us, nevertheless, with the exception, perhaps, of those from the blue side of Manchester, can only sympathise as the club which has entertained the neutrals more than any other for the last decade and a half is forced to rebuild again. The task this time will be tougher than ever for Arsène Wenger, who would have been hoping to spend the summer strengthening his squad rather than repairing the cracks left by the departures of Nasri and Cesc Fabregas, who is expected to complete his long-awaited return to Barcelona shortly.
Nasri and Fabregas are examples of Wenger at his best. Fabregas was only 16 when Arsenal prised him away from Barcelona for nothing – they will hardly be able to complain when they bank some £35m on their captain's return to his former club – while Nasri had just turned 21 when he was recruited from Marseille.
Both, in their different styles, have come to epitomise the Arsenal way with the creativity and imagination of their play. Their departures weaken the club's ability to challenge the best, which can be only to the detriment of the game in this country.
Although there was an inevita-bility about Fabregas's return to Barcelona, could Arsenal have done anything to prevent Nasri following in the footsteps of Kolo Touré, Emmanuel Adebayor and Gaël Clichy, who have all trod exactly the same path to Manchester City in the last two years? Suitably upping their pay scales might have resolved the issue in one fell swoop, but the feeling here is that Arsenal are to be commended for drawing a line. The sort of wages that Manchester City are paying to some players are surely sustainable only in the financial world inhabited by their owners.
City could argue that they are simply getting their own back after years of being financially outmuscled by the likes of Arsenal and Manchester United, although the latter clubs have generally spent income which they have generated. City can also point to the fact that they are working hard to build a club that will be able to operate within Uefa's financial fair play regulations, which will require all to live within their means.
In one sense, moreover, Arsenal are experiencing only the sort of pain they are used to inflicting on others. Imagine how Lille, French champions for the first time in 57 years, are feeling after the exit in recent weeks of three of their best players, Yohan Cabaye, Adil Rami and Gervinho, who have gone to Newcastle United, Valencia and, yes, Arsenal respectively. Lille's outstanding midfielder, Eden Hazard, who was voted the French league's player of the year, could yet follow Gervinho. Closer to home, think how Southampton fans will have greeted last week's news that Alex Oxlade-Chamberlain has taken the Walcott route from the south coast to north London.
When players join Arsenal, however, there is usually a sense that they are doing so largely in order to better themselves as footballers and realise their potential, even if they are also signing lucrative contracts. Ever since Patrick Vieira, largely unknown on this side of the Channel, became one of Wenger's first signings, young talent has blossomed at the club under the manager's careful nurturing.
While there will be particular disappointment at losing Fabregas and frustration at the lack of "big name" signings, Arsenal fans should take heart from their manager's track record. The squad is light on experience, but Wenger looks sure to bring in more new faces before the transfer window closes. Consider, too, the home-grown talent at his disposal in players such as Jack Wilshere, Aaron Ramsey, Walcott, Kieran Gibbs and Henri Lansbury.
Supporters everywhere would testify that there are few greater pleasures than watching your players and your team emerge over the years. Will Manchester City supporters ever derive the same enjoyment from watching Carlos Tevez, Edin Dzeko and Sergio Aguero as Arsenal's have had from seeing a succession of players realise their talent, from the likes of Vieira and Thierry Henry through to Fabregas and Nasri?
A right carry on by Tiger's ex-caddie
When Tiger Woods sacked his caddie, Steve Williams, it might have seemed like the ultimate act of foolishness. After what he has been through, you would have thought Woods needed every friend he could get, even if he had to pay them. Besides, Williams is clearly excellent at his job.
However, subsequent events cast a different light. Woods, who said simply that it was "time for a change", has refused to voice any public criticism of the man who helped him win 13 majors, while Williams has barely been able to contain his anger.
"After 13 years of loyal service, needless to say this came as a shock," the caddie said in his first reaction. Williams, who was one of New Zealand's highest earning sportsmen at around £1m a year, said he had "lost a tremendous amount of respect" for Woods. As for the revelations about Woods' private life, he added: "There's no way I should have been put through that."
If you had the impression that Williams might have a rather inflated view of his own importance, that was nothing compared with the bag-carrier's reaction after Adam Scott, with whom he has subsequently joined forces, won the Bridgestone Invitational at Akron, Ohio last week.
"That's the best win I've ever had," Williams said in a television interview. "When I go to the racetrack the only place I'm interested in finishing is first. When I go to the golf course it's the only place I'm trying to finish. Obviously it's a very tough game. You can't always win. But I'm a very confident front runner. There were a lot of expectations today. I'd by lying if I said I wasn'ta little nervous."
The tennis player Andy Roddick was among the TV viewers left bemused. "Am I missing something?" Roddick said on Twitter. "Was Steve the one actually playing?"
Join our new commenting forum
Join thought-provoking conversations, follow other Independent readers and see their replies