The Last Word: Orwellian curb on fans' entry is ID system by the back door
Kettled, filmed, banned – supporters are under attack. But Brighton and Palace have gone further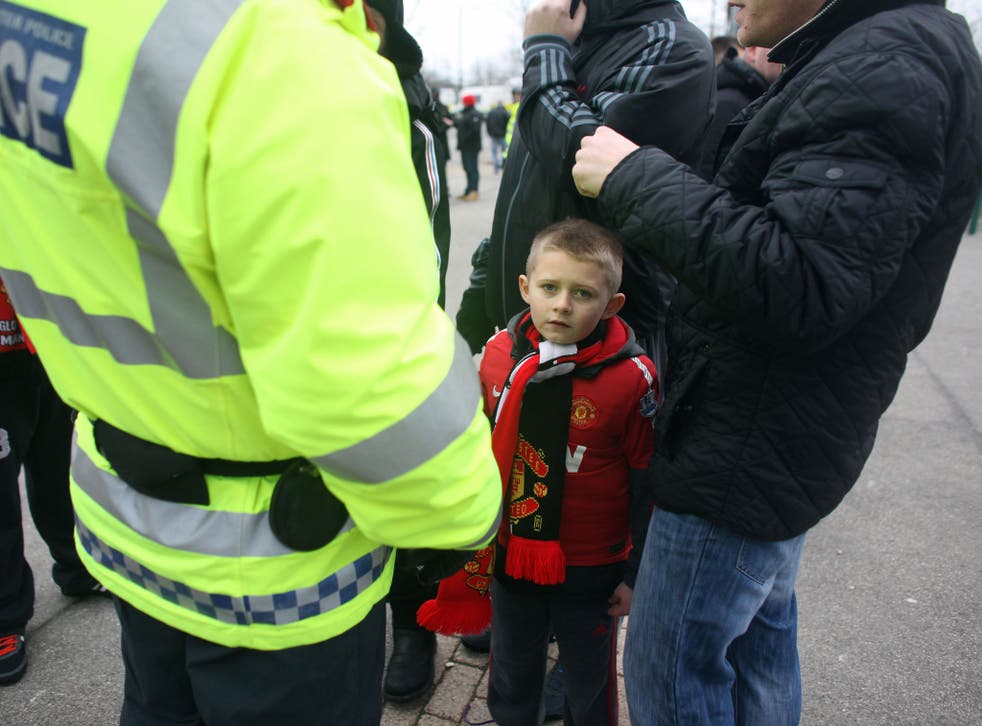 You are a law-abiding football supporter. You pay your taxes and adhere to your responsibilities as a good citizen. Your basic rights are challenged without recourse and you are treated with contempt, as a threat to public order.
The next time you attend a high-profile match as an away supporter, be sure to carry proof of your identity. You will be filmed, ostentatiously, by police and subjected to the attention of sniffer dogs. You will be contained and controlled.
Do you, like most right-thinking people, believe these Orwellian aberrations cannot happen in 2013? Do you assume the dogma of demonisation died with Thatcherism and the mayhem of the eighties? Then think again. Consider the indignities the authorities are seeking to impose on fans of Crystal Palace and Brighton when they meet in the Championship play-offs.
The clubs should be ashamed of themselves for their complicity in agreeing to a uniquely draconian set of eight conditions, encouraged by the Metropolitan and Sussex Police. They have succumbed to the restriction of natural freedoms by stealth and have sanctioned an ID system by default.
Anyone wanting to watch the next instalment of what is, despite its suburban connotations, a surprisingly intense derby must be a season-ticket holder. They will be allowed a solitary ticket, which must only be used by the purchaser, whose details and seat number will be passed to the police.
All away fans must carry a separate document which confirms their identity. This, together with the ticket, must be handed over for examination by police or stewards at any time at the ground, and when travelling to and from the game.
Failure to comply will result in refusal of entry to the match and any other matches this season. One-year bans will be imposed on anyone who has sold, or given away, a ticket registered in their name, and on anyone found with someone else's ticket.
Pause for a second and let that sink in. Imagine the outcry if similar restrictions were in place at London's O2 Arena next Saturday, to choose another act of mass entertainment at random. The Garage Nation music event will go on until 4am without the authorities being in Defcon 1 mode.
Yet football grounds are, to use police jargon, "sterile areas". Our national game is a fashionable and profitable target. Cowed by perceptions of vulnerability to a new generation of hooligans, it is further compromised by lack of care and consideration for its natural audience.
Bayern Munich's midweek success invited recycling of a quote from their president, Uli Hoeness: "We do not think fans are like cows who you milk. Football has got to be for everybody. That's the biggest difference between us and England."
Yet Uefa are equally indifferent to the exploitation of Chelsea's fans by the licensed touts of the so-called secondary ticketing industry. Paltry allocations for the Europa League final in Amsterdam have pushed ticket prices as high as £2,400.
Meanwhile, the casual criminalisation of fans gathers momentum. "Kettling" techniques are being used in crowd control. When Brighton fans last visited Selhurst Park, on 1 December, they were kept behind for nearly an hour after the game. Supporters were forbidden from making their own way to local stations and some were prevented from returning to their cars. Crystal Palace fans complained of similar restrictions at Brighton.
"Bubble" matches, in which freedom of movement is suspended and independent travel not allowed, are becoming more prevalent. Over 50 have taken place in the past decade, involving at least 14 clubs. Away fans travel on licensed coaches under police escort. Tickets are often picked up en route, in service stations or industrial estates. The guardians of the game have remained silent. They are, literally, taking a right liberty.
A stain on Spain if evidence is ignored
Andy Murray came of age when he used the authority of his achievements to dismiss the Fuentes case as "the biggest cover-up in the history of sport". Here was a champion addressing his constituency, an athlete articulating outrage at the protection of craven cheats.
It was a challenge to the consciences of those who control his and other sports, and to his peers. Rafa Nadal followed suit, characterising the order to destroy 212 blood bags seized during the Operation Puerto doping inquiry and linked to Eufemiano Fuentes as "a mistake".
Fuentes was convicted of endangering the health of athletes by helping them to transfuse their own blood and supplying them with performance-enhancing drugs. The judge allowed him only to name the 50 or so cyclists with whom he had worked.
He has freely admitted associating with footballers, tennis players, athletes and boxers. Their identities remain secret, because of privacy issues. If the appeal over the destruction of evidence fails, Olympic cycling champion Nicole Cooke will lead calls for the IOC to reject Madrid's bid to stage the 2020 Games. Spain is in danger of becoming a sporting leper colony. Not before time.
Ashes clashes
The Brand Police have invaded Lord's, home of cricket. MCC and the ECB have issued dire warnings that they intend to protect sponsors by prosecuting anyone who uses the term "The Ashes" commercially. The British Barbeque Society and the National Association of Funeral Directors were unavailable for comment.
Join our new commenting forum
Join thought-provoking conversations, follow other Independent readers and see their replies