Football's soul remains divided but as engrossing as ever – so what does 2019 hold for the modern game?
The Independent's Miguel Delaney casts his sights ahead to the New Year and what promises to be another 12 months of thrilling football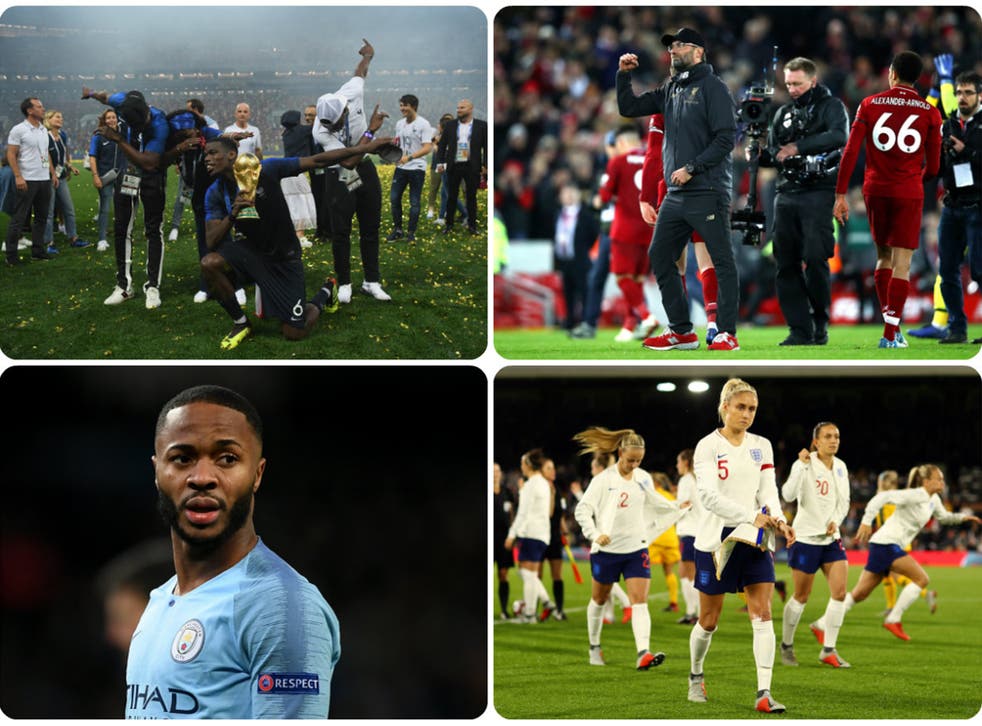 The issue with discussing football around a calendar year, as Nick Hornby and so many tangentially meaningful stats have reminded us, is that the game runs according to seasons and competitions rather than "normality". The traditional passing of 12 months barely blips as we merely move from one match-day to the next. So it is that, at the start of the year but halfway through the season, we already have a fixture that could actually condition and reflect an awful lot of what is important to the game over the next coming 12 months.
The visit of Liverpool to Manchester City is not just heightened by how genuinely decisive it could be in the title race, but by so many of football's higher-level themes, that are worthy of consideration at any time of reflection like this.
If Liverpool win, the gap will be 10 points and they will look virtually certain of that long-awaited title victory in 2019. It would be a proper event. Even allowing for the way the Anfield crowd are among the most emotionally charged in sport, there is the fact Liverpool are actually the European club with the most domestic titles (18) to have gone on the longest run without winning one (29 years).
This is what has created such an excitement around the club again. They're waiting for that release. Victory would be a landmark, but also a signpost, and maybe a blueprint.
If Jurgen Klopp does pull this off, it would also serve as an increasingly rare victory against the financially strongest. Liverpool are by no means paupers, but there is a demonstrably huge gap between themselves and City in terms of financial power.
Liverpool vs Arsenal player ratings

Show all 22
Thanks to basic results, the revelations of Der Spiegel and even decisions like moving the Libertadores final to Madrid, the ominous economic stratification of football became the sport's most significant issue in 2018. It remains its most pressing challenge and influence going into 2019 and the future.
The big question is whether anything can be done about this? Has the horse already bolted down a path to a European super league? Will 2019 make this clearer? Can anything be done to stop this, bar occasional checks? One of those indirect checks is other clubs actually denying the wealthiest the big trophies, as Liverpool hope to do with the Premier League; as Borussia Dortmund hope to do with the Bundesliga; as Atletico Madrid hope to do with the Spanish league. They are preciously rare upsets.
Even they can have undesired consequences, however. Paris Saint-Germain after all responded to Monaco winning the title by buying their best player in Kylian Mbappe, as well as Barcelona's Neymar, in the most sensational window of spending the game has seen. The much speculated futures of that star duo are just as relevant here – especially as the world continues to wonder who will truly succeed the genius of Lionel Messi – and also imbue another big coming match with much more meaning than just who wins or loses: the Champions League tie between Manchester United and PSG.
Along those lines, what if Liverpool beat City who in turn response this January by buying more elite players and super-charging their squad again? That is far from inconceivable. That would also be a great example of the game's great challenge.
On the other side, a City win would be fascinating in terms of truly firing this title race. Liverpool would not just have to deal with the pressure they put on themselves, but the pressure put on by one of the biggest forces in the game, who have all of their economic excesses fashioned and focused by Pep Guardiola.
There is admittedly some pressure on the Catalan there, too. To lose a title when he again has by far the best-resourced squad would bring all manner of debate about Guardiola's legacy as a manager, but it should not be forgotten that it is his tactical innovation that continues to be the greatest influence on how the game is actually played.
Pressing now shapes play like nothing else, and it is almost as exciting to see how individual innovations – like what Maurizio Sarri is attempting to do at Chelsea – will further change it. Pressing has similarly helped ensure the latter stages of the Champions League have developed into the highest level of football ever seen, and perhaps the most exciting – with so many goals.
This is one thing very difficult to dispute going into 2019. Football's "show", at the very top level, has rarely been better. We are at peaks of entertainment.
It is just a pity that there isn't the same excitement or variety as regards potential winners, as it tends to be the same super-wealthy group of eight or nine.
That is also why what happens with Mauricio Pochettino in 2019 is so important, and again has a relevance beyond those directly involved. His presence at Tottenham Hotspur aids the healthy competitive balance of the sport. A move to Real Madrid or Manchester United would further skew it – as would another potential storyline looming over 2019 and so much else.
Many at the top level of the game are awaiting the proper entry of Saudi Arabian money in what would represent true economic escalation. Those same people are also almost convinced a £4bn purchase of United is possible this year.
That would represent another landmark and further deepen the politicisation of football, given the questions it would bring.
And yet it is just as football is becoming so depressingly elitist that the people's game is at once becoming even more universalist; its world getting wider.
One of the main events of 2019 is going to be the women's World Cup in France, just as it feels like the female game has made huge breakthroughs in terms of coverage and response. The hope is that it offers proper nation-stopping moments, in the same way that Russia 2018 did. USA are the favourites, but England can have as much optimism as Gareth Southgate's side do.
This could be another main event of 2019, and one that was ironically initially seen as of such minor importance. Winning the Nations League would bring the tangible symbol of progress and evolution that England have long waited for, and show they are truly a power again.
It is just one of the game's other serious challenges that so many performances from both international sides – most notably Raheem Sterling and Karen Carney – have of late been met with what feels an increase in racism, sexism and misogyny.
You only have to look at social media after any notable development before you even get to lip-reading supporters in the stands.
The sport needs to start properly confronting this, but it is, of course, far from football's problem alone since it is so connected to wider political developments and the growth of the far right at the same time of the demise of welfare states.
Football also has its own unique challenges to face, from past abuse cases to growing concern over the long-term effects of heading the ball. It does sometimes feel as if the game is waiting for the other foot to drop, and that landmark legal case to drop, in a way that hasn't really happened since Bosman. Will that begin in 2019?
It does feel odd to fixate on so many negatives when there is so much positive to the game, when it is currently so thrilling, but this is what it's become; this is why it's all the more relevant as the year changes and we enter the future. It is the ultimate modern sport, with all the compelling elements and compromises that entails.
Join our new commenting forum
Join thought-provoking conversations, follow other Independent readers and see their replies