Liverpool must search for settled side amid mix of unhappy and unfit players after Champions League anti-climax
The Reds now face Europa League football on a Thursday night having failed to beat Basel at Anfield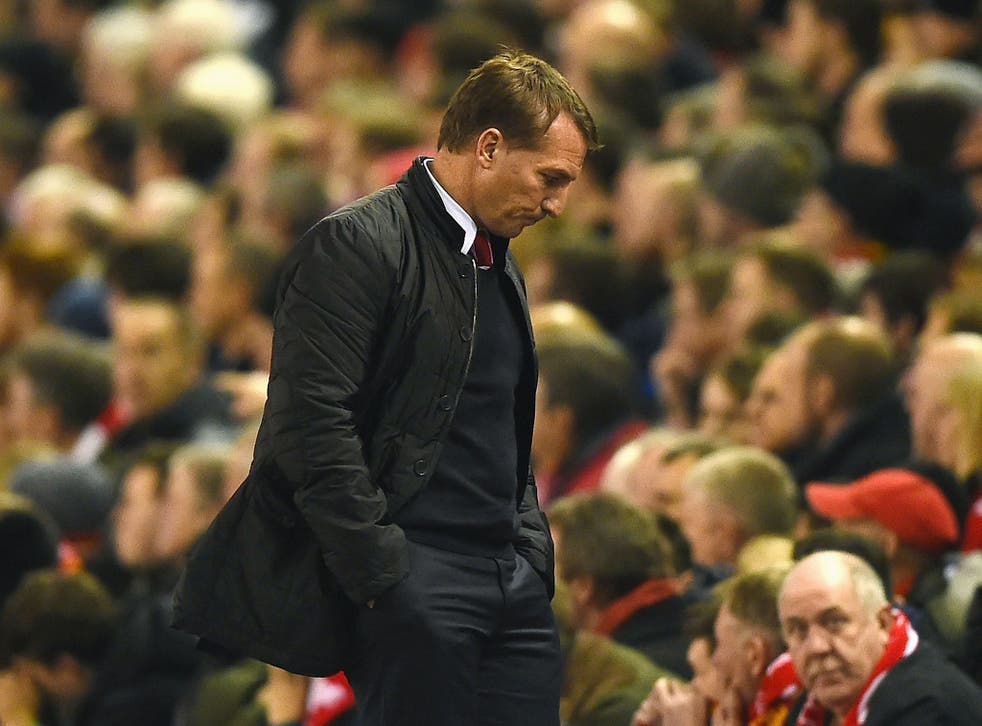 Steven Gerrard called it straight, declaring Liverpool's Champions League elimination little more than they had deserved, but no one else was willing to stand up and be counted after a pitiful showing against Basel. Lazar Markovic headed out of the dressing room in a woolly hat and the rest did not even seek disguise as they left a freezing Anfield on Tuesday night. Their collective silence said everything.
There can be no disguising the shattering anti-climax of the campaign Liverpool waited five long years to attain, which ended with the 1-1 draw against Basel. Six games, one win, five goals, extradition to the Europa League and possibly even a first continental clash with Everton. (Uefa rules governing intra-country fixtures mean that cannot happen until the last 16.)
The obvious problem is the absence of a serviceable striker, though the malaise runs deeper. Liverpool have too many unhappy players and do not look as if they have a way to play now that they have lost the free-wheeling counter-attacking game that Luis Suarez and Daniel Sturridge thrived on.
Consider some of the starting XI for the game against a Basel side whose fast, precise football, and possession of "a plan" as their manager Paulo Sousa kept calling it, was too much for them: Lucas Leiva – marginalised and so desperate to leave this summer that he tweeted a photograph of light at the end of a tunnel. Glen Johnson – openly unhappy about the fact he is being asked to halve his salary to stay. Dejan Lovren and Simon Mignolet – players whose weaknesses have been put under uncomfortable scrutiny.
Liverpool 1 Basel 1 player ratings

Show all 13
Their manager, Brendan Rodgers, looks like a man who is waiting for a combination of these men and others to play as a team but does not yet know what the formation should be. The picture is confusing. He brought on two wide-operating substitutes capable of putting the ball into the box on Tuesday, at the same time that he withdrew his target man, Rickie Lambert.
The striker looked tired but one of Uefa's statistical sheets entitled "team shape" offered an explanation. It charts, with a dotted line, "patterns of team link". There were no dotted lines to Lambert.
Markovic, one of the substitutes, made a powerful impression before his dismissal. But the fragments of hope that Adam Lallana might begin to unlock something in Lambert – as he did at Southampton last season and again as they combined for Liverpool's recent goal at Crystal Palace – vanished when Lallana was missing from the starting line-up. So, too, Philippe Coutinho – another who has looked capable of breaking down defences.
It was hard to disagree with Phil Thompson, who knew from his position in the 1980s defence what a successful Liverpool team looked like. "I thought that was very, very strange," Thompson said. "You just wonder why they weren't playing. I'd like to see… Adam Lallana given a run. He's been the one that you could say has done very, very well. But he's in for one match, he's man of the match, then he's out for two games. You think, 'What's going on on the training ground?'"
Sometimes a big transfer budget can complicate a straightforward, logical way of playing. Basel's squad in its entirety cost the same as Lallana and Markovic, while the Swiss side's target man, Marco Streller, earns in a year what Liverpool were being quoted for the weekly wage of Radamel Falcao, before Manchester United took him instead this summer.
Liverpool should know that Streller believes Basel even surprised themselves with their first-half performance. "The first half was one of the best halves I ever saw from us away [from home]. It was fantastic," he said. The club's record against English opposition – beating Chelsea home and away last season and Manchester United in the previous campaign – has clearly produced a buoyancy. "We love to play in England," Streller said. "We were confident, because of the past. We've done it so many times in England." Fabian Frei, the scorer, expressed the same delight and you can see why. He has also scored at Tottenham and Manchester United.
Rodgers said he hoped injured players – mainly Sturridge – would return before their Europa League campaign began. "There is disappointment but now we have to fight for the rest of the season and make it a success," he said. Sturridge's pace can cause other teams to drop off and give them more room to play.
But the side cannot be built around one injury-plagued individual. With a sense from the top of the club that there will be no major reinforcements next month, because the transfer pot was emptied this summer, Liverpool need a consistent way of using what they have.
Register for free to continue reading
Registration is a free and easy way to support our truly independent journalism
By registering, you will also enjoy limited access to Premium articles, exclusive newsletters, commenting, and virtual events with our leading journalists
Already have an account? sign in
Register for free to continue reading
Registration is a free and easy way to support our truly independent journalism
By registering, you will also enjoy limited access to Premium articles, exclusive newsletters, commenting, and virtual events with our leading journalists
Already have an account? sign in
Join our new commenting forum
Join thought-provoking conversations, follow other Independent readers and see their replies