Manchester City fan gets Manchester United badge tattoo after raising over £10,000 to help his sick son
Mark Pinder has raised the money to donate to Duchenne Now after his 12-year-old son was diagnosed with Duchenne Muscular Dystrophy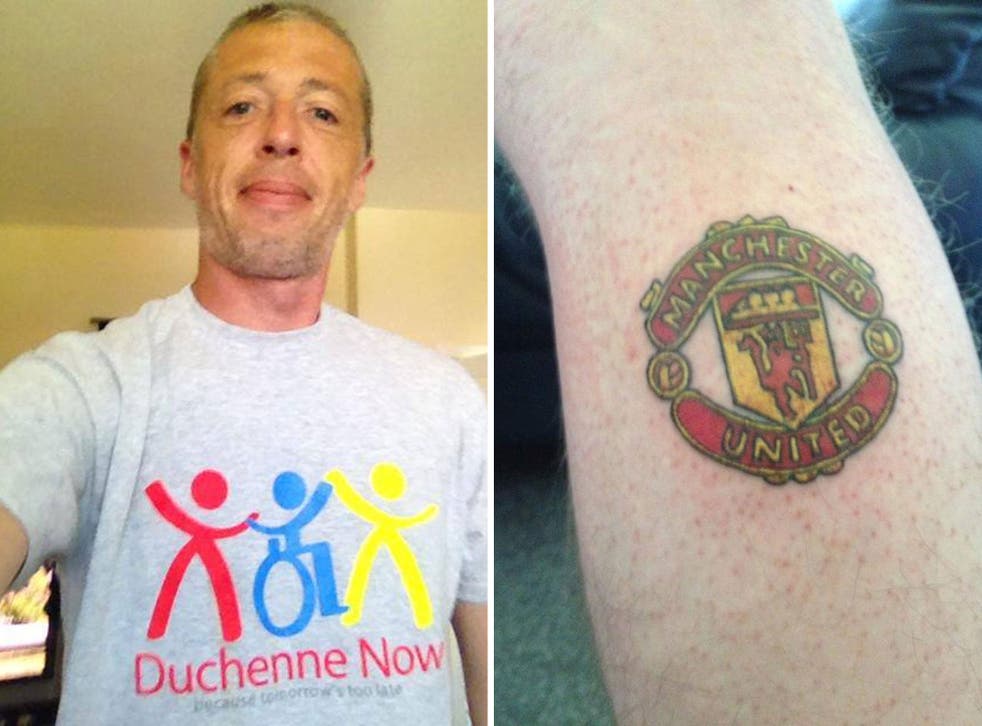 A Manchester City fan has done the unthinkable and had the Manchester United badge tattooed on his leg – after raising £10,000 for charity to help his sick son.
38-year-old City supporter Mark Pinder promises to have their arch-rivals permanently inked on his leg should he reach the figure, with the Manchester community uniting to help him reach his target.
Mr Pinder's 12-year-old son, Kirk, suffers from Duchenne Muscular Dystrophy, an incurable condition that causes the body's muscles to deteriorate. With Kirk confined to a wheelchair, the youngster cannot raise his arms and will require steel rods inserted into his spine in order to keep it straight.
The Worst Tattoos in football

Show all 14
Speaking to the Manchester Evening News, Mr Pinder revealed how he reacted to receiving the news of his son's illness, and how he believed it was about time he did something to help raise awareness and money for treatment.
"All you can do is watch your child deteriorate in front of you," said Mr Pinder.
"When he was diagnosed I buried my head in the sand for a couple of years, but I thought it was about time I did something."
Having decided to donate all the money to the Duchenne Now charity, Mr Pinder added: "I'm buzzing now I've done it."
Despite the fierce world of rivalries, the City fan has demonstrated how more important matters can unite a city divided by its football allegiances. City have helped raise part of the money by selling a Ricky Hatton-signed boxing glove as well as a book signed by the former light-welterweight and welterweight boxing world champion.
Having already had a City badged tattooed on his arm, Mr Pinder now has a United one to go with it, with ST Ink's Steve Thompson offering to do it for free all for the good cause.
"I'm quite happy with the tattoo now because it's a good memory to remind me of all the money I raised," Mr Pinder added. "Although I thought it would be a big thing before I'm not bothered about it now.
"I'm so proud to have made £10,000 and I've loved the whole fundraising experience. It's been crazy to see how the community rallied together and it was humbling for people who don't know me to take an interest and donate to the cause.
"It's been fantastic and the support I have had off people has been brilliant. The whole process has also helped raise awareness and inform people about the condition which is what I set out to do."
Support Mark and Kirk through their Just Giving page: www.justgiving.com/Mark-Pinder7/ or text DNOW60 to 70070.
Join our new commenting forum
Join thought-provoking conversations, follow other Independent readers and see their replies