Manchester's blue half eager to play catch-up after their false start in 1968
While United have left indelible mark on the European Cup, City have been consigned to its margins since a rude awakening on their debut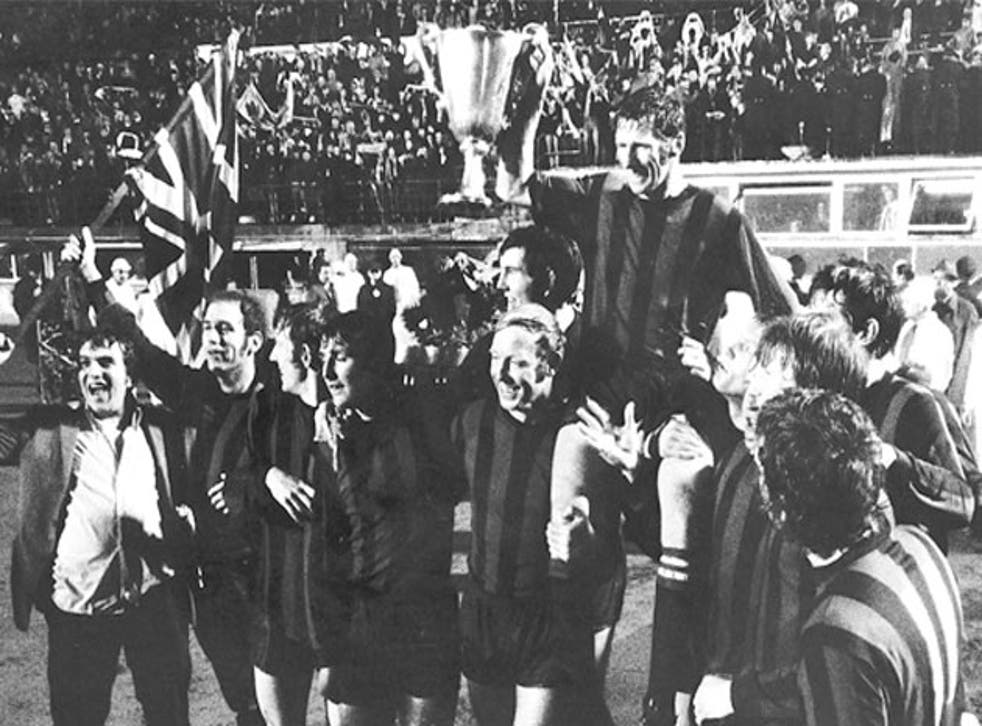 For the Manchester United supporters basking under a hot Lisbon sun yesterday, there was a chance to luxuriate in the legend of 1968 and all that: Best, Charlton and Kidd dominant at Wembley in the 4-1 demolition of the great Portuguese side Benfica, with Eusebio et al. It is testament to the contrasting fortunes of one of the great northern city's two football clubs that Manchester City fans, embarking on an elite European adventure to call their own, were keeping '68 well out of mind.
It was in September of that revolutionary year that Malcolm Allison, Joe Mercer's then assistant, declared that their club would "scare Europe to death" as they prepared for their first – and, until tonight, only – European Cup tie. A more prosaic sense of City's place in the European firmament materialised within a week or two. City, who had edged United out of the title that spring, slipped to a first-round defeat and elimination on the banks of the Bosphorus, to a Fenerbahce side described in the match programme for the Maine Road leg as "of no higher standard than our mid-Second Division".
How typical of City. It was around that time that Allison clocked all the kids in United shirts kicking a ball near the Southern Cemetery on Princess Parkway, on his way into Maine Road, and declared it was a matter of time before they all wore blue. Manchester is still waiting. Joe Mercer's memories of that fateful Istanbul second leg, which followed a goalless draw at Maine Road, included the bumpy pitch. His biography also recalls the fires which burned on the terraces of a stadium which was 10,000 over its 45,000 capacity and from which Francis Lee, Mike Summerbee and Neil Young had to be escorted by riot police. All that mattered, though, was little Ogun, a terrier-like striker the Turks had specially imported from Washington Whips, the North American club to which he had been sent on loan. City goalkeeper Ken Mulhearn was unfairly blamed for the 2-1 defeat, dropped and then discarded by the club, though the testimony of those there reveals that Ogun made all the difference. "What City could have done about it I do not know: it is too facile to berate the goalkeeper," said one journalist's dispatch.
After City tumbled out, United strode on to the semi-finals of the European Cup in that 1968/69 season. Denis Law was the tournament's top scorer, despite the club's eventual 2-1 exit to Milan, and the glee felt by those boys in their red shirts was not hidden. First, United's response to City pipping them to the '68 title had been to clinch an historic first European Cup for England and now Mercer's side's pretensions to match their neighbours' continental pedigree had been seriously challenged.
"It hurt us badly," Summerbee reflected years later. "Winning the League championship in the spring of '68 fuelled us with confidence. To exit the European Cup at the first time of asking the following autumn was very hard to take. People began questioning our worth as a top side. The Fenerbahce defeat posed a big question mark over our ability to compete with not only the best in Europe, but any Continental side." Sir Matt Busby's reflections on Allison's hubris was kept within the four walls of his smoke-filled office. "It wasn't his style to trade insults," recalls John Roberts, the Daily Express Manchester correspondent of the day, and later of The Independent. "He didn't need to say anything, of course. Anything City did, United seemed to do better."
The two sides' European divide has since grown into a chasm, of course. Sir Alex Ferguson begins his 18th campaign in the elite competition with United tonight, still yearning to join the cadre of clubs who have won it five times or more but United have left an indelible mark on the great tournament's history, while City are not even in the margins.
It takes those of a certain vintage to point out that City have had their moments. They won the European Cup Winners' Cup in 1970 and though the 2-1 win over Gornik Zabrze of Poland in Austria was the one that clinched the silverware, it was a wild first-round night in the San Mames stadium in Bilbao which restored most of the belief shattered by the Turks and is the source of greatest pride.
City were quickly down 2-0 to holders Athletic Bilbao in front of 46,000 baying fans, on a night which started with taxi trips to the ground when their coach didn't turn up. "We were having a terrible time of it," Summerbee recalled. "Nothing was going right." The side's recovery to 3-2 in arrears and then 3-3, ensuring progression at Maine Road, was down to the astonishing contribution of captain Tony Book.
One Cup Winners' Cup is hardly something to eulogise about in the pursuit of Manchester bragging rights. It would deliver Ferguson his first European trophy with United, against Barcelona in Rotterdam 21 years after City won it, though that wasn't quite the big time the United manager was dreaming of then.
More than four decades later, though, City have the riches to stake a real challenge once more. "Kun Aguero," enthused one Lisbon taxi driver yesterday, when the city of Manchester cropped up in conversation. Far from threatening to spread terror among what Allison called the "cowards" of the Continent all those years ago, Roberto Mancini politely posited the opinion, from a marquee in the lawns of Carrington, that Group A would present a serious challenge. Actions speak louder than words, as his long-suffering club know only too well.
Register for free to continue reading
Registration is a free and easy way to support our truly independent journalism
By registering, you will also enjoy limited access to Premium articles, exclusive newsletters, commenting, and virtual events with our leading journalists
Already have an account? sign in
Register for free to continue reading
Registration is a free and easy way to support our truly independent journalism
By registering, you will also enjoy limited access to Premium articles, exclusive newsletters, commenting, and virtual events with our leading journalists
Already have an account? sign in
Join our new commenting forum
Join thought-provoking conversations, follow other Independent readers and see their replies