Manchester United analysis: Just how deep are the problems at Louis van Gaal's United?
What does the 4-0 thrashing by MK Dons tell us about United's decline?
Ian Herbert
Thursday 28 August 2014 11:13 Comments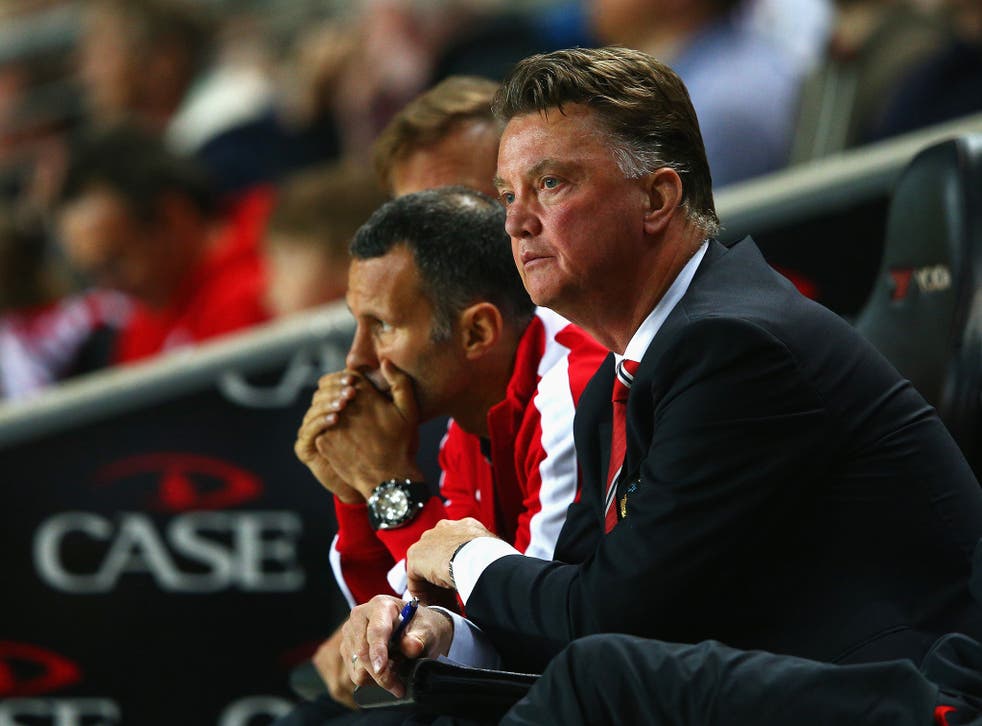 Manchester United plummeted to a new low with a 4-0 League Cup defeat at MK Dons last night. What does the result tell us about the club's steep and shocking decline?
Is Louis van Gaal the man to dig United out of a hole?
It would be ridiculously premature to assume that he isn't. Van Gaal's abysmal first three months after arriving at Bayern Munich in 2009 — with defeats in the first three league games, no settled line-up until 10 matches in and even a 3-3-3-1 system in a game against Hamburg — saw him accused of imposing too many tactical restraints and treating the players like children. By mid-autumn, sporting director, Christian Nerlinger, stated: "Win your four games before Christmas or be sacked." Van Gaal's side won the Bundesliga and reached the Champions League Final. Van Gaal repeatedly states that it will take two or three months for players to adjust to his unusual technical requirements.
How deep is the problem?
Vast. Because of United's desperately shallow pool of elite players. When it looked like Roman Abramovich's superior spending was consigning United to the shadows, during Old Trafford's three title-less seasons from 2003 to 2006, they had Rio Ferdinand and Nemanja Vidic in the squad, with their best days ahead of them, an emergent Cristiano Ronaldo, Paul Scholes, Ryan Giggs and Roy Keane in the ranks. They have broken the British transfer record with the £59.7million signing of Angel di Maria because they have pitifully few game-changers: 31-year-old injury prone Robin van Persie, an inconsistent Wayne Rooney and Juan Mata.
Who is to blame?
Sir Alex Ferguson's bequest to the club was simply not good enough and he must take far more of the blame than is widely appreciated. He insisted that players like Tom Cleverley, Chris Smalling and Shinji Kagawa could set the world on fire but none of them is good enough. David Moyes's failure to reach the required standard as United manager also meant a chopping and changing of priorities, with ground work to sign Toni Kroos and Cesc Fabregas going out of the window because Van Gaal didn't like them. United lost precious time. It was also catastrophic that United allowed their chief executive, David Gill, an experienced practitioner in the transfer market, to leave on the same day as Ferguson. Now they occupy a last-chance saloon: the notorious dog days of the transfer window.
What are the fundamental problem areas?
Defence. If Jonny Evans has had a worse night than his part in the defeat to MK Dons then it is hard to recall one. And he is the part of the defensive inheritance Van Gaal was most impressed with. The 3-4-1-2 system, with its risky high line and demands for good communication and cover, requires fine centre-backs and wing backs. United's centre-backs have not been good enough, while Ashley Young and Antonio Valencia cannot cope with the defensive demands being asked of them. The brittle midfield is not protecting them. United's attacking assets are their strong suit but the squad lacks the midfield quality to help locate them.
Was last night as bad it seemed?
No. Despite all of the above, it does need to be seen in context. That kind of defeat to a League One side would have been more catastrophic had United fielded a strong side but Van Gaal sent out youngsters with six internationals who, almost to a man, look like they are destined to leave. The defensive catastrophes – with three of the four goals stemming from United sacrificing possession in their own half merely told the manager that he is wasting his time expecting the current defenders to fit into his new system. Nine injuries do provide some mitigating circumstances.
What happens next?
Van Gaal, a proud man, should analyse and learn from the mistakes he made last night. He failed to see the significance of the League Cup as a potential lift amid the drudgery of a season barren of European football and to embrace it. Rooney and Van Persie should have been on the bench. He then embarked on a Moyeseque lack of appreciation for what United represent by declaring — in a garrulous post-match analysis — that he "wasn't shocked" by the result. United must reinforce as best they can, with Ajax's Daley Blind and AC Milan's Nigel de Jong, – though he is not on the club's target list. And beyond that, begin to create the kind of player acquisition strategy that City and Chelsea have. To bring order from this chaos inside two years will be a result.
Register for free to continue reading
Registration is a free and easy way to support our truly independent journalism
By registering, you will also enjoy limited access to Premium articles, exclusive newsletters, commenting, and virtual events with our leading journalists
Already have an account? sign in
Join our new commenting forum
Join thought-provoking conversations, follow other Independent readers and see their replies