Manuel Pellegrini: Stevan Jovetic must rise above European snub
Jovetic was replaced by Wilfried Bony in Manchester City's Champions League squad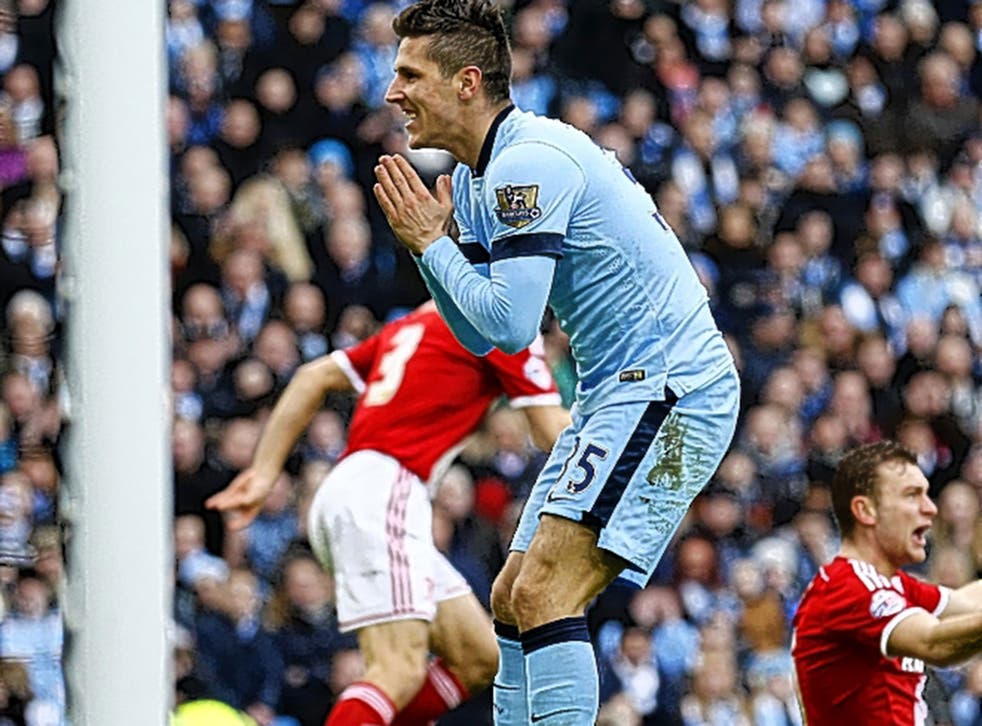 Manuel Pellegrini, the Manchester City manager, has admitted it was a tough decision to leave Stevan Jovetic out of his European squad and has challenged the Montenegro forward to prove himself in the Premier League.
Jovetic, 25, has been left out of the Champions League squad to accommodate new £25million signing Wilfried Bony, due to Uefa financial fair play sanctions, City are restricted to naming 16 foreign players rather than 17.
"It is always difficult to take a player out of the list, but we have restrictions this year," Pellegrini said yesterday. "We brought Bony because I think that we need another striker, a box player, and in the position of Jovetic maybe we have some other options. It is a difficult decision but I think it was the best for the squad. He continues to be a very important player here. Maybe if we didn't have the restriction of financial fair play, we would not do it – we would have another place.
"But we do have the restrictions, and I think he is a good professional and we will see him play in the Premier League I hope in the same way he did at the start of the season."
The City manager insisted this was not the end of the road for Jovetic at the club. He added: "I don't think that one thing has a link with the other thing. It is very important for Stevan to try to play now until the end of the season as much games as he can and not be injured and try to have a high performance every time he plays.
"After the end of the season, we analyse not only for Stevan, for all the squad which will continue the next year."
Pellegrini said he had no concerns about the safety of Bony and Yaya Touré at the African Cup of Nations after scenes of violence on Thursday night, when hosts Equatorial Guinea were beaten by Ghana in the semi-finals.
Touré and Bony are likely to play for Ivory Coast in the final, and Pellegrini said: "We have the normal contact that we need to have with both of them. I don't think they will have any problems. The most important thing is for them to win that cup.
"It is always positive to win things and not to lose, especially when you arrive in a final. It is not easy to take it out of your head if you don't win it. I think Ivory Coast deserve to win it because I think they are playing very well and I hope for our two players they will do it."
City are five points behind leaders Chelsea, but Pellegrini believes his side are confident of repeating their last two title triumphs when they came from behind to secure the trophy, especially having emerged with a share of the points and their reputation enhanced against Jose Mourinho's team at Stamford Bridge last weekend.
"When you have to play [for] 45 points more, you can close the gap. Of course you can do it," Pellegrini said.
"But is important for our team to try to be near the top of the table as soon as you can and the only thing you can do is to improve your performance, to repeat what we did in December and wait until Chelsea and all the teams drop points.
"The last two times this team won the title was coming from behind, so I suppose we can do it for a third time."
City are injury-free ahead of Hull's Premier League visit on Saturday, with midfielder Samir Nasri and defender Eliaquim Mangala back in the squad.
Register for free to continue reading
Registration is a free and easy way to support our truly independent journalism
By registering, you will also enjoy limited access to Premium articles, exclusive newsletters, commenting, and virtual events with our leading journalists
Already have an account? sign in
Register for free to continue reading
Registration is a free and easy way to support our truly independent journalism
By registering, you will also enjoy limited access to Premium articles, exclusive newsletters, commenting, and virtual events with our leading journalists
Already have an account? sign in
Join our new commenting forum
Join thought-provoking conversations, follow other Independent readers and see their replies