FA accused of 'inexcusable' lack of leadership in wake of sacking of England Women's manager Mark Sampson
MP Damian Collins says senior figures, including chief executive Martin Glenn, have "difficult questions" to answer over why they took so long to look into the issues in Sampson's past
Thursday 21 September 2017 08:48 Comments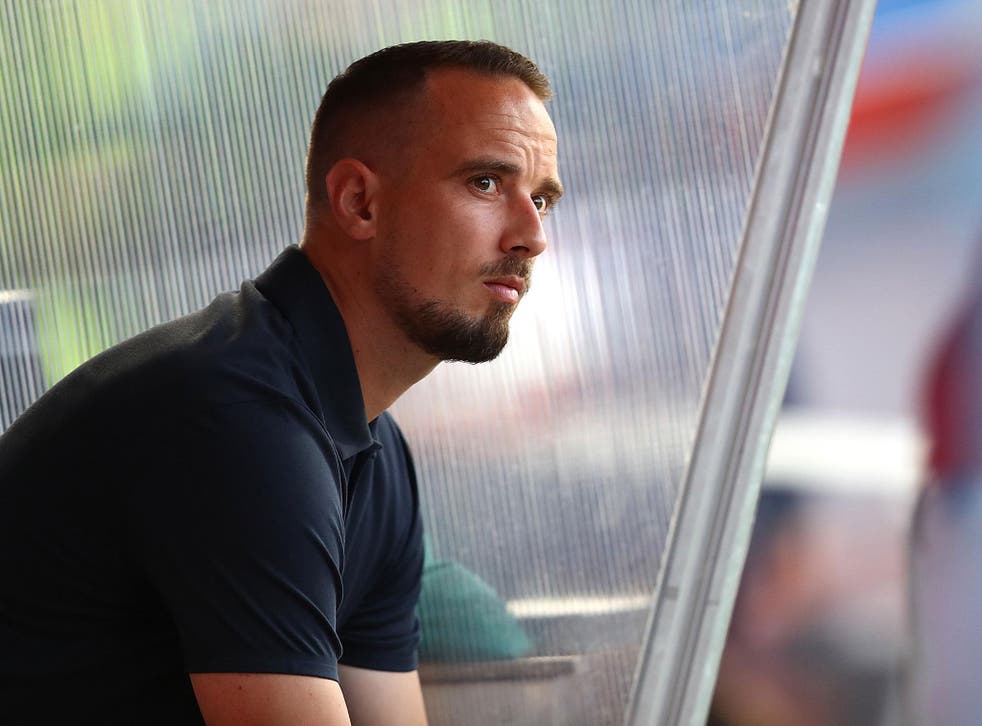 The Football Association has been accused of an "inexcusable" lack of leadership following the sacking of England Women's coach Mark Sampson.
MP Damian Collins said senior figures at the FA, including chief executive Martin Glenn, had "difficult questions" to answer over why they took so long to look into the "incredibly serious matters" in Sampson's past.
Sampson was sacked on Wednesday night for "inappropriate and unacceptable behaviour" during his time at a previous club. The 34-year-old has in recent weeks been the subject of accusations of racism, harassment and bullying made by former England player Eni Aluko.
Yet less than 24 hours after Sampson oversaw England's 6-0 win against Russia in a World Cup qualifier he was called to the FA's Wembley headquarters to be informed his contract would be terminated with immediate effect following an historic safeguarding investigation into his conduct while he was manager of Bristol Academy.
The 2014 report, which was undertaken just months after Sampson was given the England job, concluded that he posed no risk working in the game. But Glenn - who last week was urged to re-examine the case by "external sources" - believed Sampson had "overstepped the professional boundaries between player and coach", making his position "untenable".
Collins, the chair of the Digital, Culture, Media and Sport Committee, said on Sky News: "They (the FA) have based their decision (to sack Sampson) on this historical investigation from a few years ago. He should never have been appointed in the first place and action should have been taken a long time ago.
"And what's inexcusable then is the way they didn't refer back to this old information when Eni Aluko's allegations about a culture of bullying within the England camp were made known. I think now we have to look very seriously at her concerns that her allegations were not investigated properly and there are still questions to be answered."
Glenn, speaking from Wembley, was appointed as the FA's new chief executive in March 2015 - the same month in which the safeguarding report into Sampson was completed - and admitted his regret that he had not fired Sampson when he was made aware of the investigation in October of that year.
Collins said: "I think he (Glenn) has got difficult questions to answer. I think (the FA) have to explain how it was that Mark Sampson was appointed in the first place and why it was the current leadership team didn't ask questions about Mark Sampson's past, particularly when they became aware of new allegations that had been brought forward by members of the England squad.
"These are incredibly serious matters and I think again even last week it wasn't the FA leadership asking to see this information, it was people from within the organisation who were aware of what was in this full report about Mark Sampson going to the leadership saying, 'You need to have a look at this again'.
"I think there has been an absence of leadership. There was a definite decision made yesterday, but what we all want to know is why did it take that long?"
FA executives and Aluko will appear before the Digital, Culture, Media and Sport Committee next month to face questions about the Sampson saga.
Sampson led England to successive semi-finals at the 2015 World Cup and the European Championship earlier this year, but the final months of his four-year reign have been plagued by controversy following a series of claims from Chelsea forward Aluko. Sampson was cleared of any wrongdoing by an FA review, and a subsequent independent investigation.
Sir Trevor Brooking was the director of football development at the FA at the time of Sampson's appointment.
He was present when Sampson was interviewed for the job but said he was unaware of any of the allegations from Sampson's time at Bristol.
He told The Times: "I was there and he interviewed fine but it would have been the HR people that looked into all the background stuff. Certainly nothing surfaced at that stage that I was aware of."
Collins said the FA's handling of the matter raised questions over its capability of running major investigations.
He added: "Do we need almost a new body that sits outside of the FA that can look at serious issues like this that require proper and full investigation? Clearly the FA have fallen a long way short of what we would expect from them, and this is not the first time."
Register for free to continue reading
Registration is a free and easy way to support our truly independent journalism
By registering, you will also enjoy limited access to Premium articles, exclusive newsletters, commenting, and virtual events with our leading journalists
Already have an account? sign in
Join our new commenting forum
Join thought-provoking conversations, follow other Independent readers and see their replies