Mikel Arteta: Arsenal's latest magician
Mikel Arteta had a 'crazy' transfer deadline day spent staring at Everton's fax machine before his late Emirates deal. The Spaniard, charged with reviving Wenger's midfield, tells Sam Wallace it was worth the angst
Sam Wallace
Saturday 19 November 2011 01:00 Comments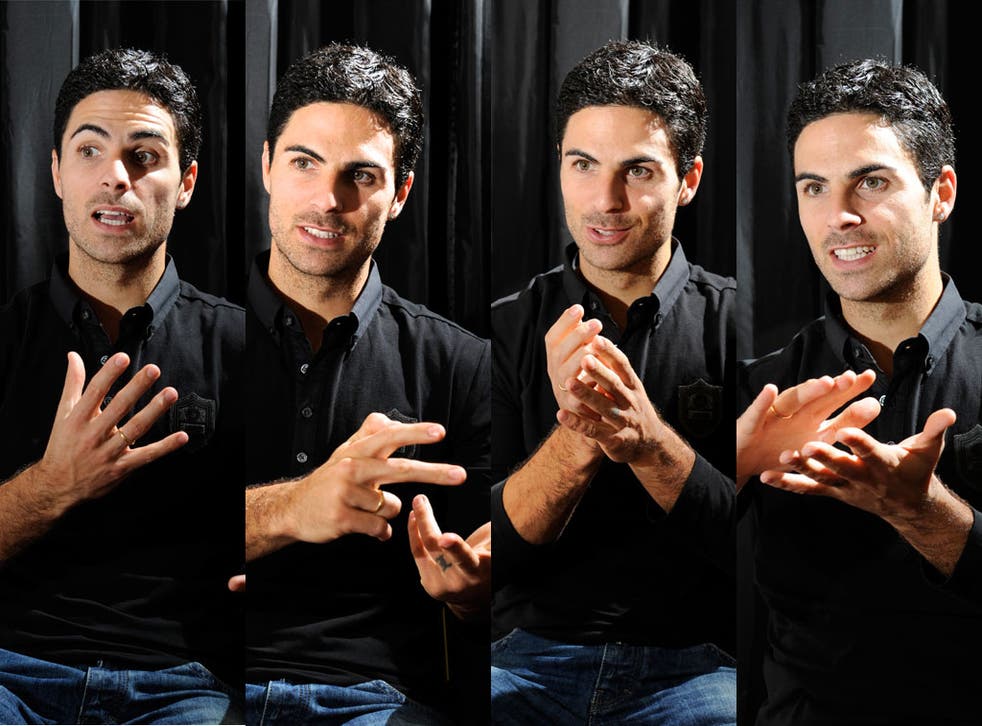 Mikel Arteta's impeccable English means that he is very rarely lost for words but when he tries to describe the emotions he experienced on 31 August, the final day of the transfer window, he occasionally struggles to find the right expression.
His transfer to Arsenal from Everton for £10m went through just in time after a day in which it was on, off and back on again with dizzying speed. It meant the end of six and a half years at Everton for the Spanish midfielder and the challenge of filling the role left by the departed Cesc Fabregas.
The story of those last few hours in the office at Goodison Park is one of tension and frustration, much of it, Arteta admitted, directed at the fax machine – still football's communication tool of choice in a digital age. The story at the time was that Arteta accepted a pay cut in his monthly terms in order to keep the deal alive. "That's something I don't like to speak about," Arteta says, "but I can say that I made a big effort to come here."
It was Arsenal's most frantic few days of transfer activity. Out went Fabregas and Samir Nasri among 15 departures from the first and reserve-team squads. Arteta, Per Mertesacker, Andre Santos, Yossi Benayoun and Park Ju-young were the highest-profile arrivals in the window's last days. Arsène Wenger's side had been beaten 8-2 by Manchester United the previous Sunday and action needed to be taken.
There had been a long-term interest from Arsenal in Arteta. The 29-year-old came close, he says, to signing for another club the previous summer. He will not tell me who but it is thought to be Manchester City. Yet when Arsenal came back in to sign him this summer there was no hesitation. Even, I ask, watching them being thumped at Old Trafford? "What I think about Arsenal is not going to change from one game, that's for sure," he says. "I have played against Arsenal many times and I have suffered. I am not going to change my opinion."
Talking at Arsenal's training ground this week he remembered the events of 31 August. "It was mad. It [the transfer] was happening, it was not happening, it was happening, it was not happening," he says. "It was a crazy day to be honest and big tension. At the last minute I was in the office in Goodison and... nightmare.
"I had made the decision I was going and then I didn't know if it was going to be possible. We had all the paperwork to do and the window closed at 11pm and it was 10 past 11 and the fax wasn't going through and stuff like that. I was like 'Aaargh, this can't happen again'. At the end it was like..." He makes a gesture of relief. "I had done it, and done it the way I wanted.
"I always said when I leave Everton I want to do it the right way. I want to look the manager in the face and say: 'Thank you very much. I think it is time for me to go'. It was the same with the chairman. That is the way it happened. I leave a good relationship with the players and the staff which is really nice for me.
"These are people that I really appreciate as professionals and as people. We had a good relationship. Apart from football there was a personal relationship and things that happened to me and them and our families over the last seven years, so you can't just put that apart. Any time I can pick up the phone to speak to them, they can speak to me with no problem, no confrontation. That gives me a good feeling."
At Arsenal it was tough at first with defeat to Blackburn in Arteta's third game – in which he scored – and then Tottenham on 2 October. But since then they are undefeated, in seventh place and go into today's game against Norwich City just three points behind Chelsea. The memory of Arsenal's 5-3 win at Stamford Bridge three weeks ago is still fresh.
"It gives you a lot of confidence and a perspective that you have to enjoy football and you have to enjoy the moment... when they come you have to take them," he says. "You worry about the next day and the next day. Sometimes you have to be able to enjoy it and say: 'This is what I like about my profession'.
"They [Arsenal] made it clear they wanted me because they needed an experienced, creative midfielder. Someone who could fit in quickly in the Premiership. For me it was the chance to stay in England, move to London, try a bigger club. And a club that wants to play football all the time. I am from the Barcelona school and the football here is the most similar. I knew there was going to be pressure. With some of those players leaving and others coming in there will always be a discussion about who is better but at the same time I thought I will have the chance to help the team and improve it.
"Obviously two of the best players have gone and it is different. We cannot try to be the same as them, that would be a big mistake. Fabregas was here for eight years. He is a legend, one of the best midfielders I have played against. Trying to compare yourself with them is never going to work. It is impossible from day one. So just try to play your own game, improve the team and try to fill those holes."
Arteta is very proud of the fact that he was schooled at Barcelona although he left at 17 to go on loan to Paris Saint-Germain having never played for the first team. Despite his considerable talent he has also famously never won a cap for the Spain senior team, a result of being born into the greatest generation of Spanish footballers.
It was Xavi who blocked his way as a teenager at Barcelona and it has been the same with Spain but Arteta bears no grudges. He was widely expected to be selected for the Spain squad for the World Cup qualifier against Turkey in March 2009 but suffered the worst injury of his career the month before.
"It was 22 February [2009] against Newcastle. Nightmare. I [injured the] cruciate, lateral ligament and meniscus at the same time. I was getting back after nearly four and a half months and the meniscus flicked again in training and I had to repair that. Then I got an infection so it was nearly 10 months and that injury is not easy to recover from. You have ups and downs. I had to work a lot.
"It doesn't hurt me [not to play for Spain] but obviously I would enjoy playing [in that team] because we have the best footballers in the history of Spain. I know how good they are and there is nothing I can do. I can try to play better and harder. But they will keep improving as well. Hopefully I can get a chance because it would be a dream for me."
He is surprisingly generous about England's obstinate performance against Spain last Saturday. "You need to know England cannot play like Spain," he says. "Brazil cannot play like Spain. Spain cannot play like Germany. [England's] was a very effective way of winning but different. And Spain cannot get in a confrontation in the physical way other teams do because if they do that they lose what they are good at.
"It's about the other national teams as well. No doubt Spain have the most quality in the world, maybe with Brazil, but the other teams, I am telling you, they are not going to be easy to beat even if they have a different style. England kept Spain quiet in terms of chances. OK, they had a lot of the ball but Spain were struggling to create a lot of chances."
There was a time – Arteta reckons it was about three days – when he thought he may be eligible to play international football for England. That was until he checked the Fifa regulations which prevented him from doing so. He could only have switched had he been eligible to play for England when he began representing Spain at junior level. Before that was clarified, there were discreet enquiries made from Fabio Capello's camp, although not from the manager himself.
"I thought about it because you want to play international football," he says. "If it had been any other national team I wouldn't have even thought about it but, I have spent 85 per cent of my career in England and I feel like it is home. I have real respect and I am grateful for everything England has given me and my family so I was really considering it. We started talking about it, the interest England had, then we said: 'Stop it, don't do it any more because it can't happen'."
It is a long way from his days at La Masia, the farmhouse in the grounds of the Nou Camp where Barcelona's young players live eight to a room in four dormitories. Arteta shared with Andres Iniesta, Pepe Reina and Victor Valdes among others. There is real joy when he remembers how, as a Basque kid from San Sebastian, his playing style and his character was moulded.
"They prepare you as a person and as a footballer. The way they do it is really interesting. You see it in the characters as well. Talk about Iniesta, Xavi, [Carles] Puyol – nice people. Great players but very, very respectful people. For me the best thing to learn from is an example. We had [Pep] Guardiola, [Guillermo] Amor, [Jose] Bakero and when you see these examples you want to be like them. All the young lads now are going to have Iniesta and Xavi as examples and now Thiago [Alcantara] is coming. The ball keeps rolling. It is such a clever method."
As a 17-year-old, Arteta says that he recognised the high standards of the club when, at first, his contemporary in the academy Xavi could not break into the first team. Xavi was behind Guardiola at the time. Arteta knew that after Xavi, Iniesta was next in line. "I was realistic and sometimes you have to say: 'Listen, it has to be something crazy [for me to make the first team]'. Maybe it would have happened – you never know – but sometimes you need to make a decision."
There is a nice symmetry about the fact that Arteta is replacing Fabregas, another of the Barcelona academy boys who has returned to Catalonia. As for Arsenal and Wenger, they knew exactly what they were getting: another recruit from the best finishing school of all.
Arsenal's home game against Fulham next Saturday is their designated matchday for Save The Children
My Other Life
I have been enjoying London. We have been to the theatre to see the Lion King and to cinemas. It is different compared to the other parts of England. It has something special and I like it. You have people from all over the world and I don't get recognised.
Register for free to continue reading
Registration is a free and easy way to support our truly independent journalism
By registering, you will also enjoy limited access to Premium articles, exclusive newsletters, commenting, and virtual events with our leading journalists
Already have an account? sign in
Join our new commenting forum
Join thought-provoking conversations, follow other Independent readers and see their replies