New York City FC 'songsheet' begs the question: Is everyone singing the same tune on the question of what makes a true fan?
WEEKEND DOSSIER: A supporters group, The Third Rail, last week distributed songsheets before a New York City FC match leading much ridicule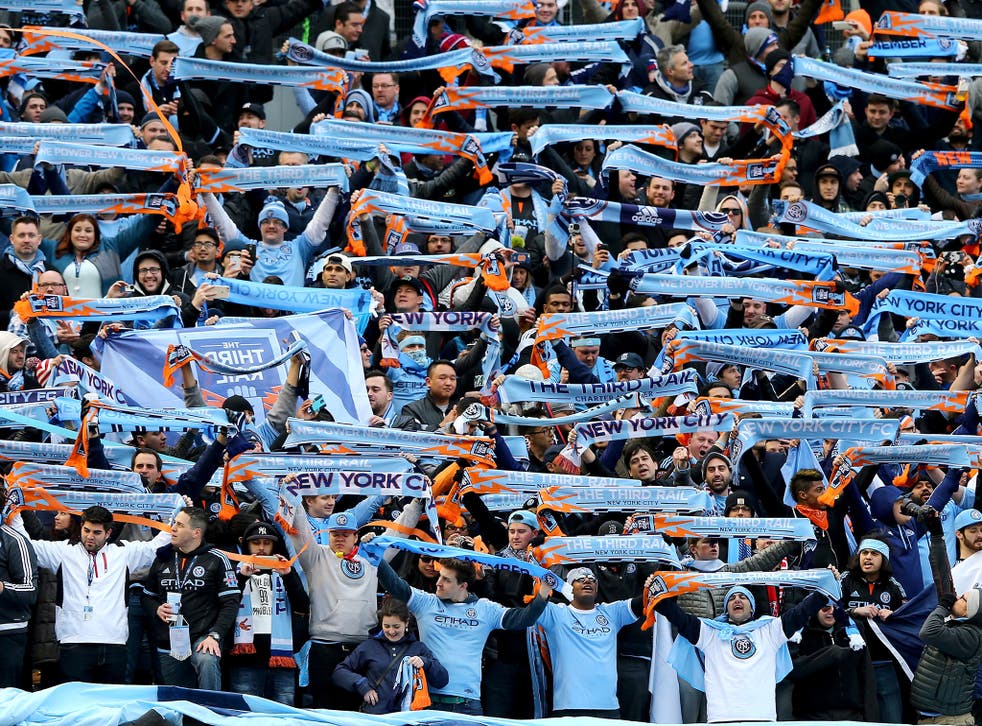 In the mid-1990s, according to Mancunian legend, a United fan went to his regular pre-match pub, handed out photocopied sheets of paper with the lyrics to a song on it, stood on a chair, and began singing. That afternoon "Eric the King", a version of the Old Trafford 1960s homage to Denis Law updated in honour of Eric Cantona, rang out around Old Trafford.
That afternoon launched Pete Boyle as the Red Army's songsmith. United, who always had a large travelling support, soon had a repertoire of anthems to match. Boyle penned lyrics honouring most players, composed songs for every occasion and assiduously spread the words.
While the atmosphere at many Old Trafford games has become increasingly somnolent, with large parts of the crowd either making a once-a-season pilgrimage or engaged in hospitality, United's away support, fuelled by their songbook, remains arguably the most vocal in the country. Though Boyle now has a website which sells albums of his songs and does United-related media work, he has retained credibility among the hardcore United support as one of them.
Fast-forward two decades, cross the Atlantic, and a supporters group, The Third Rail, last week distributed songsheets before New York City FC's match with Seattle Sounders at Yankee Stadium. One was photographed by a spectator, posted on the web and soon went viral, especially in England. Manchester City's new American offshoot was immediately regarded as a laughing stock, trying to manufacture support artificially.
Yet is there really much difference between The Third Rail's actions and Boyle's? Some of the criticism and abuse can be put down to the songsheets initially being ascribed to the club. Marty von Wuthenau, vice-president of communications for NYC FC, soon pointed out this was wrong, stating: "We're not writing songs and handing them to supporters, I just want to be clear about that."
Some of it is also down to fan snobbery. NYC FC are unpopular with some fans in the US because they are new and well funded. They are even more unpopular over here because they are an instant franchise club and American. Despite the fact that English clubs now frequently distribute clappers (those folded cardboard beaters), occasionally issue colour-themed T-shirts and plastic flags, play deafening pre-match songs on the public address and often have an announcer stirring up the crowd, English clubs "don't artificially create atmosphere". Oh no.
There is certainly a valid complaint that many of the songs listed were derivative or dull. Boyle claims to produce original work and is against adapting other clubs' songs. However, NYC FC fans are trying to develop a fan culture from scratch in their stunning but unsuitable Yankee Stadium home, hampered by a team who have taken six points from nine Major League Soccer games in a culture that, generally, is unused to fan-led chanting. Singing along to a chorus of "Let's Go, City", blasted out from the PA, would be more typical of American sports. The Third Rail and other NYC FC fan groups ought to be applauded for at least trying.
In time a city with the musical heritage of New York (from Steven Sondheim to Lou Reed, Blondie to Run DMC) is likely to produce a decent playlist. Americans can create good atmospheres, as the ultra cultures of Seattle Sounders and Vancouver Whitecaps underline.
But the issue goes deeper than an ersatz soundtrack. Football fans can be terrible snobs, with a hierarchy of support. Some fans are like those music followers who "discover" a cult band, then feel cheesed off when everyone else discovers them and they go mainstream.
The hardcore fans, the ones who go to every game, home and away, are central to the sport and should be cherished (not least with subsidised tickets for away fans). But if they were the only fans, football attendances would be on a par with rugby union. The "tourists", the "day trippers", the "glory hunters" are fans too.
Is a supporter who travels from Malaysia, at vast expense, to see the team he has always followed from afar really less dedicated than the local who goes every week? Is the guy who has moved away from his hometown but sees his team when work and family commitments allow, less of a fan? And what about the glory hunters, who only turn up to the big events and go home with a half-and-half scarf souvenir? Their cash swells the club coffers, improving the team's chances. So long as they are not denying a "real" fan a seat, where is the problem?
What is a real fan? Obviously, it is not someone who cannot remember whether they are supposed to support Aston Villa or West Ham, but is it someone who goes to every game? Someone who can name the club's last cup-winning team, including subs? Someone who watches the youth team? Someone prepared to fight for the team's honour? Someone who has a house full of club merchandise and a subscription to their TV channel? Or someone who tattoos the club crest on their back?
For every fan the reality is that there is always someone more committed than they are in some aspect of the supporting life. But any fan who is prepared to print out a songsheet, then walk around an empty ground putting it on every seat, is more committed than most.
Join our new commenting forum
Join thought-provoking conversations, follow other Independent readers and see their replies