Nicklas Bendtner wins the Ballon d'Or...according to Arsenal teammate Emmanuel Frimpong
The latest in a series of photoshopped images from the Gunners' midfielderhas added Bendtner to its list of victims
Jack de Menezes
Tuesday 14 January 2014 14:17 Comments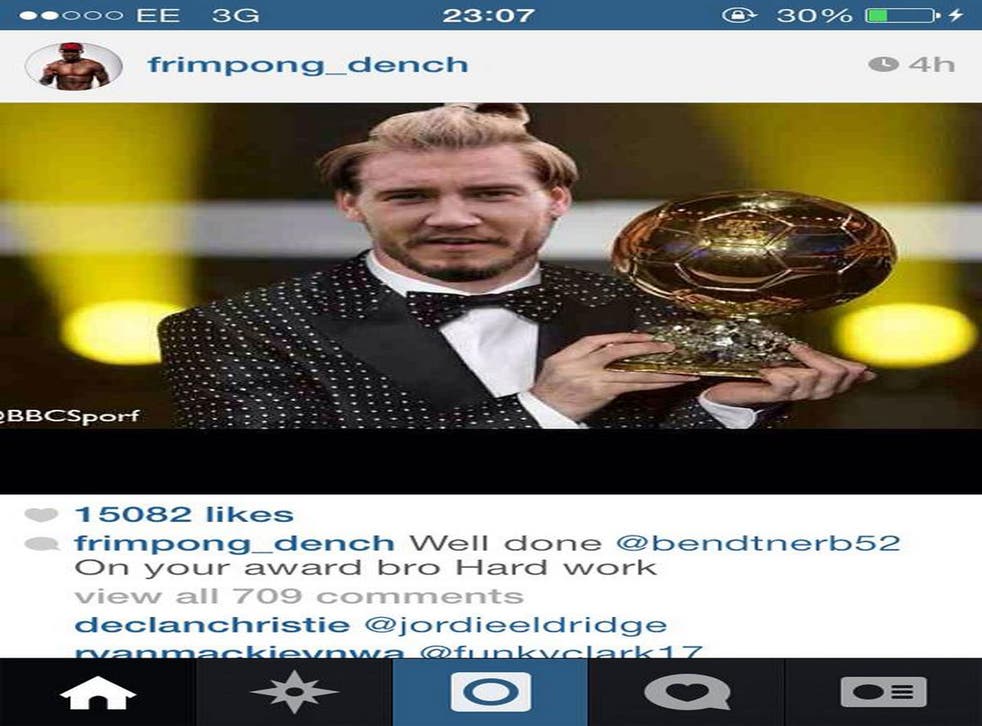 Arsenal midfielder Emmanuel Frimpong has continued his quest to create a parody image of every figure in the footballing world after targeting his club teammate Nicklas Bendtner following the Ballon d'Or award ceremony.
Cristiano Ronaldo was, as expected named the winner, ending a four-year reign of domination by his arch-rival Lionel Messi. However, not one to miss an opportunity when it arises, Frimpong quickly posted a photoshopped picture of the Danish striker with the prestigious trophy.
You would have been forgiven for being a tad suspicious, given Bendtner's absence from the original 23-man list, let alone the three-man shortlist made up of Ronaldo, Messi and Franck Ribery.
The Gunners forward has done well to return to the Arsenal first team squad when it looked all but guaranteed that he would leave the club in the summer. Bendtner was seen at Crystal Palace's training ground on transfer deadline day, only to see a move abandoned as Arsene Wenger was unable to bring in a suitable replacement for the 25-year-old, who has scored two league goals this season.
Bendtner, who once famously said "If you ask me if I am one of the best strikers in the world, I say yes because I believe it" in an interview with the Daily Mail, is currently out injured having suffered an ankle injury during the 2-0 New Year's Day victory over Cardiff City.
Frimpong meanwhile, hasn't featured for Arsenal since the 7-5 Capital One Cup victory over Reading gin October 2012, and the defensive midfielder may have to wait a while longer to get his hands on a starting Arsenal shirt, let alone the Ballon d'Or trophy.
The latest picture after Frimpong tweeted a parody image of Manchester United manager David Moyes attempting to hitchhike his way back to Everton's Goodison Park, following the shock 2-1 defeat to Sunderland in the League Cup semi-final.
Register for free to continue reading
Registration is a free and easy way to support our truly independent journalism
By registering, you will also enjoy limited access to Premium articles, exclusive newsletters, commenting, and virtual events with our leading journalists
Already have an account? sign in
Join our new commenting forum
Join thought-provoking conversations, follow other Independent readers and see their replies