Paul Scholes column: Gareth Bale would be a perfect fit at Manchester United and could turn them into serious title contenders next season
EXCLUSIVE COLUMN: Former Manchester United midfielder Paul Scholes looks at the impact the arrival of Bale could have at Old Trafford, says Steven Gerrard should have started for Liverpool against United and looks ahead of England's upcoming games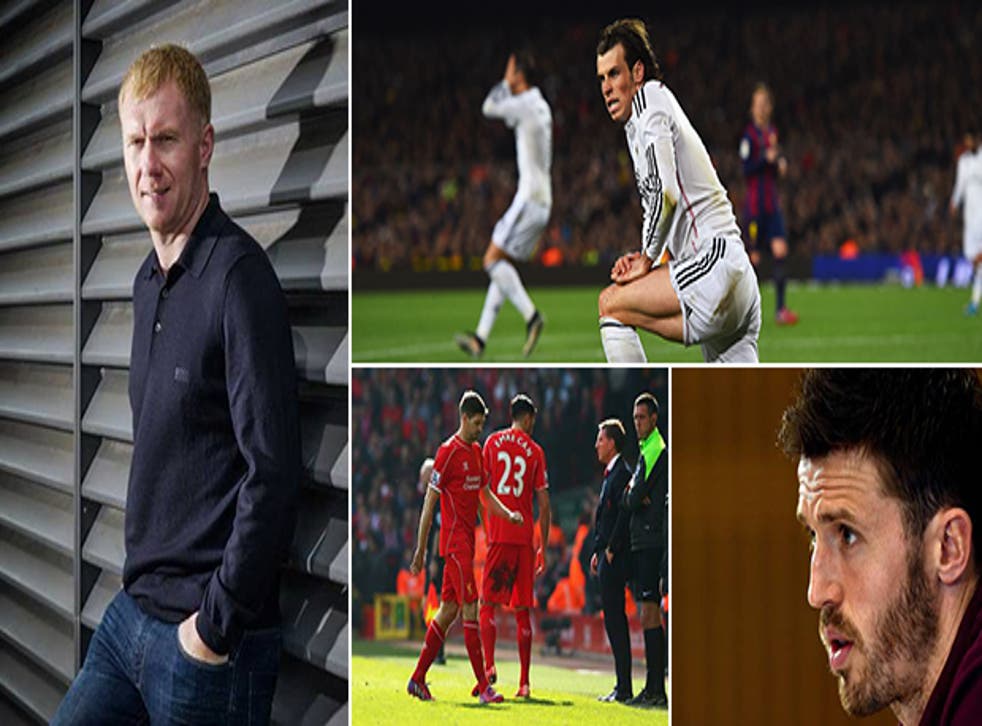 For any footballer who plays for Real Madrid in the modern era, the prospect of leaving the club must feel like a step down no matter where they go – but it does not have to be like that. When it comes to Gareth Bale's career, it looks like he is approaching a decision that will shape the rest of his life as a footballer.
I watched El Clasico on Sunday and it was clear Bale was having a hard time of it. The reaction to defeat to Barcelona and the stick he has received from the Spanish media and some fans will only make it more difficult. He had a great first season and I admire his determination to fight for his place in the most competitive squad in world football.
I get the impression that the only way Bale is going to leave Madrid is if the club tell him to go. As their record signing, he may yet believe that the time for that is a long way off but we have seen them do it with some big names in recent years, including Mesut Özil and Angel Di Maria.
My feeling is that he would be perfect for Manchester United. Of course, as a fan of my former club I would like to see him there but, looking at it objectively, I always felt that Bale was a natural fit for United as he developed at Tottenham from a left-back into one of the best attacking footballers in the country.
Barcelona 2 Real Madrid 1 player ratings

Show all 24
On Sunday I thought Madrid played extremely well in the first half. Luka Modric and Toni Kroos controlled the game in a way we've never seen from opposition teams at the Nou Camp in the past 10 years. They created chances too, but then, after conceding the second goal, they just seemed to run out of ideas.
Out in the wide position, Bale did not look like a happy bunny. I can understand why he would want to see out his time at Madrid but even if he was to leave after two years, no one could say that, having won a Champions League title, his time there has been a failure. He has never won anything in English football and he would be hungry for success in this country. He is a phenomenal footballer who comes ready-made for the Premier League.
Frustrated Gerrard should have started crucial game
Watching Steven Gerrard on Sunday, I suspect that his first thought while he was warming up during the first half was "How am I not playing in this game?" His second would have been that when he did get on, he was going to put a few tackles in and get the home crowd going.
He certainly managed the tackles, and in fact even his first challenge on Juan Mata was one of those that was only just timed OK. By the time he was into Ander Herrera his frustration had got the better of him.
Should he have started the game? Of course he should. There was only one person who can have thought that Gerrard was not right to start against Manchester United at Anfield in a must-win game for Liverpool, and that was Brendan Rodgers.
United were brilliant in the first half, but if they had been up against Gerrard then it might have been different. He had the frustration of not playing in the game, and then he had to watch a first half in which none of his team-mates even made a tackle. It is not nice to stand on the sideline and see your own team getting destroyed at home to a big rival.
I can see what he was trying to do when he came on: put a few tackles in and get the crowd going. But even when you can feel the emotions rising in you, the most important thing is control. I got sent off a few times in my life but I never lost my head. I mistimed tackles and I made mistakes.
Gerrard is getting closer to his final game at Anfield and his final game for Liverpool. Anfield will be a special place for him, just as Old Trafford was for me. The first time I retired, only Sir Alex Ferguson and I knew that the last league game of the 2010-11 season against Blackpool was to be my final game at Old Trafford. I was a little bit sad but I am not one for tears. The end of a career comes to us all and there is not a lot you can do about that.
I took a look around. My family were there in the private box that we rented during my time at United, and then that was it. We played the Champions League final six days later. Then in eight months' time, I was back in the first-team squad! When I finally quit for the second time in the summer of 2013 I had accepted that this really was the end and, having got over that, the move into retirement was a lot easier.
It's amazing Carrick has so few caps for England
I expect Michael Carrick to play for England against Lithuania tonight. He is back in favour for his club and it will probably follow that he plays for his country too. He should have played more for England than the 31 caps he has so far. It is incredible to think that he has one fewer than Danny Welbeck on 32.
As I have said before in this column, no one appreciated Michael more than the midfielders who played alongside him at United. He is not a flash footballer. He doesn't hit Hollywood passes. He doesn't score lots of goals. But I loved playing alongside him. He was always in the right place. He gave me licence to play.
At 33, Michael is still easily capable of doing that for the other players in this current England team. He gives any attacking midfielder alongside him lots of the ball and also the licence to go forward without worrying about leaving their defence exposed. He would have been the perfect England midfield partner for Frank Lampard or Steven Gerrard, but most of the time it was those two who played together.
I don't think he has ever been given a proper run in the England team. As soon as the team has had a bad result, it is Michael who has paid the price. He made his debut in 2001 but he has played just one tournament game, against Ecuador in the 2006 World Cup finals. He should have played more at international level, and had he been Spanish or German he probably would have done.
It is not for nothing that Michael has been the linchpin for United for so long. He has just never had the faith of the England managers he has played under.
Kane should play, but I think he will start on the bench
My bet is that Wayne Rooney and Welbeck start for England against Lithuania. I can see Harry Kane getting the last 20 to 30 minutes as a substitute. Kane deserves his chance, but my money is on him starting on the bench.
Register for free to continue reading
Registration is a free and easy way to support our truly independent journalism
By registering, you will also enjoy limited access to Premium articles, exclusive newsletters, commenting, and virtual events with our leading journalists
Already have an account? sign in
Register for free to continue reading
Registration is a free and easy way to support our truly independent journalism
By registering, you will also enjoy limited access to Premium articles, exclusive newsletters, commenting, and virtual events with our leading journalists
Already have an account? sign in
Join our new commenting forum
Join thought-provoking conversations, follow other Independent readers and see their replies