Pep Guardiola to Manchester City: I hear he could join City next summer, but I'd love to see Jurgen Klopp in England - Paul Scholes column
EXCLUSIVE COLUMN: The former Manchester United midfielder has been impressed by the German's exciting Borussia Dortmund side
Paul Scholes
Friday 17 April 2015 11:24 Comments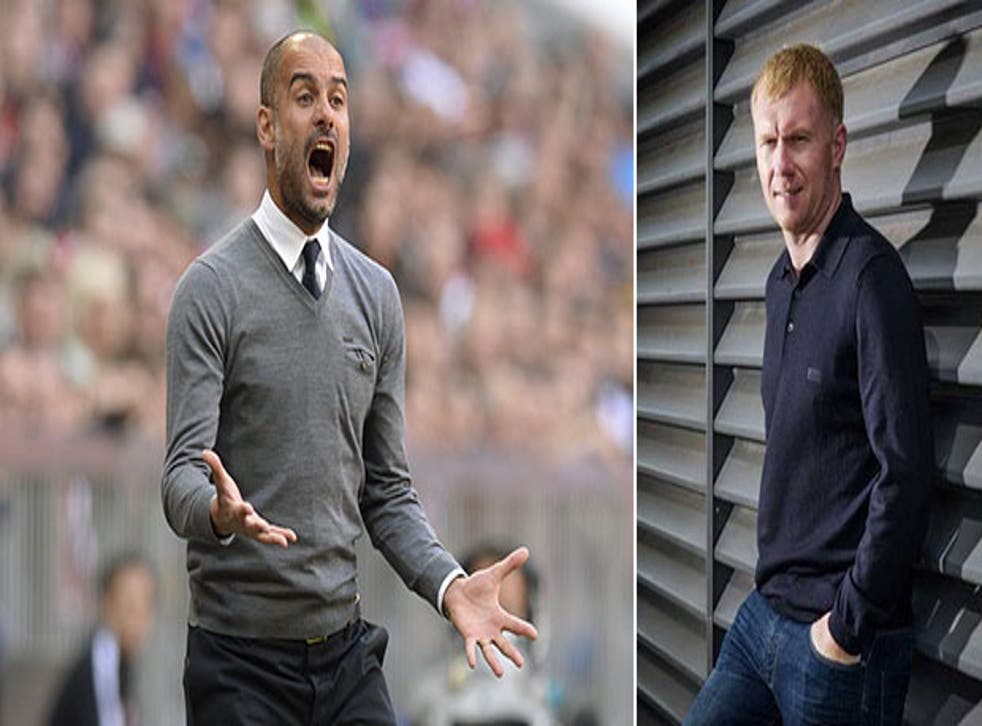 When I watch Jürgen Klopp's Borussia Dortmund side, I see a manager who is determined to play in his opponent's half, who is committed to attacking football and, from the way he conducts himself on the touchline, is clearly an interesting, charismatic personality. I watched Dortmund lose away to Borussia Mönchengladbach on Saturday and even in that defeat they showed at times what an exciting team they can be.
There is no doubt in my mind that he would be a success in English football, the only question is at which club. Manchester City is the destination that has been mentioned more than once but all the information that comes back to me in Manchester is that Pep Guardiola will take that job when his contract at Bayern Munich expires in one year's time.
Both these men have played a major role in European football over the last six or seven years. Both of them have won their domestic leagues and, in the case of Guardiola, two Champions Leagues with Barcelona. They would bring a lot to our Premier League in terms of their personalities, their expertise and the potential rivalries with some of the big managers already here.
I don't think there is a British manager who is currently capable of restoring English clubs to the final stages of the Champions League, and winning the competition again. I take no pleasure in offering that verdict but unfortunately it is the way things are at the moment. I hope that it will change in the future and I have high hopes that my friend Ryan Giggs will be handed the reins at Manchester United at some point having served an apprenticeship under Louis van Gaal.
After a week of exciting Champions League quarter-finals it has felt like English football is lagging behind again. I don't think any of our sides could have lived with Real Madrid in the first half against Atletico in the Vicente Calderon stadium on Tuesday. It was as much as Atletico could do to hang on.
Klopp has the personality to do it here. He has bought good players in the past. He does not seem to worry about what is written or said about him. He has been able to handle the constant departures of his best players, many of them to Bayern Munich, over the years – up until this point. The Premier League should not hold any fears for him.
As for Guardiola, establishing Manchester City as European champions would be bigger than any of the challenges he has faced so far in his career. I accept that when he took over at Barcelona they were a long way from the side that won the 2006 Champions League. In Frank Rijkaard's last season they finished third, 18 points behind the champions Real Madrid, but even so Guardiola had a lot of the pieces already in place.
While City have many good players, they have never gone beyond the second round of the Champions League, much less won it. Making them the best side in Europe would be a far more difficult task than doing the same at Barcelona or Bayern Munich, the latter of whom Guardiola took over after they won the Treble.
It would not be easy, but then Guardiola is not there to do the small jobs. He is there to make the difference between a good team and a great team. I met him when I played a friendly game in Munich last summer and he was a very likeable man who was easy to talk to. Like Klopp, his teams play brilliant football. The Premier League would benefit from these two coaches, but I hope one day we can produce our own too.
Di Maria's red card was the turning point for United
I have been critical of my old club Manchester United under Louis van Gaal this season and I have to say that I did not see this change in fortune coming. To the extent that when they go to Chelsea this weekend, I think they have a good chance of winning the game.
When I look back on the key changes, I still feel that Angel Di Maria's red card against Arsenal was critical in allowing Van Gaal to build this new-look team. Looking at the side it seems to me to be a triumph of the underdog – Juan Mata, Marouane Fellaini, Ashley Young. All of whom looked like they could be out the picture at the start of the season and are now having a big impact.
The formation is bold. It is much more attacking and more what I expected of Van Gaal when he arrived. There is a spine of four players – Michael Carrick, Ander Herrera, Fellaini and Wayne Rooney – that runs through the middle. Then Young and Mata wide. I wonder whether Carrick will be fit to start against Chelsea, which might mean Daley Blind moving back into midfield.
For all the attention after the derby win over Manchester City on Fellaini and Young, a lot of the credit has to go to Mata. He has given United such composure. He is not a winger, in the conventional sense, but he comes inside and gets involved in the game. He always passes to a red shirt and he is so cool, as you saw with his finish against City.
When I was coaching under Ryan Giggs at the end of last season, we always felt that Fellaini's best position was as an unorthodox No 10 – the role he is playing now. When he first joined United, David Moyes had played him as a central midfielder but I don't think controlling the game from there is Fellaini's biggest strength.
When I played against him when he was at Everton, he was just a giant nuisance: elbows up, big and strong and always liable to peel off and take up a position at the back post. That is how Van Gaal is playing him now and not asking Fellaini to do the things he finds more difficult. I do wonder whether Fellaini has the quality to win games in the Champions League latter stages but that is for another day. I always found him a good, committed player who trained hard.
As for Young, I imagine he has benefited from Ryan Giggs' belief in wide players. At United, we like to have wingers who give the team width and pace. You instinctively look for them and with Di Maria out, Young has his confidence back.
I'm only guessing but I think the poor results and performances have given Ashley more freedom. In the past he has been the focal point for criticism but in recent months there has been so much of that he has been able to get on with his game while others have been in the spotlight. He has got back to what he does best – getting a yard on a defender and crossing the ball early. It's been a benefit to Rooney as well as Fellaini.
Amidst all this revival spirit I should point one thing out. United are putting the results together now with the pressure off, to a large extent. They are too far off in the title race – barring a total collapse from Chelsea – and the only thing to play for is a Champions League place. How many times over the years have we seen Arsenal turn on the form to get their top four spot at the end of the season when they have no chance of winning the title?
It is all well and good being strong in the last three months. The really serious teams are in there from the start and they get stronger before Christmas and then into the run-in. There is a big difference between title form and a late surge for a Champions League place.
The bigger the game, the more risks Luiz seems to take
I do wonder whether the bigger the game is, the more the risks that David Luiz decides to take. Against Chelsea at Stamford Bridge in the previous round of the Champions League he was excellent. Then against Barcelona on Wednesday he was a defensive disaster. What you need from a defender is reliability and consistency and, for all his good games, it is the mistake waiting around the corner that would terrify a manager.
Scholes' week: What caught my eye
Player of the week Luis Suarez for a match-winning performance in Paris.
Moment of the week Jan Oblak's save from Gareth Bale's first chance on Tuesday night. Kept his side in it.
Match of the week Manchester United 4 Manchester City 2. A great performance from United against a top opponent.
Manager of the week Louis Van Gaal. That man again. He has changed his team for the better.
Register for free to continue reading
Registration is a free and easy way to support our truly independent journalism
By registering, you will also enjoy limited access to Premium articles, exclusive newsletters, commenting, and virtual events with our leading journalists
Already have an account? sign in
Join our new commenting forum
Join thought-provoking conversations, follow other Independent readers and see their replies