Paul Scholes column: Winning the Ballon d'Or didn't bother me. I just wanted to make sure I was in the Manchester United team
EXCLUSIVE COLUMN: The former England midfielder on the Ballon d'Or, Manchester United's formation, Wilfried Bony and Ravel Morrison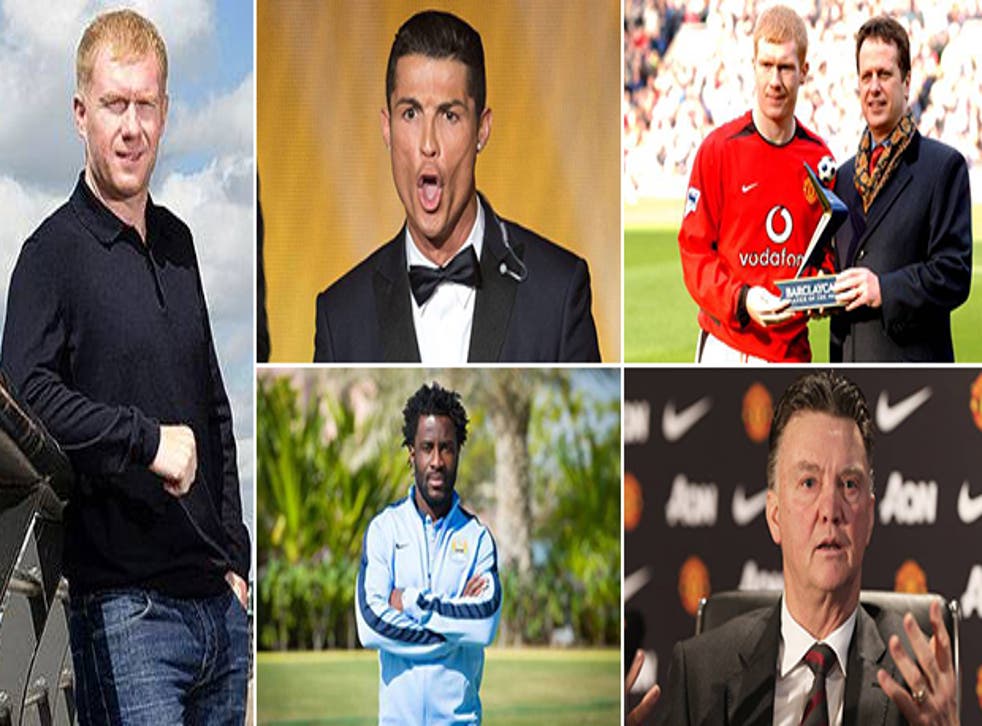 It is at this time of year I get asked, "Wouldn't you like to have won the Ballon d'Or?", to which the answer is simple. I was not even the best player in the dressing room at Manchester United. It would have been pushing it to make a claim to be the best footballer in the world.
That is how I regarded the two awards, the European Footballer of the Year and the Fifa World Player, until they merged. At United there were so many good players in the club that your first task was to get into the team. Then make sure the club was successful on the pitch. I could not tell you if I was ever on the longlist for either of them because, for the 22 years of my life as a professional footballer, my thoughts rarely strayed beyond whether the manager was going to pick me for the next game.
Looking back over the records, the competition was fierce in my days at United. Between 1991 and 2010, nine different players at the club won 10 PFA Player of the Year awards. Gary Pallister was the PFA winner in 1992 but he was not even voted United's best player that year. Brian McClair won the club award. It was the same in 2009 when Ryan Giggs won the PFA award but Nemanja Vidic won the club award. It shows you just how good you had to be to finish top of the pile at United. As for me, I won the Jimmy Murphy Young Player of the Year in 1993 and 22 years later that is still the only one I have got.
I have to accept, though, that football has changed. I do recall a time when player of the year awards were presented to footballers on the touchline after the pre-match warm-up. The winner was intercepted by the club photographer as he jogged back down towards the tunnel. There was a handshake and a picture and it was over in 30 seconds. These days you have to put on a bow tie and fly to Zurich to find out that you've finished third behind Cristiano Ronaldo and Lionel Messi.
It might not surprise you to know that award ceremonies are not top of my list of favourite evenings out. I watched the Ballon d'Or ceremony on television this week and I couldn't believe how long it went on for. As they worked their way through the presidential award and then the fair play award, I was beginning to wonder if we would get the main presentation by teatime.
There can be no arguments with the outcome. It has been a fantastic season for Ronaldo, the World Cup finals aside. He has won the Champions League and been prolific in his goalscoring. Having played with him for six years at United I know he has earned every plaudit he gets. As for next year, I would say that Gareth Bale has got his work cut out getting ahead of Messi and Ronaldo to win his first Ballon d'Or. I think it will be between those two again.
United's 3-5-2 is great for possession but not so great for scoring goals
Southampton's win over United on Sunday reinforced my thoughts on the 3-5-2 system Louis van Gaal has implemented. My issue with it has always been that it gives a team the security of having possession without offering them the opportunities from which they might score the goals that win the game.
You might remember that Liverpool played a similar system in the mid-1990s and we went into the 1996 FA Cup final worrying whether we would get a kick against them. They may well have had more possession than us but we always believed that playing with two wingers, and one striker off a centre-forward, would give us the opportunity to create the chances we needed to score goals. And so it proved.
Ronald Koeman was clever in his approach to United. James Ward-Prowse kept close to Michael Carrick and made sure Michael did not control the game. Victor Wanyama and Morgan Schneiderlin did the same to Juan Mata and Wayne Rooney. Because United lack pace in attack the two centre-halves could push up on Robin van Persie and suddenly the lack of options going forward was telling. Van Persie has a great touch but defenders can afford to get tight to him because they don't have to worry about him spinning off for the ball dropped in behind them.
Angel Di Maria has the pace but is not a centre-forward. As a player, when I was trying to open up opposing teams, a ball dropped in behind the full-back to a wide player often had the desired effect of pulling a defence out of shape. It dragged the full-back across to cover, then the centre-back was often drawn to the space left behind, which created room for the strikers to score goals.
Manchester United summer signings - assessed

Show all 6
In a 3-5-2 formation, that width is just not there for United. Luke Shaw is an orthodox left-back being asked to play wing-back. Antonio Valencia has lost some of that great pace he once had, and it is more difficult for him to get past players when his starting position is so deep.
There is no doubt that 3-5-2 helps you keep the ball. The three centre-halves and the three central midfielders can pass it around to their heart's content. The problem comes when you try to hurt teams in attacking areas. You can have all the possession you like, but if you are not creating "2 v 1" situations where you outnumber your opposition and get behind them, then you are not going to score enough goals.
Bony will have to get used to bit-part role at City but he'll enjoy the rewards
At Manchester City, Wilfried Bony will find life very different to being the main man at Swansea City. He is going to have to cope with playing one in two, or one in three, games a week when he is used to playing every match. In return he has the chance of winning trophies and, on top of that, a contract that will offer financial stability for him and his family for the rest of his life.
Those considerations can be dismissed in some quarters, but who – in any walk of life – turns down the percentage pay rise that City are able to give him? He will have to compromise in some respects but it sounds like an offer he would have been foolish to refuse. He is a different kind of player to the strikers City already have – more static than the likes of Sergio Aguero and Stevan Jovetic – but I can see why they have signed him. There are question marks over the fitness of those two.
Morrison's talent stood out at United – I just hope he channels it before it's too late
There will be another manager somewhere who believes that he can coax the best from the undoubted talent Ravel Morrison has, but, given that Sir Alex Ferguson and Sam Allardyce have both tried and failed, the manager in question will have to be something quite special.
The problems Ravel has had in his life have been well documented and it is fair to say that I saw first-hand the issues he presents when our careers overlapped at Manchester United. What I can also say is that he has a remarkable skill and vision for a footballer. I saw a lot of great young prospects at United but he really stood out on the days when he wanted to shine. No one could have done more for him than Warren Joyce, the club's reserve team manager and latterly the Under-21s coach, who went out of his way to try to understand what made Ravel tick.
If there is one consolation it is that Ravel is still young. He turns 22 next month. There is time for him to turn his career around but he has to understand that life passes in a rush when you are a professional footballer and, for all the pledges to reform, I can think of many who left it too late.
Man of the Week
I loved Andy Carroll's goal for West Ham against Swansea. A great finish.
Manager of the Week
Ronald Koeman, and surely manager of the year if Southampton keep it up.
Moment of the Week
Adrian tearing off his gloves and scoring the winning penalty against Everton.
Match of the Week
West Ham 2-2 Everton (aet 9-8 on penalties): FA Cup football at its best.
Join our new commenting forum
Join thought-provoking conversations, follow other Independent readers and see their replies