The Independent's journalism is supported by our readers. When you purchase through links on our site, we may earn commission.
Paul Scholes: I like Louis van Gaal's new system at Manchester United but I do fear it's not right for the players he has
The former Manchester United midfielder on his former team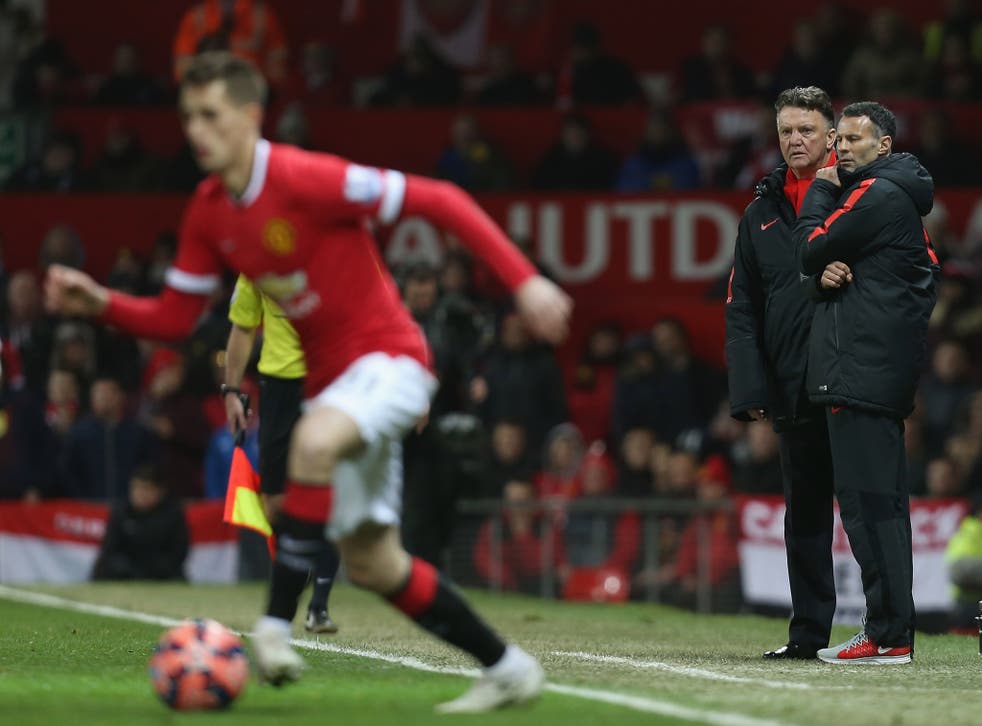 The last chance of a trophy for Manchester United this season passed with defeat to Arsenal in the FA Cup on Monday, and for the first time since 1987-1989 the club will go two consecutive seasons without a major trophy, domestic or European. But come this weekend, that will pale in comparison with the worries about Champions League qualification.
United's fixture list for the final 10 games of the season looks far from straightforward, starting with Tottenham Hotspur on Sunday and then Liverpool away the following weekend. They still have to play Chelsea and Everton away and Arsenal at home. Realistically Arsenal, United, Liverpool and Spurs are competing for the last two Champions League places, with Southampton the outsiders, and I have already said I feel that Liverpool are favourites for third.
Watching United at Old Trafford on Monday, I know what Louis van Gaal is trying to do with this team. I do like the concept. I just question whether he has the players to do it.
In recent weeks, Van Gaal has tried what I would describe as a more Barcelona-style approach to games. His centre-backs push wide, the full-backs push on and the team pass the ball. It has worked against the weaker teams but it is against the stronger sides, starting with Spurs and the high-pressing game they play, that you have to wonder whether it will be found out.
To play this way, you really need to be exceptional. Barcelona can do it because they have the players and they have been playing this way for years. United have spent around £220m in the last three transfer windows and yet I would question whether they have the players to operate this system.
The Spurs midfield, for example, has Nabil Bentaleb and Ryan Mason at the centre, two players I like. They get to the ball quickly and close opponents down. If the aim is to pass around them, then you have to be very polished in that kind of possession-style game. My guess is that Michael Carrick will play against Spurs on Sunday, which will help United.
I understand what Van Gaal is trying to do. I like that he is playing with the wide players. I also know that as former players we cannot harp on about the old days for ever. Things change, although I believe that certain principles, of attacking, entertaining football, should always be protected. Like any other match-going fan – I have two season tickets for Old Trafford – I want to see the team play well and win. I just don't think this system is the best for these players.
Manchester United 1 Arsenal 2 player ratings

Show all 24
What I find hard to understand is how, in March, United are playing another new style with no evidence that they have the personnel to do it. Managers live and die by their recruitment. You buy the right players for the system that you believe will be successful. I don't believe that the club have achieved that balance.
There must be concerns for Juan Mata, who has not started a league game since the Queen's Park Rangers match on 17 January. Given the system Van Gaal seeks to use, I wonder why Mata does not play instead of Fellaini, especially given that United can be reluctant to knock the ball long.
I still believe that Van Gaal is the right man for the job. I don't think he will change his mind about the way he wants the team to play. He is a stubborn man and that is no bad thing in football. But I am afraid to say that if he wants to play this Barcelona style then the club will have to go back into the transfer market this summer to get the players they need to do it.
It seems crazy to say that when you look at the money that United have spent, and it will be more difficult to do so if they are not in the Champions League. It has been another difficult season for the club, but nothing they have been through in the last seven months will compare with the challenge of these last 10 games, and what is at stake.
Join our new commenting forum
Join thought-provoking conversations, follow other Independent readers and see their replies