Piers Morgan 'hurt' after Arsenal legend Bob Wilson questions his support for the Gunners and labels him a 'pompous individual'
Morgan repeated his calls for Arsene Wenger to be sacked following the 3-1 defeat to Monaco on Wednesday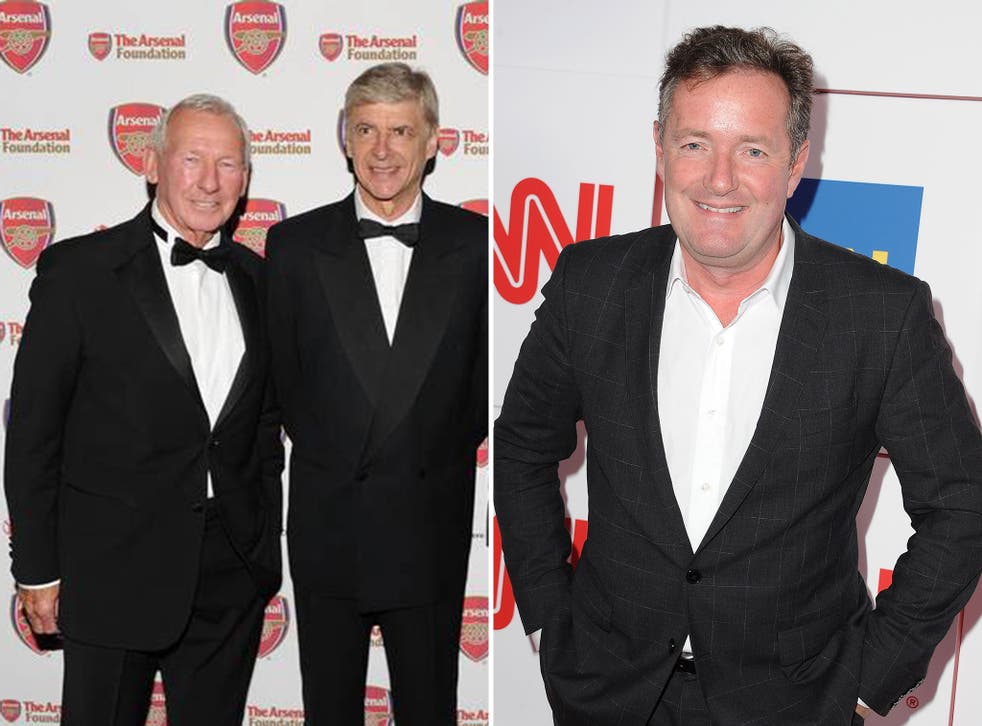 Arsenal legend Bob Wilson has blasted Arsenal supporter Piers Morgan for his relentless criticism of manager Arsene Wenger and has labelled the former chat show host an "incredibly pompous individual".
Wenger watched on from the Emirates Stadium dugout on Wednesday night as his side crashed to an embarrassing 3-1 defeat to Monaco in the Champions League last-16 first leg. The result, which means Arsenal must score at least three unanswered goals in Monaco in three weeks' time, has been described as one of the Gunners' worst result in Europe since the Frenchman took the reins at the club in 1996.
However, speaking on radio station TalkSport, former Arsenal player Wilson hit out at Morgan and questioned his validity as a fan given his continuous criticism of Wenger.
Arsenal 1 Monaco 3 player ratings

Show all 24
"I would like to say this about Piers Morgan," Wilson said on the Hawksbee and Jacobs show, with the latter being replaced by Sam Delaney this afternoon. "He claims to be an Arsenal fan, but if you're a supporter of a club you have to be through thick, thin, laughter, smiles and tears. He has never been a proper fan.
"I see him on Twitter and he drives me mad. He's an incredibly pompous individual and he has no understanding of what it is to be the manager of a football club. I can only tell you this about Arsene, and I am biased to a degree, but i'm not stupidly biased. You will not find any manager ever, more dedicated to doing his job than Arsene.
"With him it's always about the man before the player and that's very rare for a manager. His first concern is about you as an individual rather than you as a player. Always has been and always will be.
"He's been there for a long time with incredible glory times, league titles, appeared in a Champions League and FA Cup finals. He's changed the club totally.
"Above all that thought he's a really decent human being, who cares."
However, Morgan was quick to pick up on Wilson's comments, and admitted that questioning his commitment to the club "hurt".
Morgan, former editor of the Daily Mirror and TV presenter on CNN, wrote on Twitter: "Sad to hear @BobWilsonBWSC's comments. I may not be a 'proper fan' but I have 4 season tickets, own 10 shares & watch every game. #afc
"I've no problem with @BobWilsonBWSC calling me pompous. I probably am. But the 'not a proper fan' charge annoys me.
"My support for @arsenal is absolute. My support for individual managers or players is subject to their form & performance. #afc
"I love @Arsenal with a passion. Disagree me over players/manager etc. But NEVER doubt my devotion to the Club. That hurts. #afc"
Morgan was at his most scathing on Wednesday night as Arsenal left themselves a mountain to climb if they are to reach the quarter-finals of the Champions League. Should they fail at the Stade Louis II in three weeks' time, it will be the fifth consecutive campaign that has seen the Gunners eliminated in the last-16.
Join our new commenting forum
Join thought-provoking conversations, follow other Independent readers and see their replies