Rachel Yankey determined to help address the glaring lack of female coaches in professional football
Women's Sport Week: The former England international is currently studying for her Uefa A License and wants to see an increase in the number of female coaches in the game
Luke Brown
Thursday 22 June 2017 16:38 Comments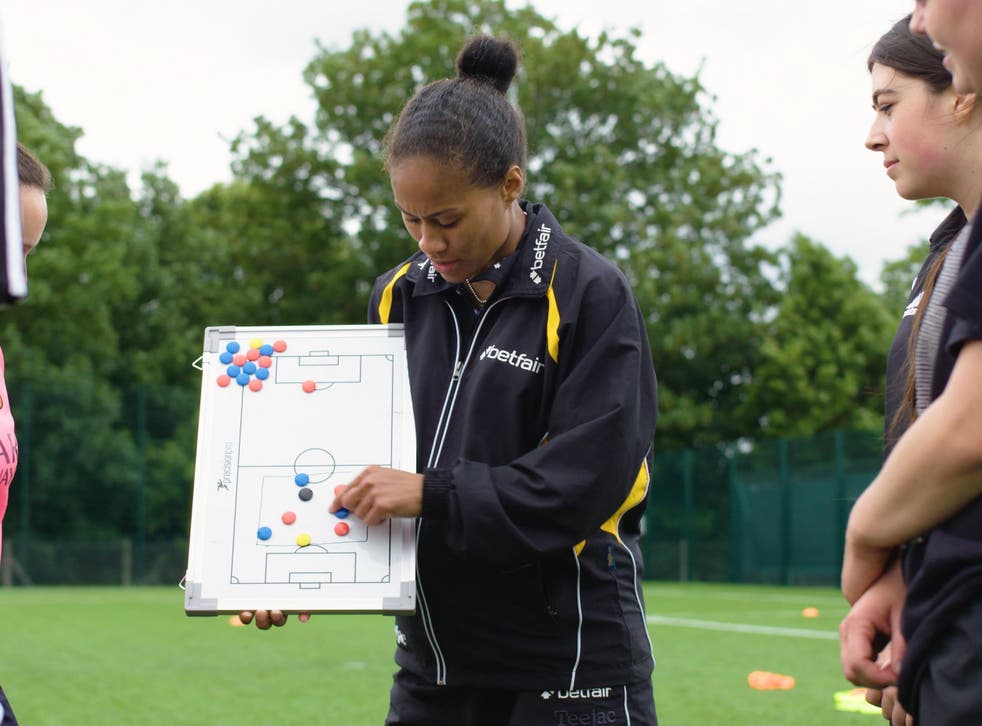 At the tender age of eight, Rachel Yankey faced the first significant challenge of her career: the local football team that she wanted to join was strictly boys only. How did she respond? By shaving off all of her hair and pretending that she was a boy named Ray, naturally. Remarkably, it was two years before her cover was blown and she was forced to join a girls-only team.
Yankey, who went on to represent her country 129 times to become England's second most capped player, has overcome many different obstacles since then. And now that she has hung up her playing boots she wants to make it as a coach – which may just be her most difficult challenge yet.
"I have always enjoyed coaching, ever since I started playing for Arsenal when I was 16," she tells The Independent, during Women's Sport Week. "I completed my Uefa B License while still playing and I am studying for my Uefa A now. Both representation and access for women in football has improved in recent years but when it comes to coaching it's still not a level playing field."
The numbers back up her claim. Currently in Europe, only 65 female coaches have obtained a Uefa pro license, compared to a total of 9,387 men. And just 29 of those 65 coaches hail from England. The women's game may have taken several giant strides forward in recent years, but when it comes to coaching there remains a noticeable imbalance.
As Yankey says, "to not be given a job or even a chance based on your gender is completely unacceptable". So why, when there are more female professionals than ever before, are there still so few female coaches?
Yankey says there are several factors. "Financially, it's difficult," she says. The standard cost for a Uefa B License – which is a prerequisite to work at a professional academy – is almost £1,000, while an A License can cost in excess of £5,000. "Financially it is a lot of money, and it is a big risk too because there may well be no opportunity at the end," she adds.
Then there is the lack of female coaching role models currently working in the game. None of the 92 Football League clubs employ a female coach, while only three of the ten teams in the Women's Super League 1 in 2017 are women.
"If there are no role models coaching at the highest level then I suppose you might be put off," Yankey says. "It is going to take a really strong person to pave the way."
There are examples in other countries of female coaches excelling in the top jobs. Perhaps the most celebrated is the former French defender Corinne Diacre, who took over the men's second-tier side Clermont Foot in 2014.
Tasked with avoiding relegation to the third-tier Championnat National, Diacre has steered the club to three successive mid-table finishes and was named Ligue 2 manager of the year for 2015. She recently revealed that she had turned down a job in the top-flight, as well as a role with the France Football Federation.
But as influential as trailblazers such as Diacre undoubtedly are, Yankey says the most important thing at this stage remains the number of women working in the game. "Increasing the number of female coaches in football is the most important thing at this stage," she notes.
"Whether it's in the Women's Super League or at another level – the amount of females currently working in clubs is key. You don't have to necessarily be the top person, but working with the club will help to change the perception of people and players."
As well as studying for her own badges, Yankey – who played for Arsenal, Birmingham and Notts County during a decorated 20-year playing career – is determined to use her considerable influence in the game to help other females into coaching.
This week she was announced as ambassador for the 'Fairer Game' campaign, launched by the bookmaker Betfair in conjunction with Women in Football. The campaign will fund 50 female coaches to undergo their UEFA B licenses, with the ultimate goal of increasing the number of women at the top of the coaching pyramid in the UK.
"I'm looking forward to helping the selected 50 females follow their passion just like I did," Yankey adds. "I think this is a really unique and empowering opportunity for them and am excited for what lies on the journey ahead."
In the meantime, she will continue studying for her own coaching badges in the hope that the ballooning popularity of the women's game will soon translate into increased opportunities for female coaches.
"As women's football has grown and got bigger, and as people have learnt more about it, I think people's attitudes have changed for the better," she says. "It just takes people being open-minded at the higher levels and giving women a chance. There's just absolutely no reason that a female coach can't give the same support or technical information as a man."
To apply for a place in Betfair's Fairer Game campaign, please visit www.fairergame.com
Register for free to continue reading
Registration is a free and easy way to support our truly independent journalism
By registering, you will also enjoy limited access to Premium articles, exclusive newsletters, commenting, and virtual events with our leading journalists
Already have an account? sign in
Join our new commenting forum
Join thought-provoking conversations, follow other Independent readers and see their replies