Sam Wallace: David Moyes' dilemma... take the Chelsea cheque or fight on at fragile Everton?
The Chelsea job is one David Moyes would surely have to think as hard about taking as Pep Guardiola did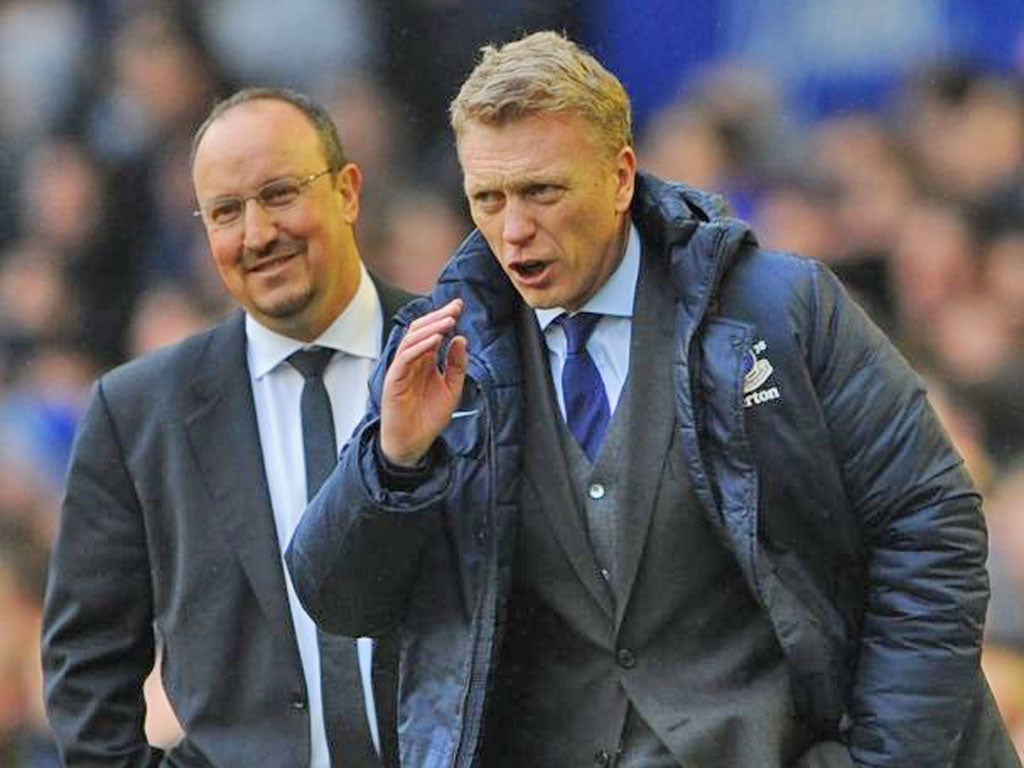 Sometimes you simply have to applaud the achievement of a manager for having done it against the odds. For having created a good side when all the usual indicators that we use to measure the likelihood of success in modern football are weighted against him.
If Everton beat Southampton at St Mary's tonight, they will be just one point behind Tottenham Hotspur and fifth in the Premier League. The expectation on David Moyes' team will rise accordingly and, as usual in football, we will be in danger of forgetting the scale of their achievement to be in contention for a Champions League place in January.
A simple indicator of Everton's parlous financial situation is that, while newly-promoted Southampton spent in the region of £30m in transfer fees this summer, the Merseyside club just about broke even with the fees for Jack Rodwell and Tim Cahill's sales covering their acquisitions.
Everton are the exception to the rule. The throwback club. The club with a manager who has competed by signing good players relatively cheaply, like Phil Jagielka, who had played just one season in the Premier League when he came to Everton, or Joleon Lescott who had not played in the top flight. Both became England internationals. With their meagre turnover of £80m and their virtually non-existent transfer budget, Everton are a bloody marvel.
Moyes' contract is up at the end of the season and he has said that he expects to sign another. But now another proposal looms on the horizon: could he be the first British coach appointed by Roman Abramovich at Chelsea? Chelsea are a big club that signs expensive footballers but it is a job that Moyes would surely have to think as hard about taking as Pep Guardiola did.
For Guardiola, with his two Champions League titles, there were other options. For Moyes, the great shame of English football is that in another era Everton's progression under him would by now have made them genuine contenders to be champions. Just not this era. So if the contract offer comes from Abramovich, he has that most difficult of decisions to make.
There are many who will consider a job like the one at Chelsea, as an opportunity too good to turn down for a manager who, for all his achievements, has not won a trophy in 11 years at Goodison Park. But if Guardiola can refuse it on the grounds that the Chelsea way does not fit with his view of how a club should operate, then why would those considerations not be relevant to Moyes too?
In the old days, before an established hierarchy was quite so entrenched – the same hierarchy that the likes of Manchester United, Arsenal, Liverpool and Tottenham would like to keep forever with their new spending-limit proposals – great managers could build a title-winning team from modest beginnings. Indeed, the likes of Bill Shankly, Brian Clough and Don Revie did it with clubs they got promoted from the old Second Division.
That door was shut a long time ago to all but the old money clubs and those funded by the new breed of multi-millionaire, now billionaire owners. That pathway, that a manager could build and develop a team capable of being champions without it being cherry-picked by richer predators, is now closed off.
As a consequence, Moyes would have a choice to make if Chelsea called. Stay on the outside and continue to fend off the sharks in the manner in which he has done so well over the years – selling the likes of Wayne Rooney, Lescott and Mikel Arteta – but surviving nonetheless. Or he can leave and accept working for Abramovich and all the limitations that entails. In the short term, at least, Everton look solid. Moyes has a left-back in Leighton Baines who will be on my shortlist for player of the season. He has Marouane Fellaini, one of the brightest talents in the Premier League. He has considerable success recruiting players in relatively unpromising leagues like Scotland (Nikica Jelavic, Steven Naismith) and Ireland (Seamus Coleman). The Everton academy has been one of the most successful in the country.
But it is a fragile existence. Newcastle United, with a relatively modest turnover of around £98m, finished a very impressive fifth last season. Look at them now. Their leading striker has been poached by one of the elite and they are tumbling with two wins in 11 Premier League games. They have a vulnerability about them that is dangerous for a team that is trying to hold its own against more powerful rivals.
If Newcastle can find themselves so quickly in trouble then where does that leave Everton? For a snapshot of their existence, you need to look at their turnover of £80.3m which puts them below Aston Villa and Newcastle in the 2012 Deloitte European money league and only one spot above West Ham.
In an antiquated stadium, without the capability to exploit corporate revenue, expand the capacity or drive up ticket prices in the way that some London clubs have done (Everton have the ninth-cheapest season ticket in the league), they are left waiting for the wealthy benefactor. There is no new stadium on the horizon.
The £45m debt is modest by Premier League standards but rises incrementally and there is no current way of paying it off. To add insult to injury the number of their games broadcast live on television is disproportionately low, affecting their broadcast fees. In the meantime, Moyes has conjured a top-eight finish in all but two of his nine full seasons in charge.
For the Everton manager there are no others routes through these days, of the kind that Shankly, Revie and Clough once navigated. So if the call comes this summer from that yacht moored out in the Caribbean, the Everton manager has to ask himself a difficult question. Does he want to win on Abramovich's terms, or survive at Everton on his own?
Clout of Africa: another attack by European clubs
An email from the European Club Association, the union of European clubs who lobby for, among other things, even greater power for their members from Uefa and Fifa, arrived in my inbox last week. It was a detailed breakdown of the European clubs who had provided players for Africa Cup of Nations squads this month.
It turns out 51 per cent of the 368 players at the tournament are registered to European clubs. So what? The ECA does not make it explicit that it feels its members are doing a favour to these African nations by releasing these players. It does not have to because the ECA's members are well-known for their antagonism towards international football, and the African Cup of Nations, which is older than the European Championships, is the most vulnerable of the lot.
My hunch to back the man from Notre Dame
The remarkable story of American college footballer Manti Te'o, the Notre Dame linebacker who is alleged to have invented the story of a girlfriend who died from cancer, does demonstrate that our own misbehaving footballers have some way to go before they hit the heights. Te'o has claimed he was the victim of a fraud. In that usual earnest manner, the American media are now in a process of self-flagellation as asking why they did not check out the existence of this phantom girlfriend.
As a rule, if a footballer tells me he is married/divorced/single or in the case of one interviewee had children with names so preposterous I had to get him to write down the spellings for me, I believe him. Once you start having to double-check that part of the job, the game really has gone.
Join our commenting forum
Join thought-provoking conversations, follow other Independent readers and see their replies