Sam Wallace: England will move on but for fallen King it's a depressingly familiar tale
With the benefit of hindsight, there will be many who criticise Capello for picking a player who has always struggled to play more than one game a week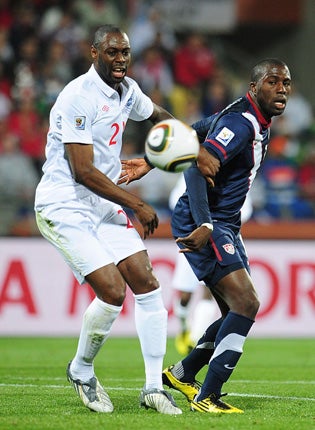 There was a moment in the first half on Saturday night when, just as England's defence looked like it might come under pressure from the United States, Ledley King stuck out a foot and glided away into space with the ball at his feet.
That was the best of King. A player whose team-mates say can execute a Cruyff-turn just as easily on his left or right foot and whose pace is still sharp enough at 29 to get himself out of trouble if a striker steals a yard on him but, these days, his judgement is so good he does not have to rely on it in the way he once did as a younger man.
As the cameras panned along the England players during the national anthems at Rustenburg on Saturday night, King did not look a picture of confidence. This was not a man who looked as if, in the latter stages of his career, he was relishing the opportunity, that has finally been delivered to him, to play in a World Cup finals. He looked anxious. Perhaps his body was already telling him that it had carried him as far as it could.
The news yesterday that a groin injury means King has effectively played his last game at this World Cup finals was a blow to Fabio Capello but it can scarcely have been a surprise. Selecting the Tottenham captain, arguably the most injury-prone England international since Kieron Dyer was playing for the national team, was always a gamble given the demands of tournament football.
King was a risk – but a risk worth taking. Had Capello not brought King to South Africa, he would still have found himself with the four central defenders he has available to him now. Capello picked five central defenders in his original squad to counter this eventuality.
There will be doubts expressed about Capello's strategy in taking two players – Rio Ferdinand and King – who have both struggled with injury this season and now find themselves out of the tournament. But Ferdinand was injured early enough to be replaced and Capello still has four centre-backs to choose from, admittedly not the ones he would have hoped to have at his disposal when putting the squad together in May.
With the benefit of hindsight, there will be many who criticise Capello for picking a player who has always struggled to play more than one game a week. The explanation is that Capello and his general manager Franco Baldini have worked on the basis that they were better off taking players to this World Cup whom they were actually likely to select rather than those who would just be making up the numbers.
The Italians were seduced by the possibility of picking a player who had been hitherto unavailable and yet, despite being unable to train or play every week for Spurs, had blossomed into one of the most cultured defenders in the Premier League. They would go to White Hart Lane to check on the progress of Michael Dawson and leave talking about the performance of King.
Without the Tottenham defender, England must soldier on. As for King, he has been told that he might be fit again in two weeks' time, maybe even three. You wonder how many times he has heard that kind of optimism before.
The last time King played an end-of-season international for England was three years ago, when he was picked by Steve McClaren in the games against Brazil and Estonia in June 2007. The injury he developed over those two days meant he did not play for Spurs again until Boxing Day of that year. Put like that, it is no wonder that Spurs manager Harry Redknapp was less than keen for King to play for England.
When King spoke to us at England's training camp in Phokeng last week, he tried hard not to make his career sound like one long story of injury management and training alone in the gym. Nevertheless, there were some mournful moments when he spoke about being unable to play football with his five-year-old son or when he compared his career to that of Paul McGrath, an old combatant with more scars than just those on his knees.
King was given a new two-year deal at Spurs last month, which offers him some stability. Usually he comes across as a gentle soul, although he did manage to get himself in trouble in March last year with one drunken night out that made the papers. Generally, the theory on King at Spurs is that he does quite well to cope with the constant cycle of injury and rehabilitation.
With that in mind, King could easily have skipped this World Cup and given his body some rest ahead of Spurs' Champions League campaign next season. That would have been the easy decision but, instead, he turned up in South Africa and played. Footballers like him usually pay the price when they ignore the medical advice.
He was in South Africa with the best possible motives, even if it did not work out. King deserves better than the usual derision aimed at players who find themselves perennially injured. England move on but for King there is only the start of another depressingly familiar story of rehabilitation to look forward to.
One size fits all for poorly turned-out World Cup pundits
I cannot understand why SABC, the World Cup broadcaster in South Africa, insist on dressing their pundits in identical suits, shirts and ties which – more often than not – do not even fit them.
Yesterday afternoon, pint-sized Ossie Ardiles looked like he had been given fellow pundit Bernard Lama's shirt by mistake. On Saturday, the Argentine had been forced to wear a particularly ill-conceived brown creation for the South Korea v Greece game.
He and fellow pundit Dwight Yorke looked like the reluctant ushers at a particularly downbeat wedding.
Capello's keeping coach no stranger to late selections
History repeats itself? Fabio Capello's goalkeepers coach Franco Tancredi was one of three goalkeepers selected by Enzo Bearzot in the 1986 Italy World Cup squad. Bearzot caused controversy by waiting until just before the start of the tournament to decide that Giovanni Galli – rather than Walter Zenga or Tancredi – would be his first choice.
Galli was blamed for conceding Diego Maradona's goal in the draw with Argentina in the group stages. The Italian press blamed Bearzot for making his decision too late. The defending champions, Italy, went out in the first knockout round.
Join our commenting forum
Join thought-provoking conversations, follow other Independent readers and see their replies