Sam Wallace: Fans in Britain would be supportive of a gay player - just as most have been for Thomas Hitzlsperger
The former Aston Villa midfielder and Germany international has reignited the debate about homophobia in the game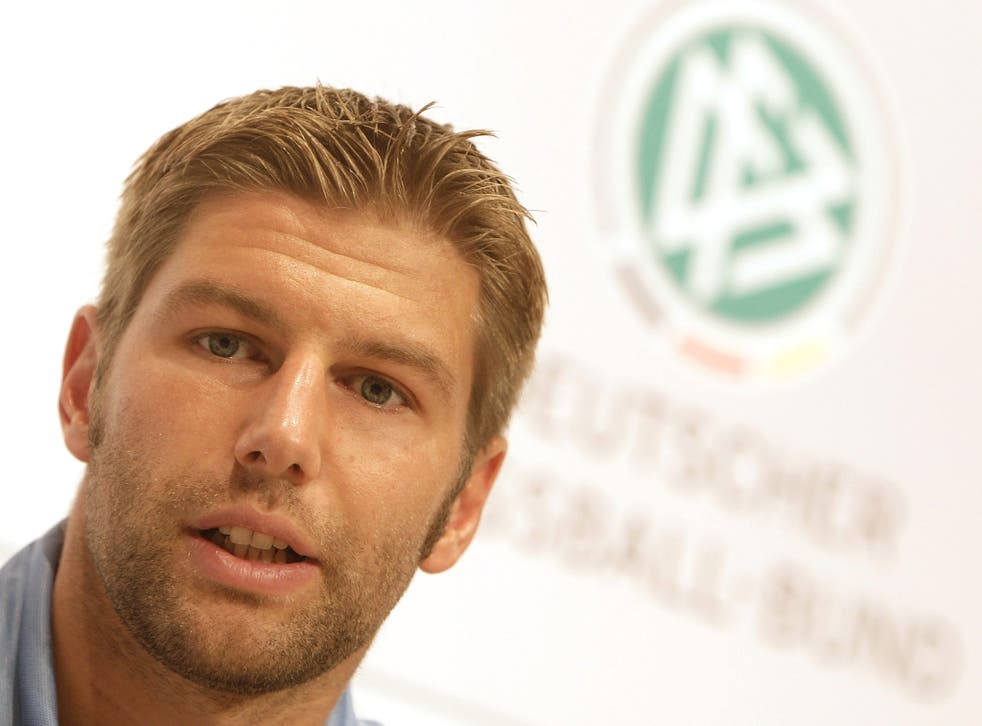 When Robbie Rogers visited Leeds United last month, to launch his former club's anti-discriminatory campaign, the American, who came out as gay last year, was given a reception at Elland Road that may have surprised some who jump to conclusions about English football fans.
Before the game Rogers walked around the perimeter of the pitch at Elland Road, that bastion of a lost era of English football, of dirty Leeds, of teak-tough 1970s players and even tougher supporters - the original Damned United. Yet those who encountered Rogers had nothing but kind words for the young man who had originally decided to retire from the game when he first came out but has since resumed his playing career.
A television crew filmed the footage of Leeds fans shaking Rogers' hand and saying how much they admired his decision to come out. Of course, one should expect nothing less, but then this is English football where we have always been told that the people who pay to watch games every week are such an intolerant bunch that life would be hell for any player who did not announce himself as heterosexual.
As Thomas Hitzlsperger becomes the latest - and only the fourth - professional footballer to announce himself as gay, it is a personal view that the people who watch English football week in, week out are not as bigoted as some would have you believe. Those tens of thousands of people who traverse the country every week who I bump into in the course of their endless pilgrimage (and my job) through motorway service stations and stadium concourses are not all homophobes.
VIDEO: 'Being gay does not make you weak,' says Thomas Hitzlsperger
Those who do not watch football regularly fail to recognise that simply because the average fan does not fit the template of a member of the tolerant metropolitan class, they would turn on a gay footballer. What football fans never fail to recognise is the best qualities of an individual, as a person and a player, and what he gives to the club that they are wedded to for life.
They share in the weekly triumphs and despairs of their club's players. There is no hiding one's personality or one's limitations on a football pitch where the emotions are forever writ large. Fans judge players on how they perform, to the best of their varied ability. They talk about their club's players as if they know them personally, and in many respects they do. They can be their harshest critics, although, from personal experience, they tend not to tolerate the same criticism from a journalist.
Football fans know courage when they see it and they would recognise better than anyone what it would take to be the first top-level active footballer to come out. It is a personal view that reaction to a high-profile gay footballer who, unlike Hitzlsperger, was still playing the game would, even in the unruly, unchecked atmosphere of a matchday stadium, be largely supportive and positive.
There will always be those supporters who hold unacceptable views, just as you expect to find in any group as large as a football crowd. It is said that attitudes in football contributed to the suicide of Justin Fashanu, the first openly gay footballer, eight years after he came out. While it may have contributed there were other major factors, such as the disapproval of members of his family at the time including his brother, John.
For all the sadness of the end of Fashanu's life, he still played after coming out in 1990 and was briefly the assistant manager at Torquay United. That was in an era when attitudes across British society as a whole were much less enlightened. Yet football did not shun him then and 24 years on from his announcement, a leading gay footballer could expect a much more sophisticated outlook.
Rogers initially retired on coming out but is now back in the game. The story of Anton Hysen, also openly gay, is a difficult one to judge given that unlike his father Glenn, a former international and Liverpool player, he has never played outside the Swedish lower leagues.
In an ideal world, there would be no prejudice at all. The reality is that in the modern Premier League dressing room, diversity is taken for granted. The only thing that connects the modern first team player in the English top flight, just as likely to have come from Europe, Africa, or South America as Britain, is that all of them are millionaires.
Perhaps the biggest bulwark to acceptance of a gay footballer in the dressing room is likely to be from footballers who have been brought up in the more zealous aspects of whatever religion they happen to follow. The old-school English macho culture of first-team initiation ceremonies and drinking bottles of beer in the communal bath - a culture that might once have militated against a gay footballer - is all but gone.
Football led the way in British society when it came to offering a meritocracy for the sons of the Caribbean immigrants of the 1950s. While we can never pretend it was easy for those black pioneers, who had to endure some unforgivable abuse, the first big-name gay footballer, when he one day announces himself, will find himself in a much more tolerant world.
Join our new commenting forum
Join thought-provoking conversations, follow other Independent readers and see their replies