Nigel Pearson: Leicester manager has outfought wild dogs, but if he takes on the world he'll lose
What pushes managers to self-destruct when a career can shatter in a moment?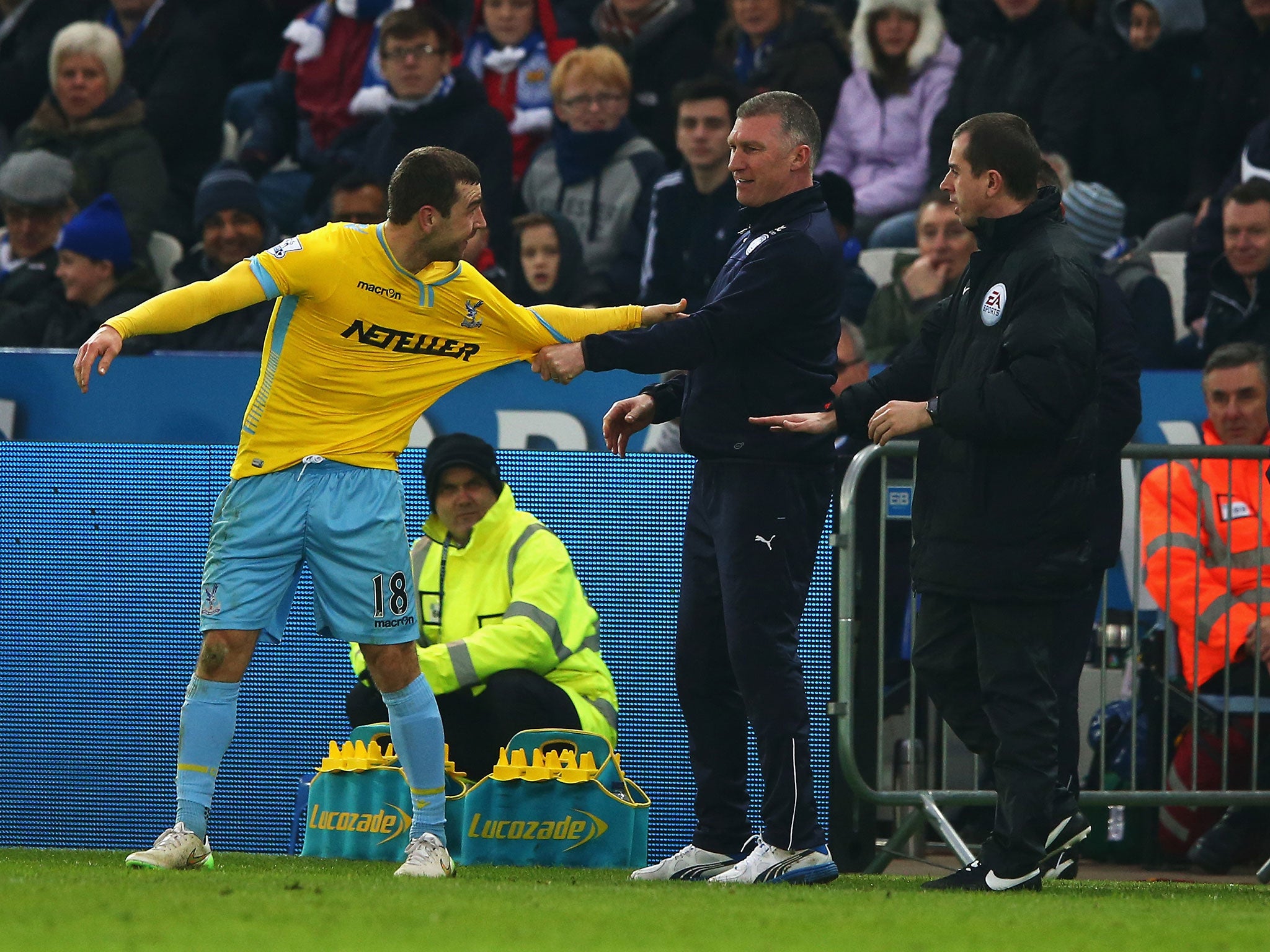 It is the best story about Nigel Pearson, perhaps the best story about any Premier League manager, and it concerns the man still in charge of Leicester City and a pack of wild dogs that he encountered while hiking alone in the Carpathian mountains.
Pearson's most detailed account of the incident came in a documentary Sky Sports made about the newly promoted Leicester last summer. "There was five of them," he recalled, "and what they do is that one goes for you and the others [circle] around until one of them can bring you down – what they essentially do is rip the throat out."
He said he had escaped them first time by throwing himself into a "patch of brambles and nettles" where he knew the dogs would not follow. When they attacked a second time he had only his walking poles to defend himself. "I backed myself against a tree," Pearson said. "I thought 'I don't want to get attacked from behind'. I was absolutely goosed by this point." He did not go into details about how he survived, saying only that he "managed to get rid of them".
Leicester City - the latest match in pictures
Show all 126
A man not given to hyperbole, Pearson reflected on the incident – he is a keen walker, who sought out the Carpathians having conquered most of Britain's mountains, peaks and trails – as if he was looking back on a bad home defeat. "It was," he said, "not a nice experience."
As football managers' holidays go, Pearson's adventure stands very much alone. Certainly, a good deal more adventurous than anything the profession is likely to encounter in its favoured haunts of Dubai or Florida. One would struggle to imagine, for instance, Sam Allardyce and Steve Bruce being forced to fight wild animals on their annual Portugal golf jaunt together – although it is best never to rule it out.
Above all, it certainly suggested a man with an interest in the wider world and a life outside of football who is unprepared to allow his job, and all it encompasses, to consume him. Having listened to the wild dogs story, the interviewer in the documentary ventured that it must make dealing with chairmen and owners feel easier by comparison. "Life," Pearson replied, "is about perspective."
Amen to that. Yet come Saturday against Crystal Palace, Pearson seemed to have lost most of his. When he pinned James McArthur to the ground, and then refused to let go with the sleeve-tugging persistence of a parent with a three-year-old, the question again presented itself. What is it that pushes experienced managers into self-destructive acts when a carefully built career can be shattered in a moment's misjudgement?
In his 2006 autobiography, Gordon Strachan, never a manager who could bury his feelings, gives one of the most vivid insights into the job in the first chapter, "The Pressure Game". He talks of an evening in the 1980s when he was at Manchester United and his manager, then just plain Alex Ferguson, broke down in tears in the Strachans' front room. They had been caring for Ferguson's three sons while his wife, Cathy, recovered from an illness.
"While talking about not having given her and his children enough attention, he [Ferguson] became so emotional that he burst into tears," Strachan wrote. "The very last thing you would have expected of someone with his image."
As for his own career, Strachan cannot forget the sheer relief he felt during his periods out of work when his wife, Lesley, could take down the sign in her kitchen that reads: "We interrupt this marriage to bring you the football season."
Those who cover Leicester regularly would say Pearson has a relationship with the press as prickly as that patch of brambles he escaped into. That is his choice, but of late it has been the rest of his behaviour that is suggestive of a man needlessly in danger of chucking everything away.
There was no climbdown over the McArthur incident which, whatever might have happened with the player's aborted transfer to Leicester last summer, required an apology from the Foxes manager. He should not have grabbed McArthur as he did, and a simple acknowledgement, regardless of what the player said later, would have eased some pressure around his position at the club.
More than ever now it seems that his job was only just saved over the course of Sunday evening when, after he had reportedly been sacked by one member of the Srivaddhanaprabha family who own the club, there was a move to reverse the decision. Pearson might feel that, having twice won promotion at the club he has served over two – is it now three? – spells, he needs to give no explanations for his behaviour, and if so it is a strangely self-destructive impulse.
It is a romantic notion that a modern-day Premier League manager can live independent of the scrutiny that engulfs the game these days, but the reality is that it exists and, whether one approves of it or not, it has to be handled. With his refusal to apologise to the fan he told to "f*ck off and die", and now the McArthur incident, it feels like Pearson is retreating further into a bunker from which he might not emerge.
He is at pains to present himself as a man who lives in blissful ignorance of the 24-hour news cycle and Twitter – and good for him – but that seems increasingly matched by an impulse to fight the world. You wonder if there is anyone on his staff in a position to advise him to take a deep breath and concede a little ground.
There is a reason why the Uefa Pro Licence courses teach modules on dealing with the media and, while it might offend the sensibility of the old school to which Pearson belongs, there is no doubt that it is an integral part of the job. The best managers turn it into an advantage rather than a chore and the most accomplished – Ferguson, Jose Mourinho – use press conferences as a way of addressing their own players, as well as the opposition.
Pearson said in the summer he was contemplating changing his approach but that plan seems to have been abandoned. Insistent that he had not known about the reports of his sacking on Sunday, he said yesterday: "Have you ever tried ringing me? You can't get me. My cat was sitting on my knee all [Sunday] afternoon, I was like Blofeld. You can keep trying all you want but I am not going to elaborate any further on this story."
That at least shows a glimpse of the sense of humour that can be useful in these situations. This season he has divided Leicester fans between those whose remain loyal after those two promotions and those who think he has made too many mistakes. In some respects, it is admirable that he is so unwilling to change but he need not betray his principles to give himself a better chance of survival.
British managers fall out of this game at an alarming rate. A glance back over Pearson's CV reminds you that at Newcastle he was assistant to Glenn Roeder, who managed two Premier League clubs but has not had a job since 2009. Roeder is a well-regarded coach and his story, along with countless other managers, tells you that this is a game that is very quick to forget. Especially those who find themselves on the outside.
Join our commenting forum
Join thought-provoking conversations, follow other Independent readers and see their replies