Ryan Giggs is perfect fit as Manchester United manager... but not just yet
The Welshman has been given the reins until the end of the season following the dismissal of David Moyes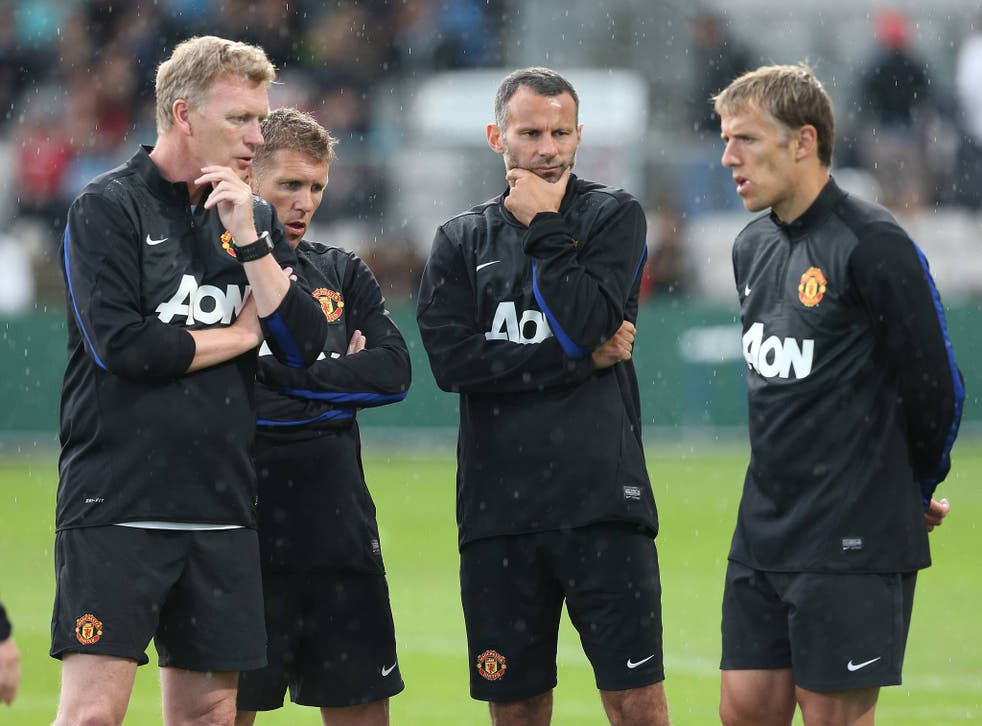 It was after he was instrumental in winning the second leg against Olympiakos in the Champions League that Ryan Giggs last spoke at any length about his 24th season as a professional at Manchester United. He has stopped hundreds of times after games in hundreds of stadiums around the world over the years and perfected the footballer's art of diplomacy, but this time you could see it was a strain.
He was asked about Wayne Rooney's earlier point that the team had "owed" David Moyes their comeback from a 2-0 first-leg deficit. Giggs replied that they owed the fans the result, before adding after a pause that they owed the manager too. He said that there was a lot of "quality" in the team but too many had been "written off", although he did not specify by whom. He was asked whether his night's work might earn him a few more starts, and he laughed, an expression, in this instance, of general bewilderment.
Giggs did not survive under Sir Alex Ferguson from a trial at United over Christmas in 1986 to the retirement of the latter last May without knowing exactly what was permissible to say and what was not. His autobiography, published in 2006, is fascinating on his early life, scathing about his estranged father, Danny Wilson, the former rugby league professional, and then, as it moves into his career as a professional at United, offers little more insight than you would have garnered from match reports from the era.
The next Manchester United manager: Those linked with the Old Trafford hot seat

Show all 11
It is just the way that Ferguson will have wanted it, and you could imagine that the Old Trafford censors who insisted on every player's book, post-Jaap Stam, being vetted by the club had a very easy day when it came to Giggs' memoirs.
But it would be wrong to characterise the new interim manager of United, the most successful individual footballer in the history of the English game, as the unassuming man that he can so often present himself as. He is as tough as they come. As for his partnership with United, where else in British life would you encounter an individual who has served one institution from adolescence into their forties? There will be those older than Giggs who have served longer, but few whose service stretches from childhood into middle age.
The essence of United, their attitudes towards the rest of the world, their standards, their sheer size – those things which Moyes found so hard to get to grips with – are not a mystery to Giggs. He did not have to learn them, he was part of re-establishing them in the modern era. In handing him the job, on a temporary basis, United go from the ultimate outsider to the ultimate insider.
In the long-term the absence of strong candidates works in his favour. United want an experienced manager and Giggs will not be in the job beyond the end of May but, given that the favourite is a 62-year-old Dutch authoritarian who has no experience of working in England, United's cup hardly runneth over. If he is appointed, Louis Van Gaal will surely not be in the job for anything like the six years originally promised to Moyes, which means that if the door shuts now, it is not shutting for long.
Giggs was present with Ferguson at the first meeting Moyes held at Carrington after his appointment and he accepted a place on his coaching staff, but it is clear that the relationship barely lasted. Giggs is no one's fool. Ordinarily any caretaker manager with ambition wants the job on a permanent basis, but he is in the unusual position where he could be confident that the chance will come around again.
The job on offer is not, for instance, the equivalent of Pep Guardiola being promoted by Barcelona in 2008, a great player fast-tracked by his club. Unlike Guardiola then, Giggs is still playing and he does not have even the limited experience that Guardiola had then with "Barcelona B". For him, it was a case of reconfiguring the engine of a beautiful machine; United require some massive calls in the summer transfer market – and decisions that need to be made now.
One more manager at United post-Moyes will buy Giggs time to finish his playing career and get ready. He has always been a guarded person and the revelations about his private life three years ago, which were badly handled, will have bruised him. But since Ferguson retired, he has been a bit more open, in the documentary The Class of 92 about his generation of home-grown players at United.
In that film, Giggs emerges as the alpha male in a group of very strong personalities. It is him who is merciless in his impersonation of the Neville brothers, Gary and Phil. It is him, and only him, who seems to regret the passing of the old-school first-team initiation traditions. In fact, when Phil Neville suggests he was the worst of the lot, Giggs responds by pointing out that it did Phil no harm.
There is a tendency for a club to go with what it knows after a failure in appointing a manager, and there has been no bigger a legacy and no more botched a succession than the Ferguson-Moyes handover. Perhaps Van Gaal is the answer for now, a tough guy in the mould of Ferguson with a history of success in different countries and an unswerving belief in his own ideals. But there is a case for saying that Van Gaal is primarily an attractive option because he will be available after the World Cup finals. There was no momentum behind him as a candidate one year ago.
When Barcelona appointed Guardiola instead of Jose Mourinho in succession to Frank Rijkaard, the club were picking more than just an inexperienced coach. What they were assured of was a manager who could comprehend what the club required, what it represented, and what it was like to walk out of the tunnel and confront those tens of thousands of expectant faces without fear.
Given that so much of Moyes' failings seemed to revolve around his unpreparedness for that, it makes Giggs a compelling choice one day. The rest he can be helped with. As for the moment on Saturday when he walks out in front of Old Trafford as the leader of the club? He has spent 27 years of his life preparing for that.
Register for free to continue reading
Registration is a free and easy way to support our truly independent journalism
By registering, you will also enjoy limited access to Premium articles, exclusive newsletters, commenting, and virtual events with our leading journalists
Already have an account? sign in
Register for free to continue reading
Registration is a free and easy way to support our truly independent journalism
By registering, you will also enjoy limited access to Premium articles, exclusive newsletters, commenting, and virtual events with our leading journalists
Already have an account? sign in
Join our new commenting forum
Join thought-provoking conversations, follow other Independent readers and see their replies