Sepp Blatter remains critical of Kevin-Prince Boateng, saying 'running away' from racism is not the answer
AC Milan forward walked off amid abuse from fans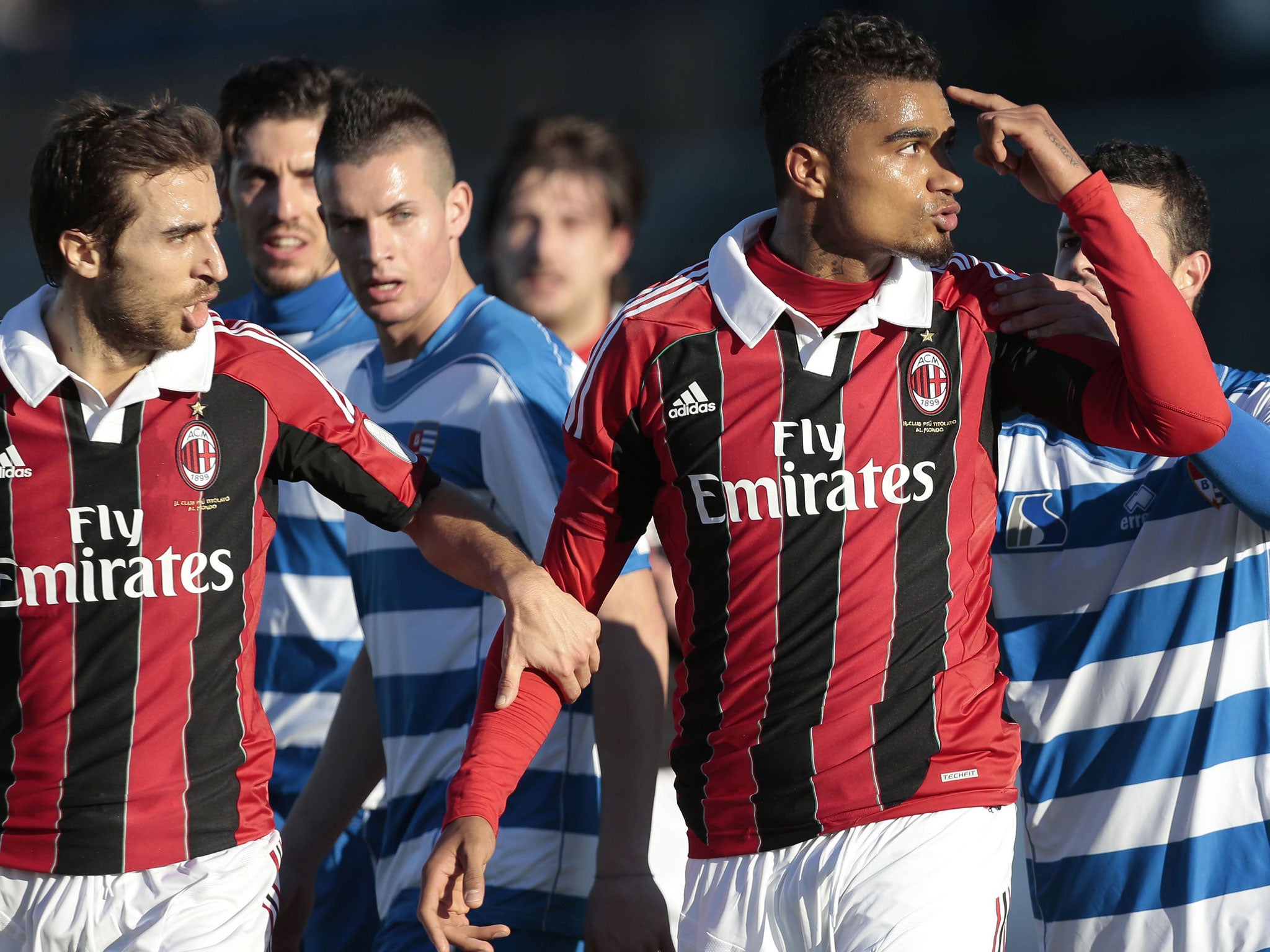 FIFA president Sepp Blatter is convinced that "running away" from racism is not the answer to solving the problem.
AC Milan midfielder Kevin-Prince Boateng and his team-mates walked off the field after he was subjected to abuse during a recent friendly match with Pro Patria.
Some applauded Boateng for making a stand, but Blatter went the other way, saying that players should not leave the pitch.
He reiterated that stance last night, saying avoiding the issue would not solve it, but did stress the need for greater sanctions to be placed on guilty parties.
During a Special Report interview with Sky Sports News, Blatter said: "I think we can never do enough to eradicate all the racism in football.
"We have already tried and you have given, in Great Britain, the best example of how to eradicate violence in football with the modern stadia, with the controls and education that this is the one thing."
FIFA last week ordered the Bulgarian and Hungarian football associations to play a game behind closed doors in response to racism incidents involving their fans, but Blatter believes a punishment of point deductions could prove to be more effective.
"I think a more radical solution would be deduction of points. Deduction of points would have a better impact on that than any other sanction," he said.
Adding his thoughts about Boateng, he said: "Already to have a match played without spectators is a warning, it's a warning for all the spectators but the situation is now as such, you remember the Boateng problem, running away.
"I made a comment on that and I still have the same feeling, it was good what he has done in order to give this impact by saying 'listen, look at what has happened' but it can't be the solution.
"It can't be the solution because you can never solve any problem in your life, being in private life, in economic life, wherever, by running away.
"This is a good sign, it's a good sign, to now say listen, if you don't take care now of our sport they will do it."
Blatter's last major event at the head of the game before he stands down in 2015 will be next year's World Cup in Brazil.
Questions have been asked about the country's ability to stage the tournament, with stories of unbuilt stadia causing doubt, but according to Blatter, everything is on track, much like his plan to introduce goal-line technology in Brazil.
"In Brazil they have had some problems in keeping their road map they have established years ago when Mr Lula was still the president but now they are to go up exactly where they should be," he said.
England are currently qualifying for that tournament and Blatter did have some advice for the Football Association, saying he felt too many overseas players were harming the national team's chances.
While defending the amount of foreign owners there are in the Premier League, he added: "You have too many foreigners and not English players, so your national team is not yet, I have to say, is not yet at the level of these national teams I just mentioned and if you look to Spain, Italy and Germany you realise that 80% or even more of the players of national team, they play in their own league, and so it is an influence of how many good players you have in your own league for the national team."
PA
Join our commenting forum
Join thought-provoking conversations, follow other Independent readers and see their replies