'Some want special soap, others want bananas...': Brazilian hoteliers surprised by World Cup teams' extravagant demands
If you thought footballers were overpaid and cossetted, here are some new absurdities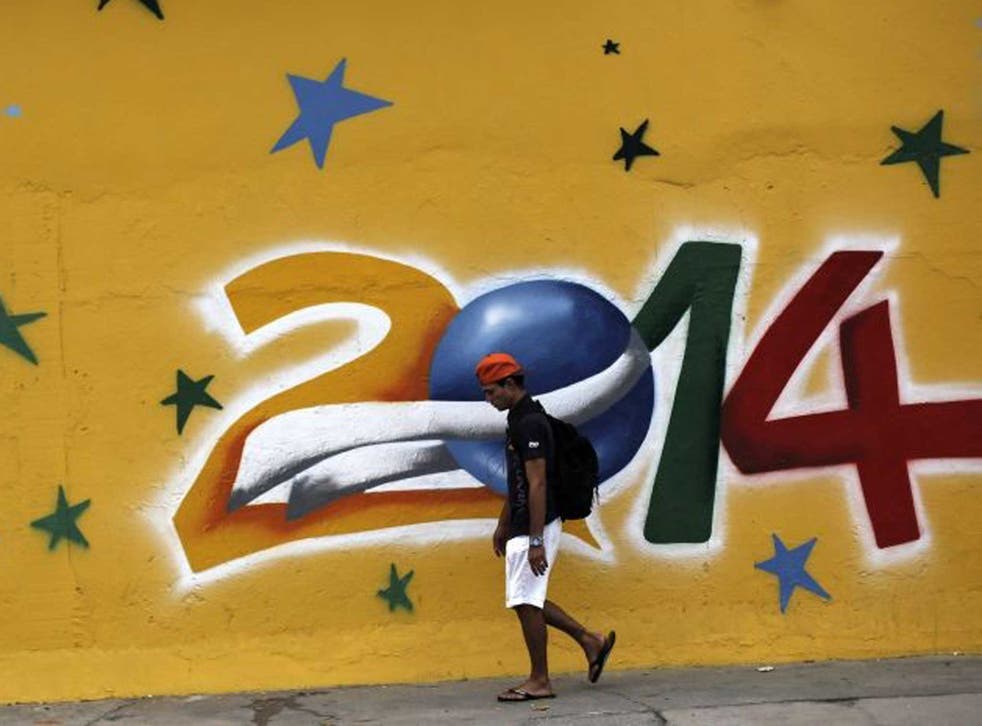 Hollywood A-listers, pop stars and royalty may make lofty demands of hotels, but some of the 32 national teams taking part in this summer's Fifa World Cup in Brazil list some curious requirements that have surprised even the most grizzled hotelier.
The Algerians want the Koran by their bedside, the Uruguayans have insisted on silent air-conditioning, to ensure their players have a "peaceful and quiet environment", and Ecuador want daily deliveries of their local banana varieties. Nothing is too much in the cossetted world of international football.
With just over a month to go before their 736 distinguished guests land in Brazil, the hotels in 27 cities across nine states are experiencing an intense flurry of activity as they apply the final touches to some costly preparations. While many stadiums have reportedly been poorly finished, the competitors are leaving nothing to chance, and all the teams have stepped up their security.
The French football federation has reserved all the rooms in the JP Hotel in Ribeirão Preto, São Paulo, and insisted every player's room is identical, down to the colour of the paint.
"They asked us to buy two types of liquid soap, one for showering and the other to wash their hands," said Luciana Marotta Guimarães, JP Hotel's general manager.
Attention to detail is something that Fifa, football's world governing body, has asked fans to adhere to as well. Its secretary general, Jérôme Valcke, admitted on Friday that fans will face the greatest difficulties over accommodation and transport.
"The biggest challenge will be for them," Mr Valcke said. "It will not be for the media, it will not be for the teams, it will not be for the officials, it will be for the fans. My message would be, just make sure you are organised when you go to Brazil."
The Germans have made by far the most extravagant preparations. The delegation has built its own training facility in the scenic village of Santo André in Bahia, and the headquarters for coach Joachim Low's team is a gated community with 13 houses, 65 rooms, a football field and press centre.
Roy Hodgson's England squad has emerged as one of the countries with the fewest demands. "They've only asked us to set aside one of our three restaurants for their exclusive use, give the footballers a dedicated video games room with three TVs and the latest games, and they want the sole use of the gym and swimming pool for just several hours every day," said George Durante, general manager of the Royal Tulip Hotel in Rio.
Two floors of 64 rooms have been reserved for the England squad and technical staff in the São Conrado-based hotel. "We've gutted all their rooms and we're installing brand new furniture, beds, wooden floors, rust-free balconies and air conditioning," revealed Mr Durante. "We've spent more than £2m."
Ibrahim Lança, of the Hotel Ilha do Boi in Vitória, Espirito Santos, where Australia will stay, said: "They want Brazilian meals of red meat, fish and chicken, but all cooked within the concept of a healthy diet. We've also been asked to install coffee machines for four players."
But Bosnia favour isolation. "They've asked us to install an acoustic [sound-proofed] screen," said Lourival Pierim of Casa Grande Hotel Resort & Spa in Guaruja, São Paulo. "The players will dine on one side and coaching staff on the other. Their chatter will not be mixed."
Join our new commenting forum
Join thought-provoking conversations, follow other Independent readers and see their replies