Sport must prepare for irreversible changes due to climate change unless it becomes part of the solution
Virtually every coastal golf course in the world will be under threat by the end of the century while nine of 21 Winter Olympics host cities will not be able to host the Games again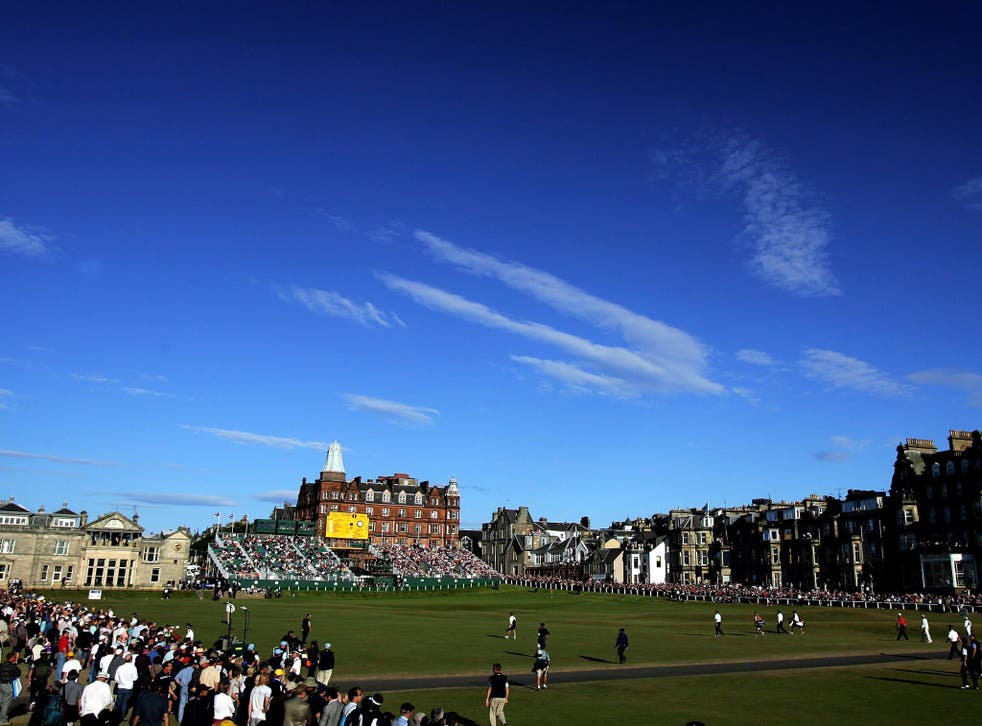 They've been playing golf at Montrose Links, on the idyllic windswept Angus coastline between Dundee and Aberdeen, for almost 500 years. It's the second oldest continually-used course in the world, after the Old Course at St Andrew's: a piece of this country's sporting heritage, and a damned nice spot to boot. And it's slowly being nibbled to death.
Piece by piece, the links is being swallowed up by rising tides and coastal erosion. The North Sea is encroaching at a rate of a couple of metres per year. The iconic third tee has already been sacrificed. A big storm could be catastrophic. "As the sea rises, and the coast falls away, we're left with nowhere to go," says the club's financial director Chris Curnin. "Climate change is often seen as tomorrow's problem, but it's already eating away at our course."
The case of Montrose features in a report issued this week based on research by the Priestley Centre at Leeds University into the potential impact of climate change on sport in this country. And what becomes clear over its pages is that virtually no outdoor sport is safe from the seismic and accelerating consequences of extreme weather. Nobody can really say with any certainty what sport will look like in 100, or 50, or even 20 years. But there's a fair chance a lot of it will be happening indoors.
A small increase in global sea levels would put virtually every coastal golf course in the world – St Andrew's, Muirfield, Turnberry, Troon, Pebble Beach – in jeopardy by the end of the century. Within a couple of decades, according to the University of Ontario, nine of the 21 cities that have hosted the Winter Olympics may never be cold enough to host the Games ever again. A lack of snow is already forcing most World Cup skiing venues to use man-made snow, which is faster, harder and thus appreciably more dangerous.
Cricket, with its extreme sensitivity to climate, geology and atmospheric conditions, is particularly vulnerable. It is over a decade now since Worcestershire lost almost half of its season in the floods of summer 2007. And according to an article by Tanya Aldred in last year's Wisden Almanack, climate change has the potential to threaten cricket in virtually every single one of its leading nations: extreme droughts in Australia and Zimbabwe, water shortages in India, flash floods in Bangladesh, rising sea levels in Sri Lanka and the Caribbean, dangerous temperatures and sudden storms almost everywhere.
What of the world's most popular sport? Well, football will probably be fine. I mean, flooding and increased rainfall has the potential to decimate grassroots football everywhere, as well as the ordinary, working-class communities that produce the vast majority of footballers. But Big Football – your Chelseas and your Paris Saint-Germains and your Guangzhou Evergrandes – will, you suspect, somehow stagger through. Some, indeed, are doing very well out of ruining everyone's weather, given how many of them are bankrolled by oil and gas money. As with climate change more broadly, it is those at the bottom of the parched, dying tree that will be hit the hardest.
So all this seems fated to remain at the very bottom of football's to-do list, which is understandable in a way. Tackling climate change requires us to fear climate change, which in turn requires us to delve deep into our imaginations and envisage something that has never happened before, and for which we thus have no previous frame of reference. It requires a long-term vision, and in a sport where Sam Allardyce is never more than four months away from his next job, that's always going to be a tall order.
And yet, football's wilful deafness to the issue – one in which it is by no means alone, but because of its sheer size, particularly culpable – still retains the capacity to surprise. It is not uncommon, for example, for Premier League teams to take flights of around 15-20 minutes to travel to and from away games. So on the one hand, you have the opportunity to do your bit in saving the planet, prevent thousands of species from going extinct, millions of people from losing their homes, and preserving our way life on earth as we know it. On the other hand – ooof, Bournemouth away on a Tuesday night. Can't risk the bus for a trip like that.
You sense that on some level, sport will always be a net drain on the planet. All those shiny new construction projects, all those replica shirts, all those flickering screens, all those millions of fans travelling billions of miles, all those noxious freight trucks filled with Formula One cars or racehorses or watery booze. And yet, there is another way. This week's report singles out the two Manchester clubs for their extensive conservation projects: City for establishing around 30 hectares of meadows and wetland on what was previously a toxic wasteground, United for creating a nature reserve at their Carrington training ground.
And herein lies the counter-argument: that sport, something people do care about, can help raise awareness of climate change, an issue most people don't. The counter to that, I suppose, that the time for raising mere awareness rather than screaming alarm has long since passed. But we all have to start somewhere. If sport insists on being part of the problem, perhaps the least it can do is make itself part of the solution.
Register for free to continue reading
Registration is a free and easy way to support our truly independent journalism
By registering, you will also enjoy limited access to Premium articles, exclusive newsletters, commenting, and virtual events with our leading journalists
Already have an account? sign in
Register for free to continue reading
Registration is a free and easy way to support our truly independent journalism
By registering, you will also enjoy limited access to Premium articles, exclusive newsletters, commenting, and virtual events with our leading journalists
Already have an account? sign in
Join our new commenting forum
Join thought-provoking conversations, follow other Independent readers and see their replies