Striker Bellamy arrested and bailed over alleged assault in Cardiff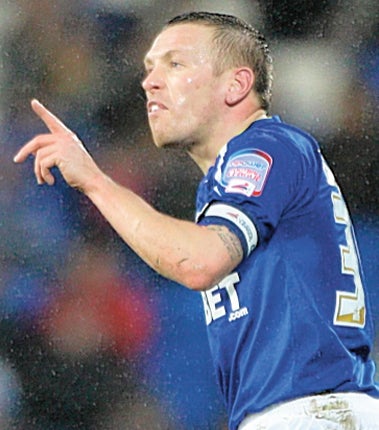 Manchester City forward Craig Bellamy has been arrested and bailed on suspicion of assault after an incident in Cardiff at 2.45am on Sunday.
The 31-year-old, who is currently on loan at Championship side Cardiff City, was taken into custody after two men, aged 20 and 26, sustained facial injuries.
A South Wales Police spokesman yesterday confirmed that a 31-year-old man had been arrested and bailed pending further inquiries.
The alleged assault took place on Caroline Street – informally known as "Chippy Lane" – and Bellamy was then taken into custody before being released after speaking to officers.
Cardiff City refused to comment on the arrest. "We are aware of the reported incident involving one of our players last weekend and feel it would be inappropriate to comment while an ongoing police investigation is under way," a spokesman for the club said.
This is not the first time the Welshman has been arrested. He was charged but cleared of assaulting two girls in February 2006.
During the trial it was revealed that he swore at police officers and suggested they were jealous of his fame while they questioned him outside the nightclub where the alleged assaults took place.
In February 2002 Bellamy also received a caution for hitting a woman in a nightclub and in March 2003 was charged with racially aggravated harassment outside a nightclub but was later acquitted.
He has also been involved in controversial incidents at former clubs. At Newcastle he threw a chair at the then assistant manager John Carver in 2004 and was fined £80,000 by Graeme Souness for calling him a liar in 2005.
And while playing for Liverpool it was alleged that he attacked team-mate John Arne Riise with a golf club at a training camp in Portugal in 2007 ahead of their Champions League tie against Barcelona.
The police were unable to confirm the date Bellamy was bailed until as they continue investigations into the incident.