Inside Sunderland's revolutionary sensory room bringing the game to life for young autistic supporters
In 2014 Sunderland became the first club in the world to open a sensory room for children on the autism spectrum, with a second room now open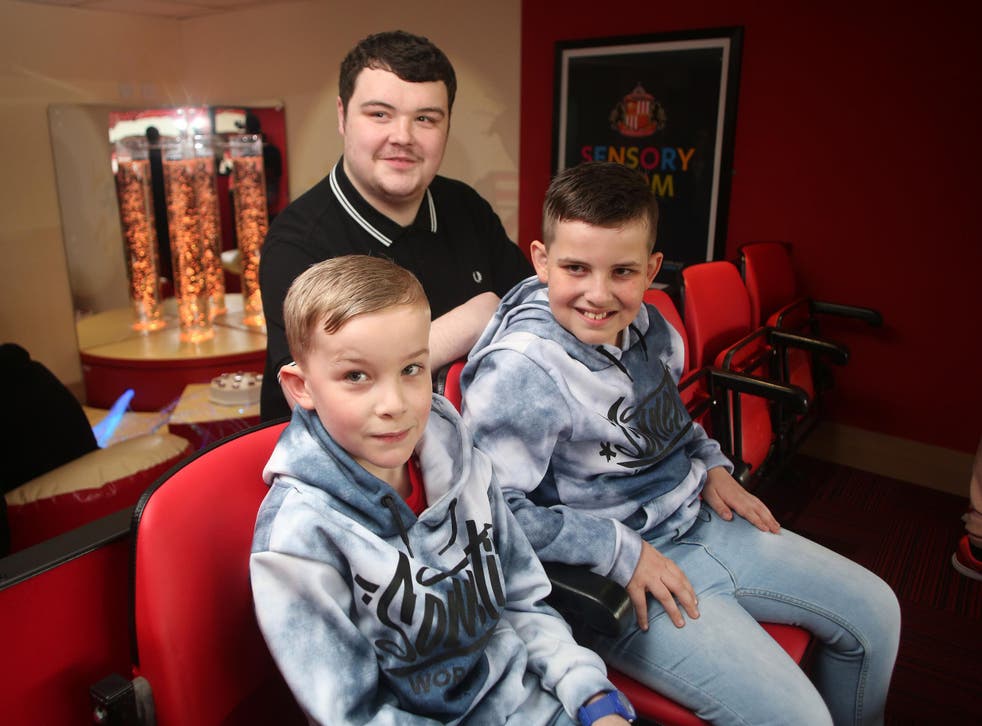 "Come on, pass the ball better!"
Nathan Shippey is leaning over the edge of an executive box, shouting, excitedly. It is a familiar sight.
The wind swirls, rain falls, near 30,000 Sunderland supporters are doing the same; urging another miracle from their football club, fighting relegation once again.
Sat beside Nathan, who is ten, are Bobby and Bradley, more quietly, more aware, it seems, of the odds facing their football club. Three boys together, watching their team. Behind a glass screen, Katelyn stands for the entire match; tracksuit bottoms and a Sunderland sweatshirt. She is 14, a little bit older. The footballing hurt game is less new to her. Above can be heard the strains of 'hark now hear, the Wednesday sing.' It is the Stadium of Light, Sheffield Wednesday are in town.
After 18 minutes, Nathan leaves his seat, and goes back into executive box number one. He removes the yellow ear protectors and sits on the cushions around the room. There are buttons and lights and an air of calm. This is the Sensory Viewing Room at the Stadium of Light, the second Sunderland have opened.
For children like Nathan, with autism, it means their local football club becomes accessible. When the noise and the amount of people at a game become too great, there is somewhere to head for time away from the maddening crowd.
"I brought Nathan to a game in May, 2014 against West Brom and it was a big atmosphere and Sunderland needed to win to stay up," says Peter Shippey, Natahan's dad.
"Halfway through the game Nathan was cuddling into me because he was frightened. He couldn't take the atmosphere so we had to leave early. We just thought he would never be able to go to football, but he was still enjoying it on the telly.
"He goes to Sunningdale School in Sunderland, which is a special school, and there is a sensory room in there. We put two and two together because no one had thought about putting anything into a football ground for people with sensory needs.
"I showed the club there was a demand through a petition and credit Sunderland, they got the idea, produced the room, and more children started coming."
In 2014 Sunderland became the first club in the world to open a sensory room for children on the autism spectrum or with sensory impairment conditions.
Four years later, on World Autism Day, with over 700,000 people in the UK autistic, Sunderland are opening their second.
"For Nathan it was like having a door that was shut to him," adds his dad. "He came and he was calm and comfortable. If he was struggling with the atmosphere he would come inside. It was just like turning the television down a bit. He was calm and enjoyed the game instead of worrying about his environment."
Chris Waters is Sunderland's supporter liaison officer. "The funding's come from the Premier League on the back of Sunderland creating the first sensory room. We had clubs from Mexico and Brazil come over.
"The feedback we got was fantastic. Families said their children had only managed 10 or 15 minutes before. We see what the children can handle. Ideally we'd love to get all of them into the stands. Others prefer to remain in the room throughout.
"The Premier League saw what we had done. They have put a funding campaign with BT Sports and Lord Taverners and the Shippey campaign and the North East Autism Society has worked with us as well. This is a ticket purchase room as well for the supporter that requires the room. The assistant will be free of charge.
"We've split the room into the seating area, a bubble tube, a projector screen and other sensory facilities for a calming area, bean bags and the game's on the television. The supporters have various options of how they want to get comfortable."
There is a birthday cake to celebrate the room's debut, joy at a Sunderland equaliser and excitement when a shot from Lee Cattermole crashes off the post when they trail 2-1. The boys, however, share a stadium's despair. Heads are bowed when Atdhe Nuhiu scores Sheffield Wednesday's third; welcome to the life of a fan.
"I want to see the fans jump and own when we score!" says Nathan. "I love coming to the match. Sometimes the game is too noisy for me, that's why I like this box so much. Sometimes I like to have some space.
"I watched the Derby County game on Friday and my favourite player is John O'Shea. I was jumping around my front room going 'yeah!' when he scored."
His optimism survives another worrying afternoon for the club. "Can Sunderland stay up? Hopefully!" he smiles.
Join our new commenting forum
Join thought-provoking conversations, follow other Independent readers and see their replies