Ukraine 0 England 0: Jack Wilshere is not ready for international football - bring back Michael Carrick...
Five things we learned from England's draw in Kiev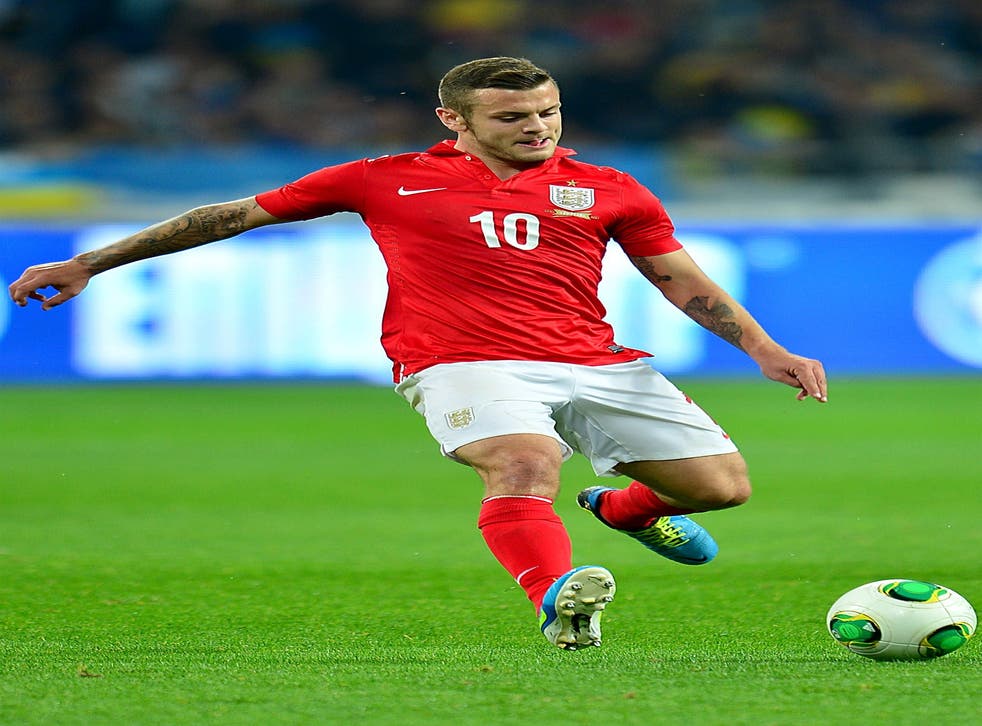 1. Jack Wilshere is not ready for international football
Given his high profile and his clear gifts, it is easy to forget that Jack Wilshere is not especially experienced at the top level. But this was only his fourth competitive international of his career and it showed.
Wilshere struggled to make much of an impact, failing to find space in between the lines and not keeping the ball very well when he did get it. The slower pace of international football looked slightly beyond him, and more often than was desirable Wilshere ran straight into Ukrainian tackles. Of course, he is young and there is far more to come but maybe not at this level quite yet.
2. Konoplyanka is the winger they will all want
Whether he makes it to the World Cup next summer or not, Yevhen Konoply-anka will surely be one of the most exciting wingers of the next decade. He tormented Kyle Walker throughout with his perfect cushion-touch, his awareness and his burst of pace. There is a hint of Georgi Kinkladze to him.
Konoplyanka still plays his club football in Ukraine for Dnipro Dnipropetrovsk and while he would be a wonderful player to have in the Premier League there will be intense competition for his signature throughout 2014.
3. England cannot do without Wayne Rooney
For all the issues with Wayne Rooney's club career, at international level he is still the indispensable man. It is clear in most England games that he is on a different level of intelligence and awareness from most of his team-mates, and so it was tonight.
Rickie Lambert put himself about well, won a few free-kicks and a few knock-downs. If paired with Wayne Rooney in a 4-4-2 he would probably do some damage. But, judging on tonight, the movement and the link-ups are just not what they are with Rooney, who remains England's crucial player by a distance.
4. Joe Hart has a month to shake off his carelessness
The good news, for Joe Hart and England, is that he has another month to rediscover some form before the final qualifiers against Montenegro and Poland. Tonight was another display in keeping with his start to the season for Manchester City, as he suffered again with that nervous carelessness which has afflicted him.
It could have been much worse. In the first minute Hart was visibly unsure about how to deal with a low ball into the box, rushed out late and felled Ukraine striker Roman Zozulya. It should have been a penalty, but wasn't, and England were spared.
5. Carrick should have played
Watching an England performance this short of quality and control, it was easy to wonder why Michael Carrick, an Englishman who retains possession better than any other, was not in the side. On a night of dismally low quality from both sides – don't rush to bet on either winning the World Cup next summer – the inability of either team to keep the ball was infuriating. Carrick is no panacea – he played through the costly Podgorica collapse in March, and would not be able to improve the passing of the defence. But he would, surely, have brought a slight improvement.
Register for free to continue reading
Registration is a free and easy way to support our truly independent journalism
By registering, you will also enjoy limited access to Premium articles, exclusive newsletters, commenting, and virtual events with our leading journalists
Already have an account? sign in
Register for free to continue reading
Registration is a free and easy way to support our truly independent journalism
By registering, you will also enjoy limited access to Premium articles, exclusive newsletters, commenting, and virtual events with our leading journalists
Already have an account? sign in
Join our new commenting forum
Join thought-provoking conversations, follow other Independent readers and see their replies