Wembley violence: Investigation suggests fighting was sparked among Millwall season-ticket holders
Area of seats where unrest started suggests troublemakers were affiliated with the Championship club
Jack Pitt-Brooke
,
Sam Wallace
Tuesday 16 April 2013 11:49 Comments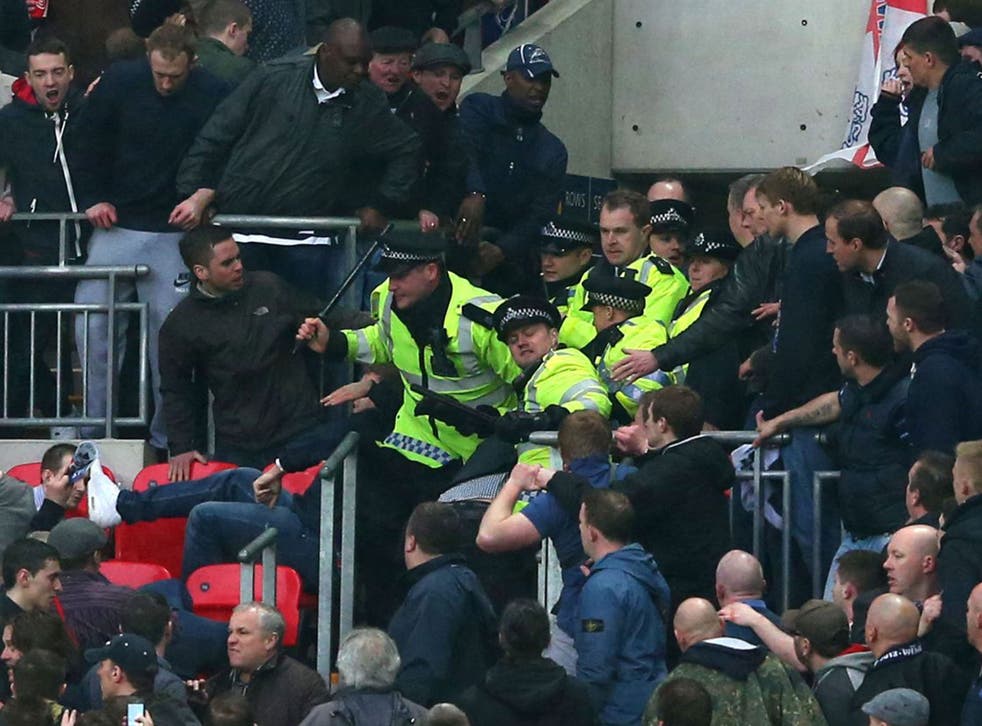 Millwall are bracing themselves for the likelihood that those involved in Saturday's FA Cup semi-final violence at Wembley were their own regular supporters, and potentially season-ticket holders, rather than those from other clubs who had gone with the intention of causing trouble. Club officials have been studying CCTV footage of the violence during their defeat to Wigan Athletic and believe the trouble began in an area of seats for which the tickets were sold early in the sales process, primarily to season-ticket holders and members.
The club are discounting the suggestion that it was fans who bought general sale tickets, made available after 5 April, who were seated in a separate upper tier. From anecdotal evidence from supporters who were witnesses to the trouble, the club also believe the theory that it grew out of a relatively minor disagreement between two individuals which then divided a large group of people who became embroiled in a row.
The Met Police have said they were "busy elsewhere" when the trouble started which is one way of explaining their relatively late intervention. It was the police who ruled that the 5.15pm kick-off would be safe having carried out their own independent risk assessment of the game. There is no doubt that all-day drinking played a part in the trouble.
There is, so far, no evidence to support the theory, circulated in the aftermath of the match, that it was supporters of rival clubs who had bought tickets for the game with the intention of causing trouble. The club deployed the same ticket selling practices as they employed for the League One play-off finals at Wembley in 2009 and 2010 which did not see the same trouble.
Newcastle United said, they were "embarrassed and appalled" by those supporters involved in clashes with police on Sunday evening. There were 29 arrests and four police officers were injured, and Newcastle insisted they would ban those involved. "We were embarrassed and appalled by the behaviour of a minority of so-called fans who were involved in disturbances," read a club statement. "These deplorable individuals have no place at Newcastle United.
"The club will take the strongest possible action against those involved in the disturbances and will impose immediate lifetime bans on all those found guilty."
Four Manchester City fans and seven Chelsea fans were arrested by British Transport Police for offences including racially-aggravated public order and assaulting a train conductor. In total the BTP made 36 football-related arrests this weekend, including another six Millwall fans and 11 Watford fans.
Sport minister Hugh Robertson told The Independent on Monday morning that the weekend's "disappointing and depressing" developments risked damaging the image of British sport that was so improved by last year's Olympic games in London.
"It is incredibly disappointing and quite depressing," Robertson said. "It is difficult to think of a time when British sport has been in a stronger position than it is at the moment in the aftermath of 2012, against that backdrop the last thing we want are the scenes we saw at Wembley on Saturday or indeed in Newcastle last night."
Some at Millwall have pointed to the late-kick off time of 5.15pm as a factor in the trouble because of the increased time it allows for drinking before the match. The FA, though, insisted that early-evening kick-offs are part of the modern football landscape and routinely take place without troubles, and that they have to be signed off by all relevant authorities.
There does not seem to be any momentum for an earlier kick-off for the FA Cup final next month, between Manchester City and Wigan Athletic, with early evening still the likeliest time.
Register for free to continue reading
Registration is a free and easy way to support our truly independent journalism
By registering, you will also enjoy limited access to Premium articles, exclusive newsletters, commenting, and virtual events with our leading journalists
Already have an account? sign in
Join our new commenting forum
Join thought-provoking conversations, follow other Independent readers and see their replies