West Bromwich Albion condemn Aston Villa after hooliganism disgrace at Cup derby
Shameful weekend for football worsens as 'unprovoked assault' leaves Watford fan in critical condition after game at Wolves
West Bromwich Albion hit out at neighbours Aston Villa today over the pitch invasions that marred the FA Cup quarter-final between the sides.
As Villa await the verdict tomorrow of the Football Association's investigation into Saturday's events, Albion issued a statement voicing their "deep concern" that the safety of their players had been threatened as home fans ran on to the pitch both during and after Villa's 2-0 victory.
Goalkeeper Boaz Myhill and winger Callum McManaman were both taunted by fans in separate incidents.
After a day with disturbing echoes of the hooligan problems of the 1970s and 1980s, a Watford fan was in a critical condition in hospital today with a serious head injury after being attacked in Wolverhampton following his team's game at Molineux.
There was also trouble outside Villa Park before kick-off with West Midlands police confirming it was investigating violence at the Witton Arms pub, where 17 men were arrested for various public order offences, including assaulting a police officer.
Pitch invasions at Villa Park - in pictures

Show all 16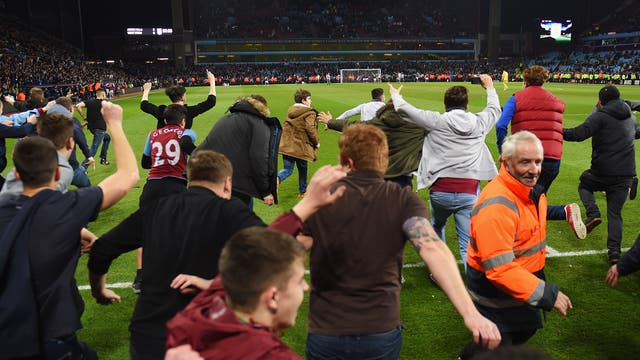 The FA is almost certain to issue Villa with a substantial fine, rather than a ground closure, after three separate pitch invasions. However, West Bromwich chairman Jeremy Peace is believed to be deeply unhappy with Villa's handling of the 5.30pm kick-off
A club statement read: "Pitch invasions cannot be tolerated under any circumstances. The safety of the club's players and staff... was clearly compromised."
Villa condemned their supporters' actions in a statement late on Saturday night. "The club does not condone supporters invading the field of play under any circumstances," it read. "They have let both themselves and their club down."
West Brom, meanwhile, condemned the "serious misbehaviour" of some of their own supporters, who ripped up plastic seats in the North Stand and threw them down on to home fans in the tier below. Manager Tony Pulis said: "They've got CCTV cameras up there [and] those supporters should never come into another football ground."
In Wolverhampton, police are investigating the "unprovoked assault" on a 44-year-old Watford fan as he returned to the train station.
Join our new commenting forum
Join thought-provoking conversations, follow other Independent readers and see their replies