Women's Super League restructuring an ambitious project but one that faces adversity and uncertainty
As of 2018 the top tier of English women's football will be the preserve of full-time clubs only - but how will such proposals pan out?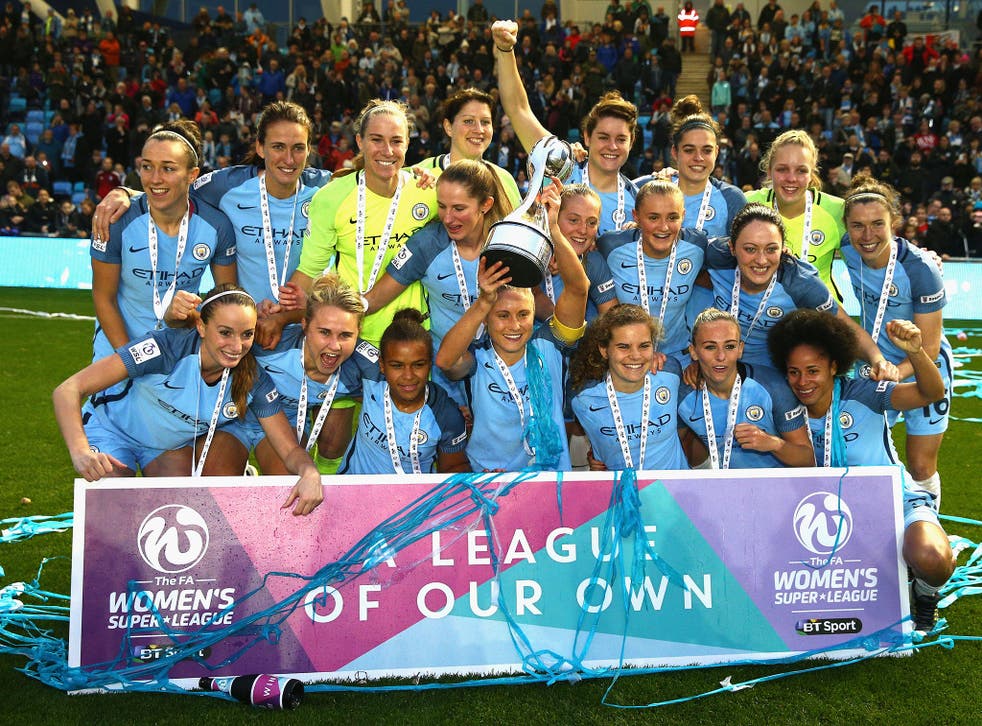 On Wednesday morning Yeovil Town Ladies tweeted out a request for volunteers to help move 50 sponsors' perimeter boards. A free cuppa was offered as payment. That is how it is for many women's clubs, even for some of those, like the Lady Glovers, in the FA Women's Super League Division One – the game's top tier.
A few hours later the Football Association dropped the bombshell. As of next season the WSL will revert to a single league, of up to 14 clubs, all of whom will have to be full-time with an academy set-up and other elements of professionalism. WSL2 will disappear, to be replaced by another competition which will be part-time. The rest of the pyramid, currently headed by the regional Women's Premier League, will remain, but with promotion dependent on ever stricter criteria. The announcement was not to deflect attention from the Mark Sampson affair – it has been in the works for a while, but is every bit as significant.
For Yeovil, who have climbed their way up from the South West Combination in the last five years, and are part-time on and off the pitch, this will involve a huge commitment given the resources of their men's League Two parent club. They support the aim, but will not be alone feeling challenged by the logistics and time-frame.
There is a huge disparity in WSL1, as Yeovil know well having taken one point in eight matches in the Spring Series earlier this year. On Sunday they lost their opening WSL1 fixture 4-0 at home to a Manchester City side lavishly funded by one of the world's richest clubs.
The FA believe this uneven playing field results in a product that struggles to attract sponsors, fans and television cameras, and does not equip England players to face elite opposition. Their solution is to ask everyone to lift standards towards those of City, Chelsea and Arsenal.
It is a gamble. Are there, at this stage of the sport's development, enough clubs and players prepared to make the commitment? Will others simply quit entirely? At present there are only six full-time teams and even one of those, Bristol City, lost 6-0 at Chelsea on Sunday. In WSL 1 Sunderland have reverted to part-time and Notts County went bust in April.
Yeovil estimate going full-time would cost £350,000 on top of a £120,000 FA subsidy. At present they cannot afford that, but Premier League clubs, who receive £100m in TV cash, can - if they want to. This offers the ambitious a chance to leapfrog into the elite. WSL clubs have been given until December to apply, after that any club currently running a women's or girls' team (which means almost everyone, even the famously agnostic Manchester United) can do so.
With licensing deciding the new line-ups there will be no promotion and relegation this season. Which means the current campaign, which only started at the weekend, is effectively rendered academic to all except the aforementioned trio of title chasers. While Yeovil say they will be motivated by a desire to prove they belong in WSL1, the second tier in particular will be hit by the lack of relevance in this first wintertime WSL season.
Register for free to continue reading
Registration is a free and easy way to support our truly independent journalism
By registering, you will also enjoy limited access to Premium articles, exclusive newsletters, commenting, and virtual events with our leading journalists
Already have an account? sign in
Register for free to continue reading
Registration is a free and easy way to support our truly independent journalism
By registering, you will also enjoy limited access to Premium articles, exclusive newsletters, commenting, and virtual events with our leading journalists
Already have an account? sign in
Join our new commenting forum
Join thought-provoking conversations, follow other Independent readers and see their replies