You want good sense on the EU, refugees, the tax rate? Ask former footballer Jermaine Jenas
View from the Sofa: We have come to this: a former footballer delivering the most sensible arguments on a global humanitarian crisis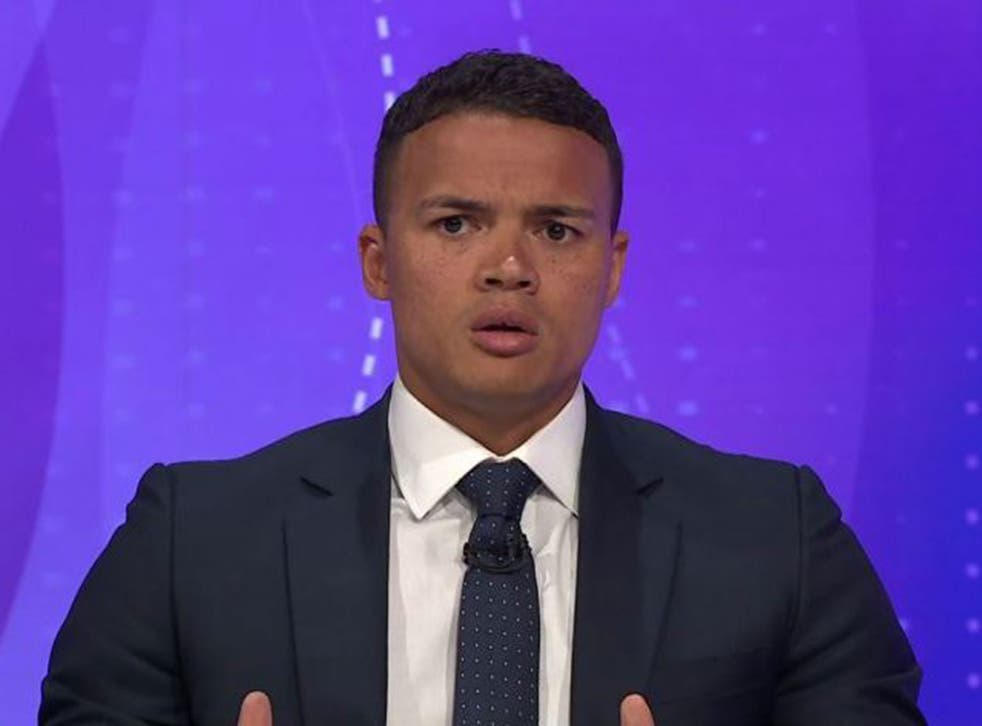 Question Time stopped being a platform for political discourse long, long ago. Now it is the stage for fascists, freaks and fame-hungry celebs to attempt to glean applause from host David Dimbleby's audience picks – "the woman in the frumpy cardigan" or "the man exuding ennui", for example – and more often than not it has devolved into a points-scoring competition between cliché-spouting, populist foghorns.
Last week we had the pleasure of the former footballer Jermaine Jenas – who has evolved into an erudite pundit – playing the role of the everyman on the panel. Yes, we have come to this: a man who used to earn five figures a week is wheeled out as an everyman.
And he wowed the crowd with his first sentence, claiming there have been "scaremongering tactics" in the debate over whether Britain should leave the European Union, before bamboozling Dimbleby by comparing the issue to Wayne Rooney's agent trying to broker a new deal. "Who is Wayne in this argument?" Dimbleby asked.
Jenas paused, realising that people had actually listened to what he was saying. You could almost see his thought process: you don't get this on Match of the Day 2. He deflected the attention with a metaphorical one-touch move. "I'm not going there," he said.
To his credit, his point about scaremongering was taken up and discussed at length by the rest of the panel. In the midst of it, Louise Bours, the Ukip MEP who remained true to her party's creed by braying in words of one syllable, addressed Jenas while blathering on about Britain needing to stay out of Europe because it invented football, or something. The ex-England midfielder looked mildly embarrassed.
Jenas then impressed the panellist on the other side of the political spectrum to Bours, John McDonnell, the Shadow Chancellor. McDonnell was attempting to inject some intelligent debate into a shouty argument over the refugee crisis and he namechecked Jenas when he said: "We need to tackle this on a planned and co-operative basis, exactly as Jermaine has said." Yes, we have come to this: a former footballer delivering the most sensible arguments on a global humanitarian crisis.
It was on the subject of taxes that Jenas was most persuasive, however. "Our teachers, our health system is bursting at the seams," he said. "If the tax rate needs to be put up to 50p to pay for it, then so be it."
You could almost hear the gasps from his former colleagues in their Alderley Edge, St George's Hill or Hadley Wood mansions. The rest of us thought: blimey, it's a weird world when a former Premier League player is delivering the most cogent reasoning on social justice.
He then latched on to whether tackles should be banned in rugby union. And again he showed sense, by advocating the wearing of protective gear for young people. Yes, it has come to this: a former football player advising on how to coach rugby union.
Get this man his own show. Hell, get him into Parliament.
Register for free to continue reading
Registration is a free and easy way to support our truly independent journalism
By registering, you will also enjoy limited access to Premium articles, exclusive newsletters, commenting, and virtual events with our leading journalists
Already have an account? sign in
Register for free to continue reading
Registration is a free and easy way to support our truly independent journalism
By registering, you will also enjoy limited access to Premium articles, exclusive newsletters, commenting, and virtual events with our leading journalists
Already have an account? sign in
Join our new commenting forum
Join thought-provoking conversations, follow other Independent readers and see their replies