Farewell to Neymar, a European career played out in Lionel Messi's shadow
Neymar made himself easy to dislike but brought joy with a ball at his feet and achieved almost everything he possibly could in the era of his friend and rival Messi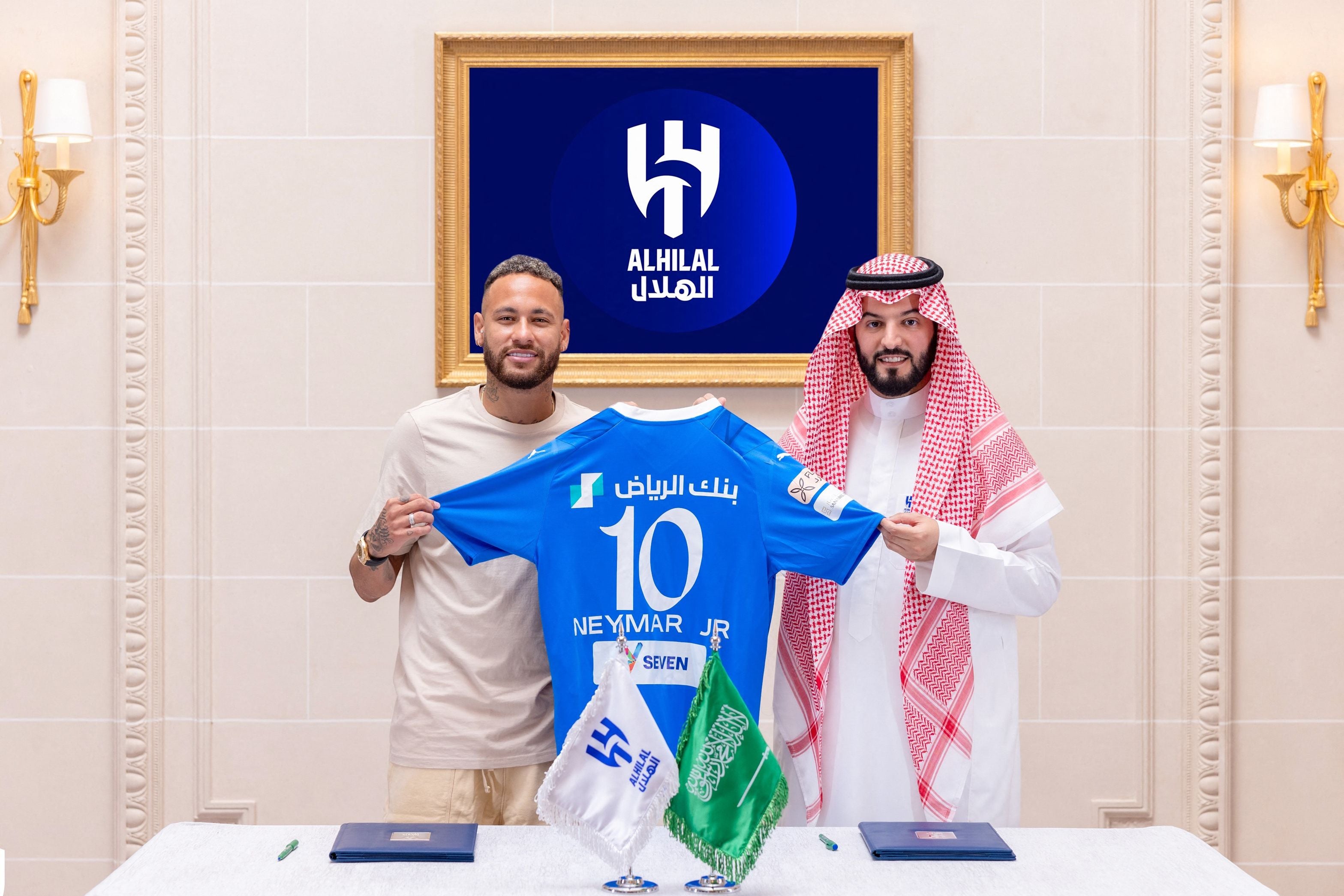 Farewell, then, Neymar. He is only 31, but his choice to leave Paris Saint-Germain and join Saudi "giants" (his word) Al-Hilal – eight months after what was likely his last shot at winning the World Cup – feels like the beginning of the end for Neymar at the top of the game.
It has, for the most part, been a joy. "He makes football a pleasure," once said Pep Guardiola. Neymar would choose to dribble into a maze of defenders rather than play a simple pass, but invariably he would come out with the ball at his feet. His highlights reel is full of jinking runs and cheeky nutmegs, most of which lead to little, and often his skills seem pointless, like controlling a high ball wth a Cruyff-turn. But then what is pleasure if not acting without necessity, just for the fun of it?
He has won almost everything – multiple league and cup titles, the Champions League, the Club World Cup and the Olympic Games – and yet looks set to end his career without the World Cup his nation expected or the Ballon d'Or his talent merited (he twice finished third).
It would be easy to conclude that Neymar lacked application, particularly at PSG. His appearance record – never playing more than 22 games in a single season for the club – hints at a deeper malaise beyond the recurring injuries that dogged his time in Paris. PSG fans grew weary of Neymar, while his support for Brazilian far-right president Jair Bolsonaro made him even easier to dislike.
But no one can ever say he didn't care about football. Neymar wept in the dressing room before his final game for Santos. He wept when PSG lost the 2020 Champions League final to Bayern Munich in Lisbon. He wept on Lionel Messi's shoulder after losing the 2021 Copa America final to Argentina. He wept when Croatia came back to win on penalties in Qatar. Expectation was the constant background noise to Neymar's career, and the pain of defeat was visceral.
His decade in Europe was played mostly in his friend Messi's shadow. The only player on the planet better than Neymar in every facet of the game was on the pitch for most of his 359 matches for Barcelona and PSG. It must have been frustrating at times that his greatest accomplice was also a source of shade, even if they formed one of the greatest teams of all time – Barcelona's treble-winning 2014-15 side – with that fantasy front three with Luis Suarez. They played with joy, and Neymar was the epitome of that.
Like his club career, Neymar's international legacy is framed by Messi. The 2021 Copa America final between Argentina and Brazil was billed as a fight between the countries' two talismen, each with a chance to finally unload the burden they had carried for so long. Neither played particularly well that night in the Maracana, but it was Messi who celebrated and Neymar who needed consoling.
Qatar 2022 was Neymar's best chance to win the World Cup. He had sat in the stands injured watching Brazil lose 7-1 to Germany in the Maracana in 2014; he was powerless to stop a brilliant Belgium win in the quarter-finals at Russia in 2018. But Brazil arrived in Qatar as the pre-tournament favourites, ready to finally deliver on his destiny.
So when he scored that mesmerising goal against Croatia in extra time of the quarter-final, weaving through an entire defence from a standing start to finally break the deadlock, if felt like that would be the goal to define his career, the one shown on repeat when future generations looked back at Brazil's 2022 World Cup triumph. Instead Croatia came back and it was Messi's moment a few days later that provided the tournament's iconic scene, and Messi's destiny which was fulfilled.
That felt like Neymar's last shot at the Ballon d'Or too, which usually requires a Champions League or World Cup to convince its audience. And perhaps his move to Saudi is a tacit submission of sorts, a white flag in his long battle to transcend the Messi effect.
The Independent has reported how Neymar tried to force a move to a Champions League club this summer, but couldn't find a suitor. The footballing world stopped believing he could transform the most important games and the offers dried up. Instead he has accepted an eye-watering paycheque along with his personal demands for three supercars, a 25-bedroom mansion, a very specifically sized swimming pool and a fridge permanently full of acai juice – the man loves his acai.
Perhaps he will be back in Europe before long. Perhaps the 2026 World Cup is still a realistic target – one last shot at winning the trophy he most craves, because really what can anyone possibly say once you've won that? But more realistic is that his move to Saudi Arabia erodes his already blunt edges, that other players overtake him in Brazil's pecking order, that the European game moves on.
His most famous goal remains one he scored aged 19 for Santos, which came after a dribble of unfathomable balance and control that requires rewinding like a magic trick. And perhaps, looking back, he could never have met the expectations he unknowingly set in that moment. Perhaps he achieved everything he possibly could in the era of Messi.
Join our commenting forum
Join thought-provoking conversations, follow other Independent readers and see their replies