Pep Guardiola wants Manchester City to take their chance and win Super Cup
City won the treble last season.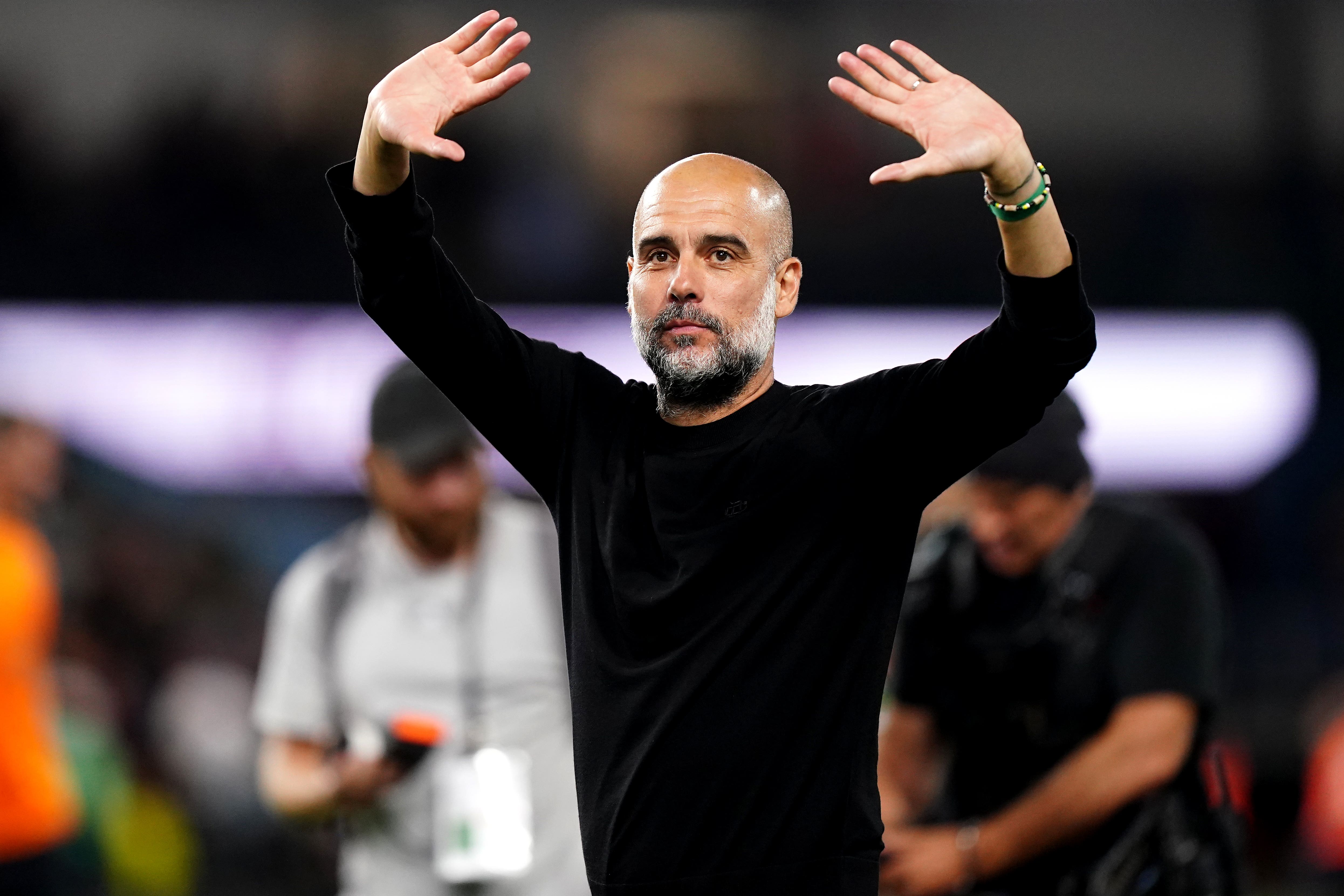 Pep Guardiola is determined to cap Manchester City's "extraordinary" Champions League triumph by winning a first ever UEFA Super Cup.
Last season's treble-clinching victory against Inter Milan secured Wednesday's clash against Europa League victors Sevilla at Olympiacos' Georgios Karaiskakis Stadium in Greece.
Guardiola can become the first manager to win the competition with three different clubs but this is a first taste of Super Cup action for City.
"To be here in this press conference ahead of tomorrow you have to do two extraordinary things: win the Champions League or Europa League," he said in Piraeus.
"I have to say this is not easy. Maybe for Sevilla it's easier because they have won a lot of Europa Leagues. I remember once when they beat Barcelona 3-0 in the Super Cup.
"They have a special character. The resilience in the bad moments, to play the finals. It's not always necessary to play top level always but they have something in their DNA that makes this team and this club different.
"They are mentally so strong but you cannot imagine how incredibly happy we are to be here, to play this game because you have to win the Champions League.
"This is an opportunity we want to take because who knows when we will be back here to play this tournament."
Sevilla won on their Super Cup debut in 2006 but the perennial Europa League winners are now looking to avoid a sixth straight defeat on this stage.
There are a number of familiar faces in Jose Luis Mendilibar's squad, including former City players Fernando and Jesus Navas.
"Knowing what I know now, maybe I would have extended the contract when we were together after the first season," Guardiola said of Sevilla captain Navas.
"We took a decision because we were an old team in that period. We needed to refresh mentally the team. That's why we make in that year a lot of changes.
"But it's incredible for him to be at 37, 38 playing and I know how committed he is to his club, captain of Sevilla. I am really pleased to see him tomorrow and say hi to him."
City are looking to lift their first silverware of the season having lost the Community Shield on penalties to Arsenal.
Stefan Ortega started that match and the back-up goalkeeper is expected to get the nod in Piraeus amid interest from German giants Bayern Munich.
"It would be a problem to lose him first of all because of the quality," Guardiola said of Ortega, who joined from Arminia Bielefeld last summer.
"We bring him here because (head of goalkeeping) Xabi Mancisidor sent me the clips and said 'this is a keeper that maybe we need'.
"I didn't know him. He was playing for a side relegated from the Bundesliga and I saw him and said 'ah, looks good'. But since day one I said 'what a keeper we have'.
"You know how many important games he played and how he saved us. We don't want to sell him, we don't want to loan him. We need him.
"But like many cases it depends on three parts because after that if we lose Stefan two weeks out (from the end of) the market, we have to go pick up a keeper and it's not easy now.
"You have to pay transfer (fee) and it's not easy. We want him. I am sorry but we want him."