'It is theatre': Inside the emotional chaos of a final-day Premier League relegation battle
It's the most emotional day in football – and now Everton, Leicester and Leeds must buckle up for the ride, writes Miguel Delaney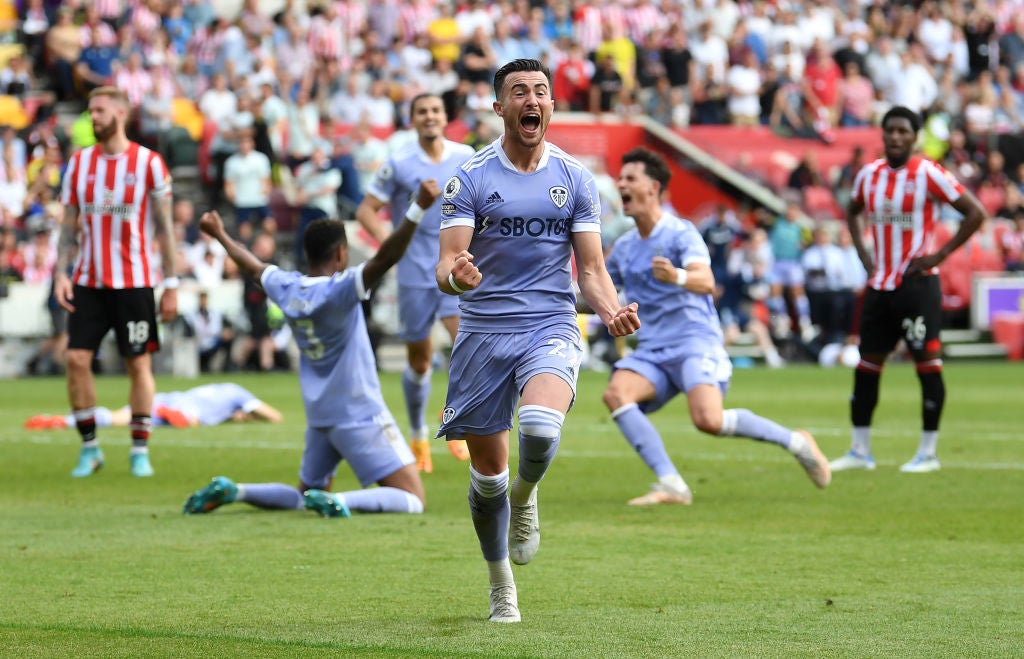 When players talk about the anguish of a final-day relegation battle, one of the main memories that most recall is the unsettling sense of quiet. That isn't when the final whistle goes, and reality sinks in. It is actually during the chaos, when something happens at another game, and the news seeps through to the crowd. The players realise something big has changed. It affects performance.
"The atmosphere and pressure is palpable," says Gareth Farrelly, who was the decisive figure in one of the Premier League's most famous final days 25 years ago.
This may yet be the decisive factor on Sunday.
Because, although there are three clubs vying for one place, the general feeling in the game is that it is only going one way. An Everton win is guaranteed to keep them up, and they probably have the most forgiving fixture in terms of playing a recently safe mid-table team in Bournemouth. There is also the argument, put forward from what is being said within all three clubs, that they have the manager in Sean Dyche who is the best fit in terms of both team and situation. Sam Allardyce has yet to fully rally Leeds United, who look fragile. The feeling from within Leicester City is that there isn't yet that connection between the squad and Dean Smith, and there have been some questions about his tactics.
The great disruptor is that, with all of these clubs, it's pretty difficult to predict such wins with any confidence. That's why they're in this position in the first place. There are no guarantees. You can think it's going to go one way, but the first development – and that first ripple around the stadium – can transform the entire mindset at a stadium and the dynamic of the day. It is why the first goal on Sunday might be so important, and have a chain reaction.
It could yet be one of the most manic final days of all at the bottom of the table. It is certainly the one that involves the biggest clubs, as well as the most titles. Everton, Leeds and Leicester have 13 leagues between them, the last of them only further raising the stakes.
Should Leicester go down a mere six years after the most sensational title win of all – and just two years after an FA Cup win that rightly saw them hailed as a model club – it would bookend a story that somehow became even more incredible.
And yet it still wouldn't be as big a story as Everton enduring their first relegation in 72 years, especially given the potential consequences for the club. The prospective MSP Sports Capital purchase of 25 per cent has at least eased concerns over the future, but this is also about much more than finances. It is about prestige and glory, and what football really comes down to. Everton going down would be a symbolic moment – as well as a profoundly emotional one. It is about that long history but also what next. There is a great persistent pride to this club, that could well be punctured.
Leeds know all about that. Their return to the Premier League under Marcelo Bielsa felt like a restoration of the club's rightful status, only for it to go wrong so quickly.
Not quite as quickly as Leicester, though.
No matter who of the three go down, they would all do so with considerable weight.
Some of the key factors of the day are naturally similar to the key factors of the campaign. It does not feel a coincidence that all changed manager mid-season, even if it can't be said any were wrong to make a change.
The bigger question might be in who the next appointment was, with clubs' different policies proving the decisive quality in the entire bottom half. Crystal Palace's appointment of Roy Hodgson changed so much.
Bournemouth got it right in bringing in Gary O'Neil, who could yet bring the response that puts Everton in real trouble. West Ham United were vindicated in being a rare club to stick by their manager in David Moyes, and Leicester now have to get around that stability.
Leeds offer maybe the greatest contrast to all, and one of the bigger complications, even if they still have a chance.
It's hard not to feel their overall fortunes have been affected by picking a manager respected for rigid defensive organisation to take charge of a squad built for the most frenetic pressing. Little wonder Allardyce – and, before him, Javi Gracia – has found it difficult to get that defensive resilience out of his team. It just isn't attuned to that. They're built to run.
Leeds now have to go in the other direction and attack to get a win. That difficult switch may be from the most forgiving game, though, given how Tottenham Hotspur's season has drifted.
Dyche is at least working with a squad more used to that approach, and there was the recent electric charge of that freakish 5-1 win over Brighton.
Dean Smith represents a compromise in terms of style which means he isn't a total contrast from how Brendan Rodgers set up Leicester, but the greater question there is whether his tactical approach is up to it. There is talk that he hasn't yet got a connection with the squad. The difference is that Leicester have by far the highest individual quality in this race.
That can have a profound difference on any one day, no matter how the rest of the season has gone.
If it comes right down to that moment, you want – say – Harvey Barnes striking that ball rather than the vast majority of others involved. At the same time, the extremity of the day can draw excellence from unexpected figures.
Farrelly knows that too well. It was his shot out of nothing against Coventry City in 1997-98 that meant everything to Everton, relegating Bolton Wanderers instead. Farrelly says the memories of the day are a medley.
"It is theatre, heroes, villains, destiny in your own hands, home fixture, opposition with nothing to play for… there is a unifying sense as all of the protest, anger, mania is overtaken by a greater force. Survival, history, and all that means…"
In other words, mayhem.
This is one of the elements that makes the survival battle so different from the final day of a title race, while remaining just as engaging. It is sometimes more enthralling because of the depth of emotion.
There is obviously far less quality involved, which brings more errors, and only deepens the desperation that drives the afternoon. Panic can take over from very early on, especially depending on that first goal.
There are bigger discussions to be had on why this battle means as much as it does. That comes down to the money, and the immense gaps obviously aren't good for the game. Farrelly – who now works as a lawyer and with the Union of European Clubs, who seek to represent continental sides outside the elite – describes it as the "commodification of feelings".
It is undeniably one of the elements that can make the day feel almost intrusive. Neutrals are obviously watching for the drama, but that is heightened by the emotion, that despair, and the images of fans crying. Broadcasters will really be showing images of public grief.
They will also be showing celebration and relief, though. On Sunday, it is only one team who will experience that. It just might go down a number of different paths until we get there.
Join our commenting forum
Join thought-provoking conversations, follow other Independent readers and see their replies