Alvaro Morata lacks the one thing all great strikers have but has a manager in Antonio Conte who can make him one
The likes of Harry Kane display a 'delusion' that the Spaniard has yet to add to his game - but Conte remains completely confident in his misfiring striker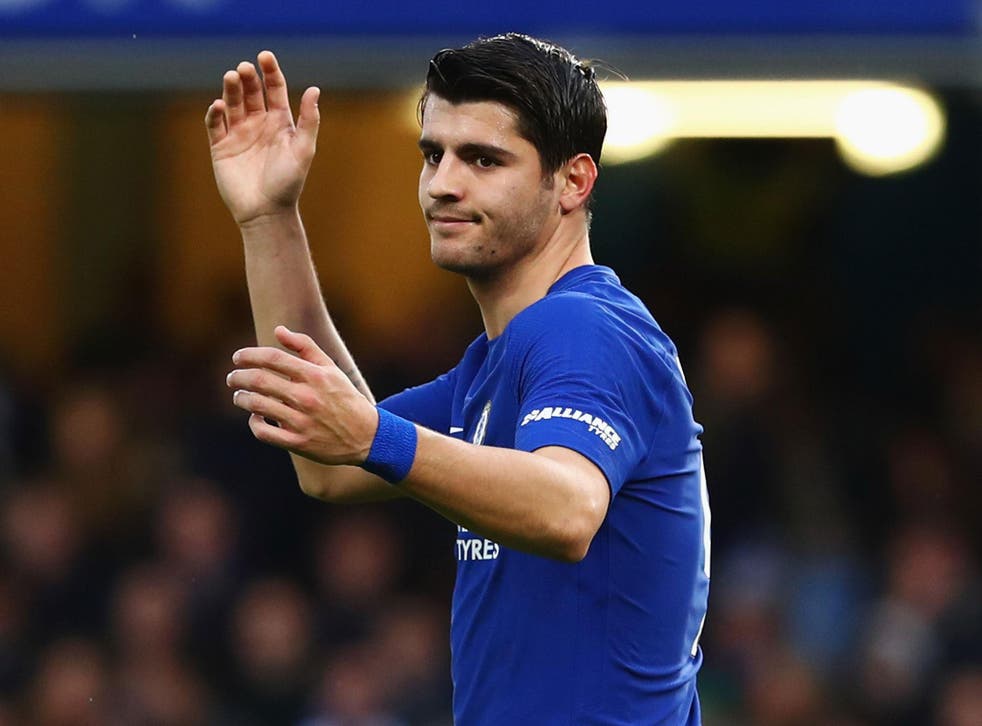 After a night like that, and as many misses as that, there was only one approach that Antonio Conte could really take with Alvaro Morata. The Chelsea manager revealed that he told his striker to "stay calm", "keep working" and just be mindful that "the goal is coming".
A simple message, but yet at the same time touching on how complicated it is for Morata right now. The problem is probably precisely that: the 25-year-old doesn't seem to keep calm after a miss, but instead lets it affect the next chance that comes.
That certainly seemed to happen in the 2-2 draw at Arsenal. Morata was put through one on one after just 15 minutes and so badly screwed the easy opportunity wide that it seemed to scramble his finishing for two similar opportunities later on - one right at the end of the game. He might well have cost his team the win, and it's difficult not to get into deeper talk about strikers and the unique psychology of the position here.
Arsenal vs Chelsea player ratings

Show all 22
Chris Sutton is a former forward who knows a fair bit about scoring, as well as missing for Chelsea after a high-profile move, and also the mindset of some of the best finishers in the game given that he played with Henrik Larsson and Alan Shearer. Sutton once spoke of how he was struck by - and envied - the effective "delusion" that was at the core of their game. While he admitted that he would weigh up every missed chance in a single disappointing season after moving to Stamford Bridge for big money in the summer of 1999, there was none of that with either Larsson or Shearer. No matter what was happening on a pitch, or how bad an opportunity they had just missed, they firmly believed they would score the next one. There was just that bloody single-mindedness about them, that complete absence of doubt.
Harry Kane has spoken about and also fully displayed a similar mindset. When he is bearing down on goal, you know he just isn't letting the possibility he might miss play on his mind. He is only thinking about where the ball is going. More pointedly, it is probably something Diego Costa has as well. How many times with Chelsea did we see him cut inside and then slip a ball under the goalkeeper in the way that seemed set up for Morata at Arsenal, especially for the second chance? It was almost an unfair coincidence that this was also the night when Morata's predecessor scored the first goal of his second spell back at Atletico Madrid, as Costa struck against Lleida Esportiu, since it just added another layer to a difficult night. It is also indicative.
Morata has almost everything else in his game, from the technique to the awareness and intelligence… except that striker's "delusion". It is why he has still been a success in scoring 13 goals, but yet can have the nights of a flop like this. It is also why he is still so brilliant with those instant finishes that require instinct, but not those where he has a lot of time to think.
He instead has the opposite of that delusion. He evidently dwells on such opportunities, and it does not feel a coincidence that a miss as bad as his first against Arsenal so swiftly followed two against Stoke City on Saturday, with that only deepening the issue.
It would also naturally fit with the thoughtful and respectful person so many people who know him describe. Thoughtfulness and respect, however, can sometimes be at odds with a position that - more than any other except goalkeeper - requires a singular arrogance. Similarly, his "niceness" has been much discussed. Something else that has been much discussed is a by-now famous Gigi Buffon quote about him, that Morata could be one of the best in the world "if only he could get over his mental hang-ups".
But that's also the other side to this, and something else Conte referenced. It's not like the Chelsea manager wasn't aware of the issue. By contrast, Conte feels he can manage Morata through this, that he can make him "a killer". He believes he can infuse him with that kind of intensity, since it is a general hallmark of the Italian's teams.
"He's young," Conte said at the Emirates. "I repeat I understand for a striker it's not easy if you don't score, but don't forget for Alvaro it's his first season playing regularly. He didn't always play with Real Madrid and Juventus. You have to know this. I'm very happy with his commitment and the way he's playing. He has to stay calm continue to play this way. The goal is coming."
Conte might have had a simple message for Morata after the game, but much bigger plans for his future.
Join our new commenting forum
Join thought-provoking conversations, follow other Independent readers and see their replies