Andre Santos: I still have a future at Arsenal
Left-back has been loaned to Gremio for the remainder of the season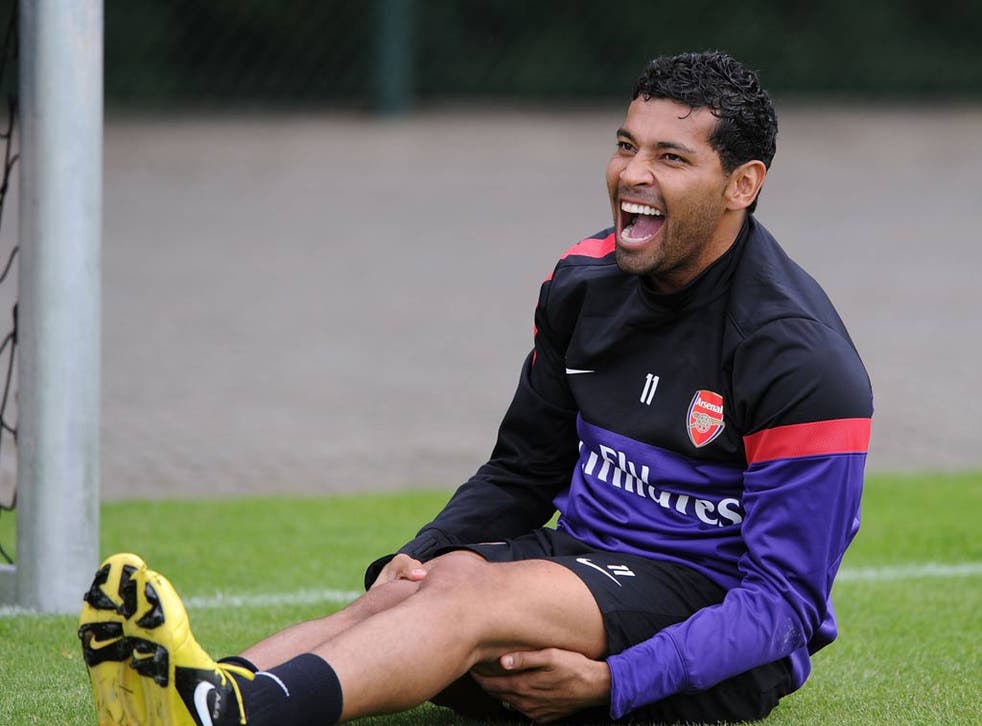 Arsenal misfit Andre Santos claims his future remains at Arsenal despite being loaned to Brazilian club Gremio for the remainder of the season.
Signed for £6.8m in the summer of 2011, the left-back has made just 13 Premier League starts for the Gunners after struggling to adapt to the demands of English football.
The 29-year-old slipped behind Keiran Gibbs in the pecking order, and when the young English defender succumbed to injury, Arsene Wenger entered the transfer market to bring in Nacho Monreal on January deadline day for a fee in the region of £10.5m.
When it was announced yesterday that Santos had left the Emirates on loan, it appeared to be the end of the Brazilian's Arsenal career, but the defender claims that Wenger wanted to keep him.
Santos told The Evening Standard: "The idea is to go there, play well and be able to come back strong. Do I have a future at the club? For sure. This is a loan deal and after this season we will see where everything stands.
"I always wanted to stay here until the end of my contract. This is a club where I feel comfortable and honoured to play. However, when the club acquired another left-back it was clear to me that I will not play. I need to play, get my confidence back and Gremio is a good platform for this.
"I talked [with Wenger] and we decided together this would be a good chance for me to get on top of my game. He gave me a hug and told me Arsenal would always welcome me back with open arms. He did [want me to stay] but he wanted to see me happy and if I am not performing all the time, then I am not happy."
Santos, who has two-and-a-half years remaining on his contract at Arsenal, admits his time at the Emirates has not gone as well as he had hoped.
He said: "I wish things could have worked out better. I started very well, got injured a couple of times and I have not been able to get back to my best form. Things did not work out as well as I expected. I am not satisfied. Hopefully, when I am back, I will be on top of my game and then I will be able to help the team the way I want to."
Santos, who denies rejecting a move to Turkish side Galatasaray, has not played since last month's arrival of Spain international Monreal from Malaga.
Santos said: "I am not going to lie and say I was not disappointed.
"This was a last-minute deal and a clear message to me that I would not start for the rest of the season.
"Monreal is a good player and he will be able to help Arsenal. However, since I play in the same position as him, yes I was disappointed.
"I thought this was my chance to get back into the team, play some games, and get back to the form that me, the manager and the fans were expecting from me."
Santos concedes his relationship with Arsenal fans suffered when he swapped shirts with Robin van Persie at half-time during a defeat at Manchester United in November. He said: "You guys have a different culture than me and it is still very hard to understand why people hold this grudge over me.
"The relationship was very good until the incident with Van Persie. I have apologised and moved on.
"I have all my respect to the fans of Arsenal. Hopefully soon I will be back and giving them many happiness."
Santos could make his Gremio debut against Santa Cruz tomorrow and hopes the move will increase his chances of a recall to the Brazil squad ahead of the 2014 World Cup.
Santos, who has been capped 22 times, has not represented his country since July 2011 but said: "It would be a dream for me to play the World Cup in my home country. If I don't play regularly for Arsenal, I'll have no chance.
"By coming to Gremio I will be able to be in a position to compete for a spot. If I play well, on the top of my game, for sure I will get an opportunity under manager [Luiz Felipe] Scolari.
"That is my goal and I will be working very hard to achieve that."
Join our new commenting forum
Join thought-provoking conversations, follow other Independent readers and see their replies