Napoli boss Maurizio Sarri distances himself from Chelsea job as pressure continues to mount on Antonio Conte
The 59-year-old is on the brink of bringing Napoli's first Serie A title in 28 years and is in negotiations to sign a new deal with the Italian club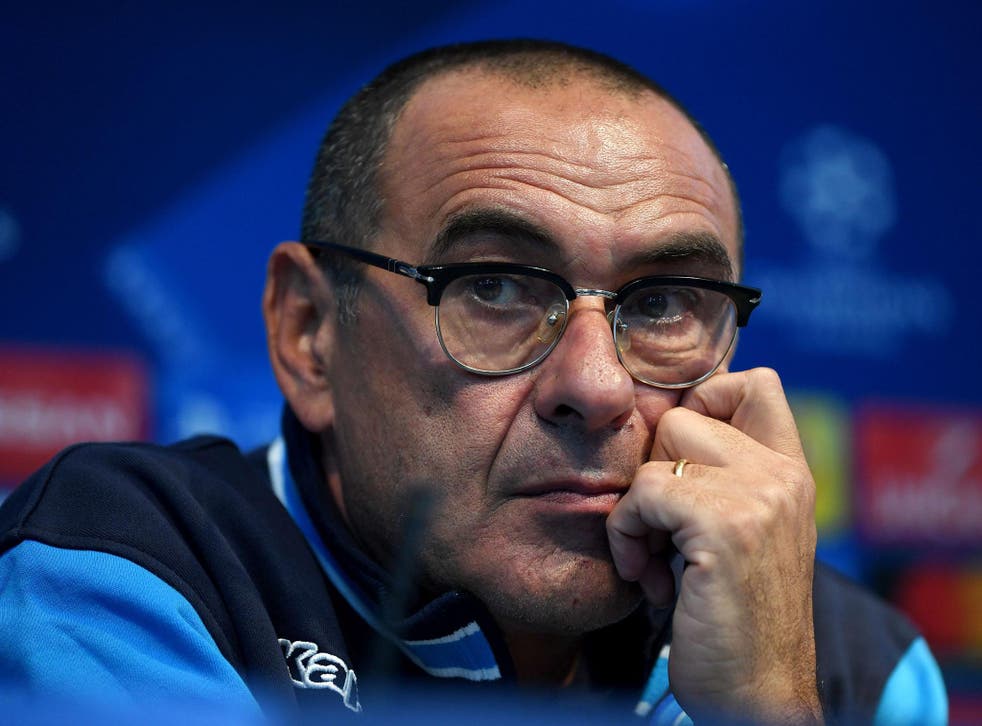 Chelsea managerial target Maurizio Sarri has distanced himself from the job instead insisting new contract negotiations will take place with Napoli.
The Blues are reportedly keen on the 59-year-old who has led the Gli Azzurri to the top of Serie A and facing the prospect of winning their first league title in 28 years.
Current Chelsea boss Antonio Conte is under immense pressure following his side's disastrous attempt to defend the Premier League title, with the Italian warning his club they are now in a battle just to finish in the top four.
With reports emerging the former Juventus boss has lost the dressing room, Chelsea have been linked with a number of managerial candidates but Sarri appears ready to scrap himself from the list. Reports suggest his current deal has a £7m release clause which the Blues are ready to meet, prompting new contract talks to commence with Napoli.
"I can't meet anyone on Friday, as we have a game on Saturday," he told Mediaset Premium when asked about reports president Aurelio De Laurentiis is set to offer a new deal.
"I want to focus on other issues right now, so someone will meet with the president over the next few days and listen to the proposal on my behalf.
"There's no problem between Aurelio and I, so it's not an issue."
Sarri's Napoli are one point clear of Juve and face third-placed Lazio in a crunch game on Saturday, having beaten bottom side Benevento 2-0 at the weekend.
The last time Napoli won the title one Diego Maradona was leading the line and Sarri is keen to alleviate any pressure on his side in the title run-in.
He added: "The surprising thing is that Napoli are up there, not Juventus. This team picked up 60 points in 23 games, an extraordinary tally. Juve are going at more or less the same pace, but they are accustomed to it.
"We cannot feel pressure, because we are going beyond anyone's expectations. Don't forget, pre-season you all said it was a fight between Juventus and AC Milan. We are doing better than I expected, than the club expected, so there is zero pressure."
Chelsea meanwhile travel to Watford on Monday night looking for a response from last weekend's shock 3-0 home reverse to relegation threatened Bournemouth. A win at Vicarage Road would take Conte's side up to third in the table above Liverpool, who drew 2-2 with Tottenham on Sunday evening.
But a defeat, according to reports, could be enough for Roman Abramovich to bring Conte's brief reign at Stamford Bridge to an end.
Join our new commenting forum
Join thought-provoking conversations, follow other Independent readers and see their replies