Antonio Conte warns Chelsea they are now in a fight for the top-four
Chelsea's defeat to Bournemouth leaves them 18 points behind Manchester City and just two ahead of fifth-placed Tottenham Hotspur
Jack Pitt-Brooke
Stamford Bridge
Thursday 01 February 2018 00:55 Comments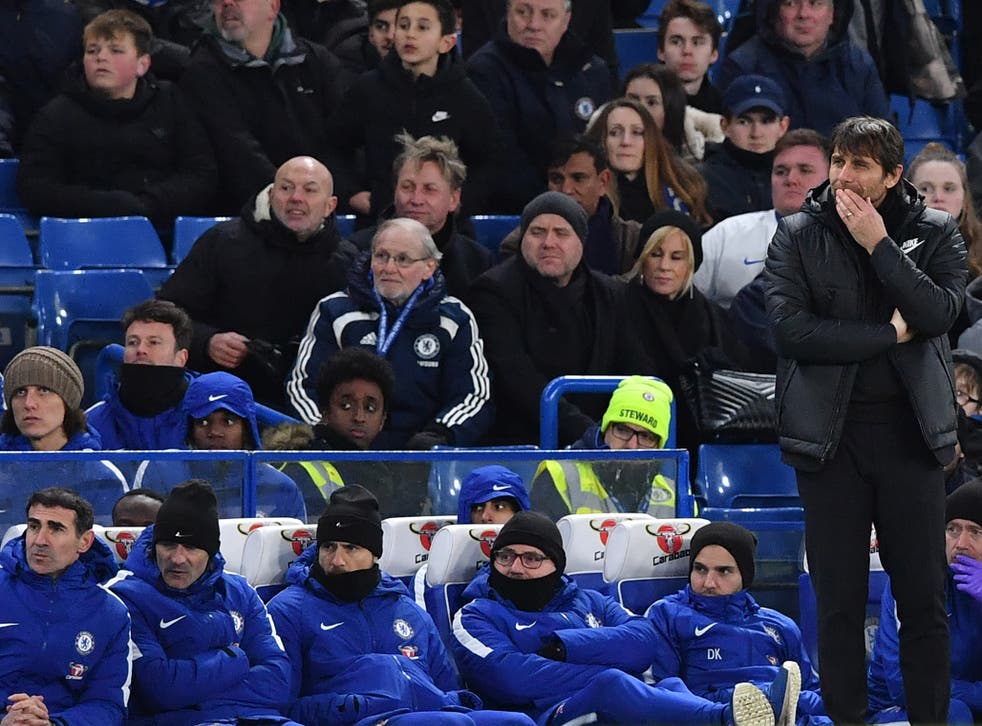 Antonio Conte has warned Chelsea that they must face facts and accept that they are now in a fight for fourth place, rather than to retain their Premier League title.
Chelsea slipped to fourth place in the table on Wednesday night after surprisingly losing 3-0 at home to Bournemouth. That brought an end to a frustrating month in which Chelsea only signed a new striker – Arsenal's Olivier Giroud – on deadline day, meaning they had no recognised centre-forward for the Bournemouth game.
That defeat leaves Chelsea 18 points behind Manchester City and just two ahead of fifth-placed Tottenham Hotspur. Conte warned in his post-match press conference that staying in the Champions League spots must now be his team's priority this season, and that he was doing a "great job" just by keeping them in the hunt.
"We must be worried, we must be worried," Conte said when asked if he was concerned about not finishing top four. "It won't be easy. Maybe I am repeating myself from the start of the season: it won't be easy this season, and we have to fight. We must be prepared to fight. I think the players are starting to understand that this season, we have to struggle for a position in the Champions League."
While Arsenal, Liverpool, Manchester United and Manchester City have all signed top players this window, Chelsea only added two squad players. Conte has been frustrated with that and he made clear that Chelsea must "see the reality" of their situation: that they cannot hope to retain their title, and must focus on fourth place instead.
"If we speak about football, and if we think we understand football, we know very well it will be very difficult for us," Conte said, when asked about the spending of Chelsea's rivals.
"If we want only to dream, and not to see the reality, in this case I can tell you know that we can fight to win the title this season!" But a realistic view shows that fourth should be the target: "It will be very important to look at the reality and to know that, if we are able to reach a place in the Champions League, it will be a great success for us."
Wednesday's Premier League action in pictures

Show all 31
"But I think, about the pressure, it's normal. It's normal for a coach, for a manager. It's normal if you are Chelsea's coach. After the first game this season, you tried to put pressure on my job. But I'm trying to do my best. If someone doesn't think this club deserves this table [position] or deserve this situation.
"I repeat: we are doing everything, we are doing 120%. I'm exploiting this squad at the maximum level. But, if someone doesn't agree about this, I'm here. I have to accept every situation. I'm very relaxed about this. I know that I'm doing a great job, a great work, me and the staff and the players."
Bad results will inevitably add pressure to Conte's job, but he insisted that despite their poor form, he is "exploiting the squad at the maximum level" and is still "doing a great job".
"The pressure is normal for a coach," he said. "It's normal if you are Chelsea's coach. After the first game this season, you tried to put pressure on my job. But I'm trying to do my best. If someone doesn't think this club deserves this position in the table, or deserve this situation. I repeat: we are doing everything, we are doing 120 per cent. I'm exploiting this squad at the maximum level. I'm very relaxed about this. I know that I'm doing a great job."
Register for free to continue reading
Registration is a free and easy way to support our truly independent journalism
By registering, you will also enjoy limited access to Premium articles, exclusive newsletters, commenting, and virtual events with our leading journalists
Already have an account? sign in
Join our new commenting forum
Join thought-provoking conversations, follow other Independent readers and see their replies