Arsenal 0 Chelsea 0: Jose Mourinho accuses Arsenal of 'crying too readily' as physical approach earns draw at the Emirates
Obi Mikel might well have been sent off for planting his studs on Arteta's shin – breaking his shin-pad – but he was not
Jack Pitt-Brooke
Tuesday 24 December 2013 02:00 Comments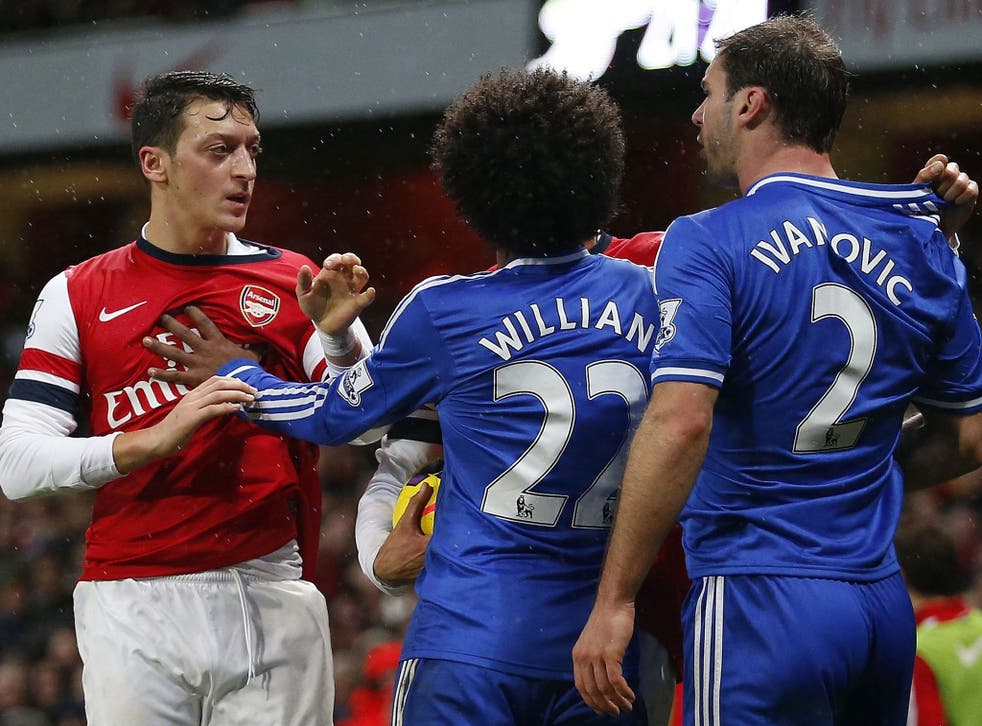 Jose Mourinho accused Arsenal of crying too readily after Chelsea's physical approach earned them a 0-0 draw at the Emirates on Monday night.
Arsenal could have had a penalty and at least one Chelsea player could have been sent off, but Mourinho joked that football should be played by men.
"You know, they like to cry," said Mourinho of Arsenal's complaints after the tempestuous match. "That is tradition."
John Obi Mikel might well have been sent off by referee Mike Dean for planting his studs on Mikel Arteta's shin – breaking his shin-pad – but he was not, and Mourinho insisted it was merely a "hard and aggressive" tackle.
"Football is for men, or for women with fantastic attitude," Mourinho said. "It is true, there are other sports without contact. Fantastic sports which demand a lot from the players, and I respect those sports full of big champions. But no contact. Football is a game of contact. English football, winter, with water on the pitch, sliding tackles at fantastic speed. Be proud. Play with pride. If you are hurt, okay, you are hurt. If you have pain, I have pain every day and I work every day."
Read more:
Arsenal 0 Chelsea 0 match report: Dean's mistakes deny top spot to Arsenal
Mourinho's frustrating team show signs of 2004-07 vintage
Arsenal 'cry too readily' - Mourinho
Wenger: If I told you we'd be top at Christmas, you'd have told me I was mad!
Ramires also went in late on Arteta, Ivanovic went in high on Mesut Özil and Willian tripped Walcott in the penalty area. Mourinho was pleased with Dean's performance: "I think he did well. I think he had a very good game."
Mourinho said the physicality of the game was in the best traditions of English football. "English people – Frank Lampard, for example – would never provoke a situation like that. Players from other countries, especially some countries, have that in their blood. Foreign players are bringing lots of good things. They come here because they are talented. But I prefer English blood in football."
Arsenal 0 Chelsea 0: Player ratings from the Premier League match at the Emirates

Show all 23
It was the tenth time Mourinho has faced Arsenal and he still has not lost. The Arsenal fans sang "Boring, boring Chelsea" at the end but Mourinho took it as a compliment. "I agree," he said. "I played against them 10 times and I never lost. Funny, funny Jose? 10 times they don't win once."
Wenger was predictably unimpressed by the refereeing afterwards. "We are used to it," he said of the decisions that Arsenal did not get, and that he "did not think [Mike Dean] had a great game at all."
Register for free to continue reading
Registration is a free and easy way to support our truly independent journalism
By registering, you will also enjoy limited access to Premium articles, exclusive newsletters, commenting, and virtual events with our leading journalists
Already have an account? sign in
Join our new commenting forum
Join thought-provoking conversations, follow other Independent readers and see their replies