Arsenal 2 Manchester City 1: Five things we learnt as City slump to defeat at the Emirates Stadium
The Gunners went two points behind leaders Leicester with the win
Jack Pitt-Brooke
Emirates Stadium
Monday 21 December 2015 23:30 Comments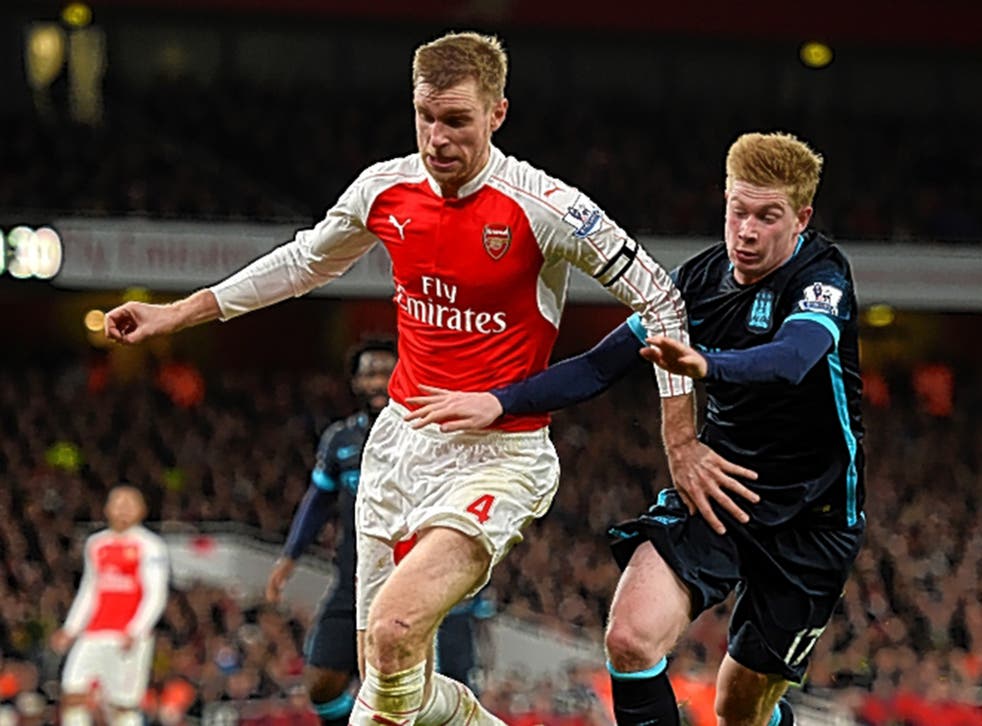 City do not have enough resilience to be champions
Arsenal were always the big club accused of lacking bottle but the evidence of this season, and of last night, is that Manchester City have taken that title from them. City controlled this game for the first 30 minutes and should have taken the lead. But they did not and as soon as they conceded they collapsed. Just before half-time, when already 1-0 down, was the worst possible time to concede a second, but they could not see the half out.
The evidence was already there, from the 4-1 defeats by Tottenham Hotspur and Liverpool this season, but this was another example. City have so little of the strength and grit champions require that, even in this open season, the prospect of them lifting the trophy in May looks highly unlikely.
De Bruyne cannot deliver when the big moment arises
Kevin De Bruyne is a quality player but when Manchester City paid £55m for him last summer they needed him to be ready right now, instantly able to step up to the level of Sergio Aguero and David Silva. Here, though, he had a chance to help City into the lead, to put them on their way to a win that would have moved them two points clear of Arsenal. And he blew it.
De Bruyne was put through by a brilliant Aguero flick, and charging down the inside-right channel he decided to shoot across Petr Cech rather than pass to Silva. De Bruyne's shot went wide, Silva was furious, and within minutes Arsenal were ahead. De Bruyne's return for City so far, in terms of goals and assists, has been excellent. But the big players have to deliver at the big moments and this mistake will stay with City for the rest of the season.
Arsenal vs Manchester City player ratings

Show all 22
Arsenal have a consistency not seen in recent seasons
"Character is down to consistency," Arsène Wenger said last week. "All of us can be exceptional, for one day in our life. But character is to have a target, and maintain your focus on it. That is what I call character, and what we have to show." That is just what Arsenal are doing this season, riding out crises that might have sunk Arsenal teams of the past. This was their fourth win in a row, and probably their most impressive, all without Alexis Sanchez, Santi Cazorla and Francis Coquelin.
Wenger has picked the same starting XI for the last three of those games and, while that will not be sustainable for the whole Christmas period, it does represent an impressive stability just when that was needed. Arsenal have often been accused of not going anywhere but their model appears quietly effective this week. Chelsea have sacked their manager, both Manchester clubs are considering doing the same, and yet Wenger looks the likeliest winner in May.
Walcott is now becoming the finished article, at last
While De Bruyne blew his moment to turn this game, Theo Walcott seized his. Walcott's last two years – 2014 and 2015 – have largely been ruined by injuries, but he has nevertheless become one of Arsenal's most reliable men when they need something. He is an assured scorer of all types of goals and here he gave Arsenal the lead out of nowhere, finding the far top corner from 20 yards. Arsenal never looked back.
Walcott was playing tucked in on the left here, this third position of the season. He has also played wide on the right and as a No 9, depending on which of Olivier Giroud and Alexis Sanchez are available. In short, at 26 years old, he is now close to becoming the reliable, flexible forward that Wenger always hoped for.
Gunners flex reserve muscle with players still to return
Although Arsenal started slowly up until their goal, once they were in front they found a physical intensity which City could not live with. Hector Bellerin and Nacho Monreal were relentless up and down the flanks, winning every loose ball and doubling up on City. Joel Campbell's execution is sometimes raw but there can be no doubting his commitment. And Mathieu Flamini, who looked finished as an Arsenal player at the start of the season, has now anchored a run of wins with the authoritative bark of old. This is not necessarily Arsenal's first-choice team but they are finding a level many thought would be beyond them, with team-mates still to come back.
Register for free to continue reading
Registration is a free and easy way to support our truly independent journalism
By registering, you will also enjoy limited access to Premium articles, exclusive newsletters, commenting, and virtual events with our leading journalists
Already have an account? sign in
Join our new commenting forum
Join thought-provoking conversations, follow other Independent readers and see their replies