Arsenal manager Arsene Wenger calls for overhaul of system that produces elite English referees
After Mike Dean awarded West Brom a controversial late penalty in Monday's 1-1 draw with Arsenal, Wenger has claimed that referees in England are 'untouchable'
Declan Taylor
Tuesday 02 January 2018 17:27 Comments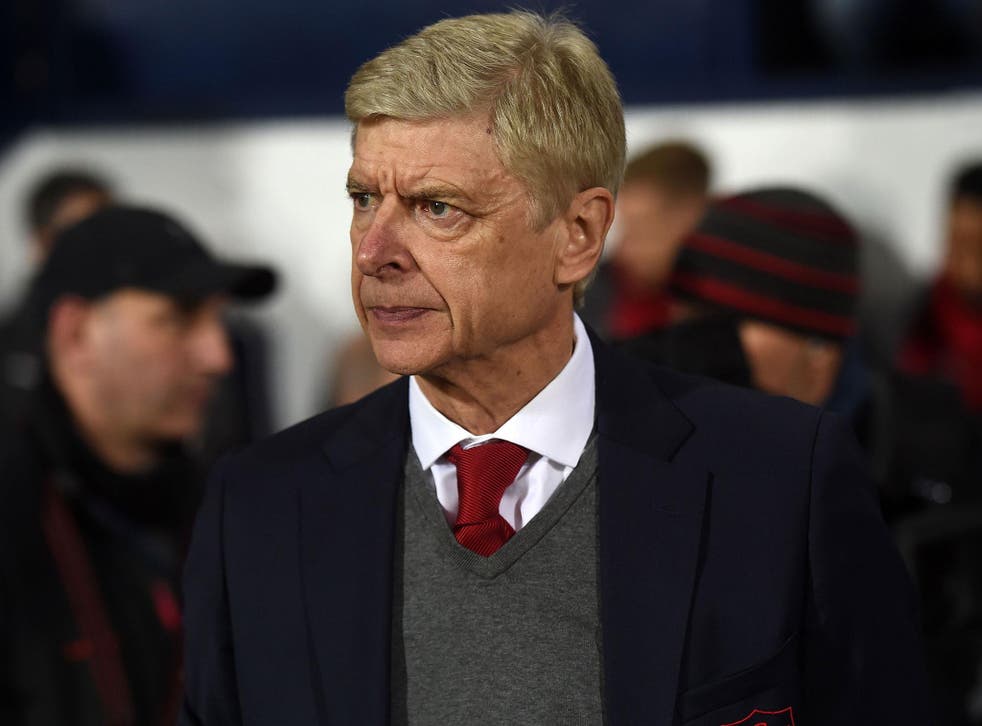 Arsene Wenger has called for a reform in the way English football produces elite referees after claiming that Premier League officiating has lost touch with the 'rhythm of modern society'.
Wenger was incensed when Mike Dean awarded West Brom a dramatic late penalty when Calum Chambers was adjudged to have handled the ball inside the area at the Hawthorns on New Year's Eve.
Jay Rodriguez converted from 12 yards to rescue a 1-1 draw for the home side which prompted a furious Wenger to later declare that referees in England have become "untouchable".
The Frenchman has been charged by the FA for his post-match conduct where "It is alleged his language and/or behaviour in the match officials' changing room after the game was abusive and/or improper and/or questioned the integrity of the match referee," a statement read.
But Wenger, who has until 6pm on Friday to respond to the charge, says there is a deep-rooted problem with the current system in place to produce referees capable of handling the pace of the Premier League.
"They have a shortage of referees," said Wenger a few hours before the FA's charge.
"I think the system of promoting young referees doesn't work. They do not, maybe, give enough chances to young referees to come up.
"We should have a bigger league of referees and the guys who have a bad patch, get them to go down to the second division and promote young refs.
"I think they need a bigger pool of referees.
"I wouldn't say the referees here have never been worse but I have seen some terrible ones in 20 years. They don't seem to have the same rulebook."
Wenger, whose side host Chelsea in the Premier League tonight, believes the root of the problem lies with how long referees spend talking to players during the game.
The Frenchman says, for instance, that referees in Italy deliver their instructions far quicker than their Premier League counterparts.
"Quick, clear decisions," Wenger said. "It's not appropriate anymore, in 2018, that the guy calls a player, speaks half a minute, or a minute to him, to say, 'Look, you have to behave properly.' That is gone.
"That is not the rhythm of modern society. People want crisp, sharp action, and the referee has to make sure that that happens. This is not the 1950s, where the guy says to him: 'If you're not nice, I might punish you.' Come on, let's not waste time.
"What does it help for the game? Nothing. People who sit in the stand don't want to see that. They want to see, 'Come on, let's get on with it and play.' That's our responsibility. We don't live in the dark ages.
"Sometimes I say to the fourth official, when after five minutes the goalkeeper starts to waste time, 'Look up there, there are people who pay a lot of money to watch football. You are responsible to make sure that football happens on the pitch.'
"For me, they have to serve the game like we have to serve the game and to try to give positive emotions to people who love football in the stand. That's what they have to do. They have not to be the star."
Register for free to continue reading
Registration is a free and easy way to support our truly independent journalism
By registering, you will also enjoy limited access to Premium articles, exclusive newsletters, commenting, and virtual events with our leading journalists
Already have an account? sign in
Join our new commenting forum
Join thought-provoking conversations, follow other Independent readers and see their replies