Arsenal vs Liverpool: Five things we learned from a thriller at the Emirates
Arsenal 3 Liverpool 3: A sensational match at the Emirates ended all square, with Simon Mignolet making an error and Mohamed Salah delivering again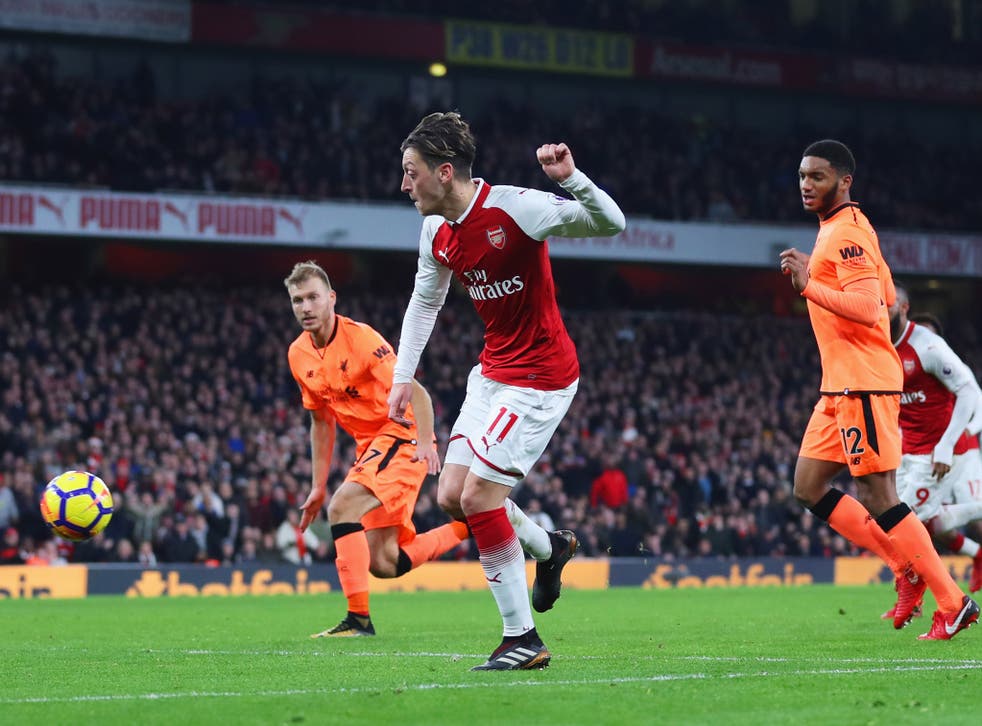 Arsenal and Liverpool played out a breath-taking match at the Emirates as both sides decided to abandon the art of defence for all-out attack, much to the enjoyment of the rest of us – except for the Independent's liveblogger and his blistered fingers.
Liverpool surged in front through Philippe Coutinho's close-range header and Mohamed Salah's deflected shot. But Arsenal came back in a sudden blitz of second-half goals, capped by Mesut Ozil's delightful chip over Simon Mignolet.
However, Roberto Firmino came up with an equaliser to redeem Jurgen Klopp's team, levelling a game which neither attack deserved to lose but which neither defence deserved to win. Here are five things we learned from the match.
Arsenal vs Liverpool: Player ratings

Show all 23
Salah just keeps on giving
The odd thing about this performance is that Mohamed Salah wasn't even that good. He certainly wasn't at the level he reached in Liverpool's November beatings of West Ham and Stoke City, for example. In the first half some of his final balls didn't come off, and a poor touch let another golden opportunity slip by. And yet the Egyptian still drummed up a goal and an assist, albeit both via deflections, his pace in behind a constant menace for Arsenal's shaky back-line. Liverpool may have thrown their advantage away but at least in Salah they have the league's top scorer and one its standout performers.
Both sides ropey at the back
Arsenal and Liverpool are two of the best sides in the country and, with Spurs struggling, you would expect at least one of them to make the top four come the end of the season. But both have their fair share of problems at the back. Arsenal were repeatedly cut apart by Liverpool's 'fab four' and looked particularly vulnerable down the flanks. They simply could not cope with Liverpool's counter-attack. Liverpool's backline isn't that much better, with their defence completely switching off for Alexis Sanchez's goal moments after Salah's second. Both of these teams are there to be got at.
When will Liverpool solve their biggest problem?
There are a few words to describe Simon Mignolet's attempt to save Granit Xhaka, some of them unprintable; the most generous might be 'bizarre'. Why didn't he throw both hands at it? Instead he left his right arm flapping in the wind by his side while limply prodding at the ball with his left. Clearly Jurgen Klopp doesn't have full confidence in Loris Karius, given the German's lack of game time. What is strange is that absolutely nobody fancies Mignolet, except for his manager. The January window is around the corner but Mignolet has survived plenty of them before now and there is nothing to say his manager will lose faith now.
Injuries take their toll
All around Europe, clubs are looking forward to their hard-earned winter break. But in England, the games keep coming thick and fast. It's a strenuous time of the year for clubs up and down the country, and the hectic festive period can often make or break a season. It's not all about winning, either: entering the new year with a clean bill of health is just as important.
So both Arsenal and Liverpool will be desperately hoping that they are able to get their walking wounded back to full speed soon. Jordan Henderson hobbled off clutching his hamstring after only 10-minutes for Liverpool, while Nacho Monreal disappeared at half-time for the hosts. Both men will be greatly missed.
Ozil is flying – he will be missed
Alexis Sanchez was thought of as the man Arsene Wenger needed to keep of his star players on the edge of leaving the club. But Sanchez ended the game on the bench and it is Mesut Ozil who has found some of his best form in recent weeks, his volley against Newcastle last weekend even better than his cheeky chipped finish here. He has been Arsenal's standout player of late and with his contract running down it is a reminder of just how much he will be missed when he surely departs.
Join our new commenting forum
Join thought-provoking conversations, follow other Independent readers and see their replies