Arsenal manager Arsene Wenger hopes for 'easier' title race this season due to new level playing field
The Arsenal manager hopes that the big changes at City, United and Chelsea will give his team an edge in the title race, and that their stability and consistency could win them back the title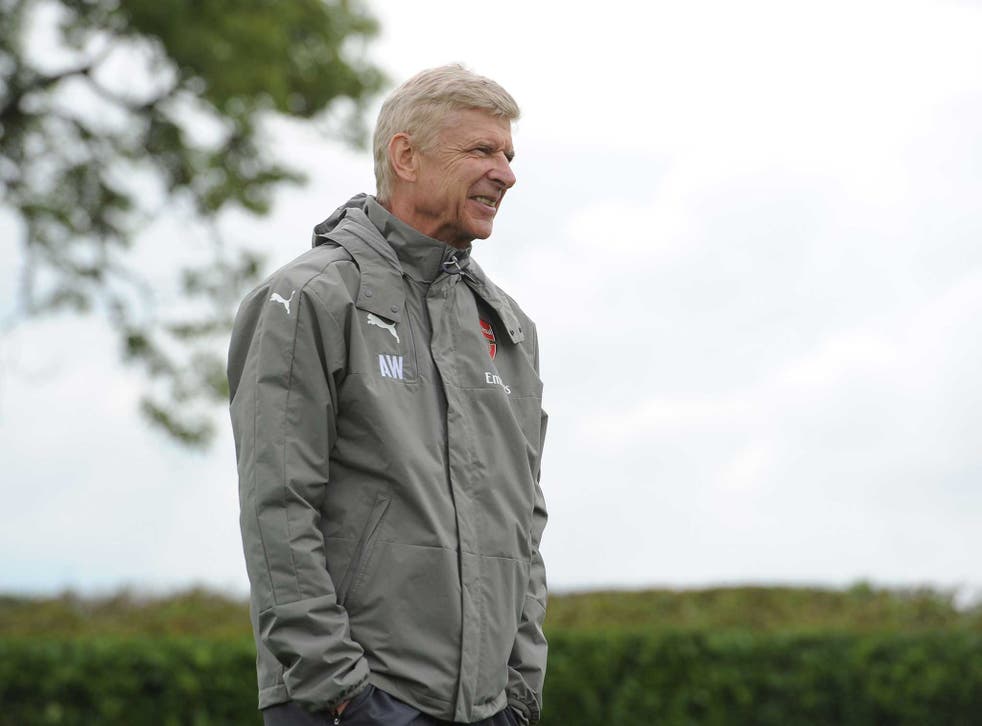 On the eve of another season, approaching his 20th anniversary in charge of Arsenal, Arsene Wenger is more optimistic than ever about his next title challenge. Arsenal have not won the league for 12 years, but Wenger still speaks like a man whose vindication is just around the corner.
Arsenal play Liverpool on Sunday afternoon and will be without their three best centre-backs, their two best midfielders and their two best strikers. They have signed just one senior player this summer, Swiss midfielder Granit Xhaka.
And yet at his press conference on Friday morning Wenger was relaxed and confident. He believes that, having finished second last season, Arsenal have a better chance than ever of winning the title back.
This season looks to be the most competitive and least predictable in Premier League history. There are at least seven plausible title-winners. But for Wenger this makes the title easier to win, rather than harder, because it will require fewer points to get to the top.
"That can make it easier as well, because it means that everyone can drop points," Wenger said. "There can not be just one team than just walks away and nobody can catch. The hope will be alive for everyone in the Premier League longer than ever. On that front, if you are consistent it could be easier."
Will Arsenal be that consistent side? Manchester City, Manchester United and Chelsea are all in flux, having appointed new world-class coaches this summer. That could give an edge to Tottenham, Liverpool, Leicester and of course Arsenal, whose managers have been in charge for longer. Years of stability, Wenger hopes, will be cashed in this season, against sides who are still in the first sketches of their development.
Arsenal - transfer ins and outs

Show all 9
"That is what we have to show," Wenger said. "We don't know. [Pep] Guardiola has come in, he's a world class manager. [Jose] Mourinho has come in at Man United. Will that all click very quickly or will it take some time? We don't know. Sometimes it can work marvellously well, sometimes it takes time. I hope it takes time and we can take advantage of the fact that we have stability."
As ever with Wenger there is a moral element too. He thinks that Arsenal's approach, stability in the dug-out and modest spending, is not just efficient but right. Arsenal winning the league would mean that football had finally come round to Wenger's way of seeing things, which is what he had always been waiting for.
"I believe that a club, despite all the money, is as well about identity. Identity is about values. And values have been carried through generations. It is about the chairman, the manager or players who stay for a long time. I hope that will always be the case. Just spending the money or sacking the manager, football has to be bigger than that."
Arsenal fan asks Wenger to sign Mahrez
Wenger clearly feels emboldened, and closer to vindication, because of what happened with Leicester City last year. Their title win showed that the richest teams do not always finish first, and that not every problem is solvable with money. "Football is not a financial competition," Wenger said, "it is a performance competition."
That has strengthened Wenger's resolve to resist any urge to spend his way towards success this summer. "The information from last season," Wenger said, "is that it is not necessarily the club who invested the most who won the championship, or who had been at the top."
Leicester bucked financial gravity last year but have discovered this summer that money still has a lure. N'golo Kante has left Leicester for Chelsea and Wenger admitted that money cannot be denied forever.
"On the longer distance money is still vital sometimes," Wenger said. "I am 20 years in England now and it is the first time that a team like Leicester wins the title. You can still make fantastic buys at normal, reasonable prices. You saw that with Kante last season. He was certainly a vital aspect of Leicester's chances for the title, but they didn't keep him. So on the longer distance, of course it makes a difference."
If the title race comes down to a contest between spending and stability, then Arsenal and Liverpool, as well as Tottenham and Leicester, will hope it will be won by the latter. It is one of the curiosities of this season that Jurgen Klopp, who replaced Brendan Rodgers last October, is a relative veteran compared to the new coaches of the Manchester teams and Chelsea.
But while Liverpool have had a productive pre-season, filling gaps in their team with serious signings, Arsenal have not. They will go into today's game without their two France players, Olivier Giroud and Laurent Koscielny, who have only just returned for pre-season. Mesut Ozil, Jack Wilshere and Santi Cazorla are doubts, while Per Mertesacker, Danny Welbeck and Gabriel are longer-term absentees.
Join our new commenting forum
Join thought-provoking conversations, follow other Independent readers and see their replies