Arsenal v Southampton: Theo Walcott return boosts Arsenal's attacking options
Wenger believes side can win the league without an addition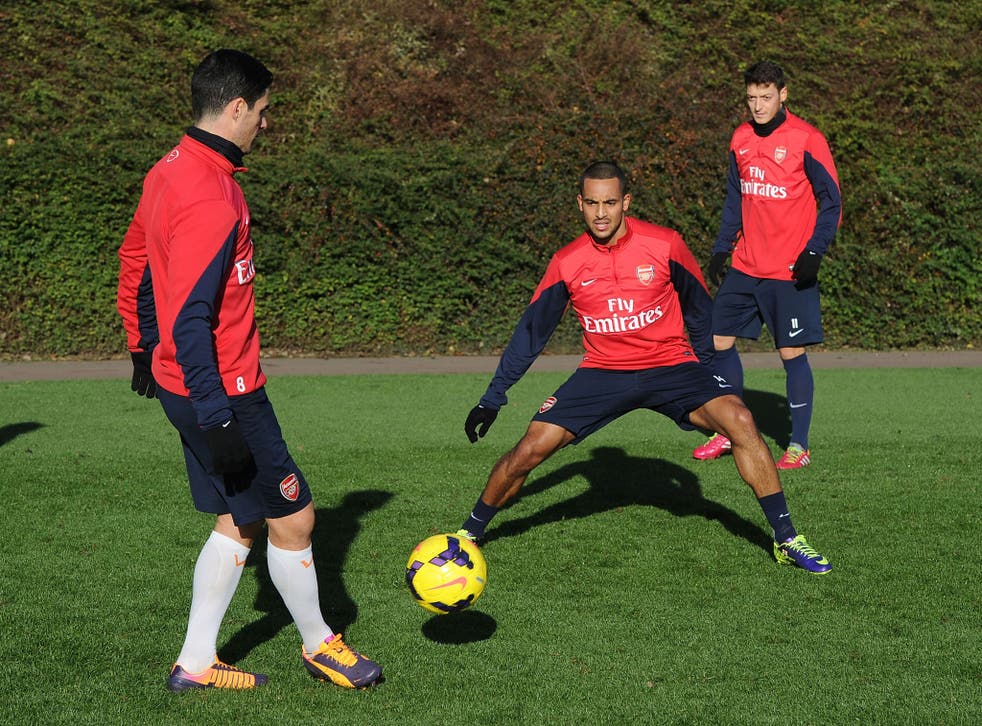 Theo Walcott will return for Arsenal against former club Southampton this afternoon after three months out, providing Arsene Wenger with much-needed options out wide and up front.
Arsenal, as Wenger admitted, "have not done too badly" since Walcott picked up an abdominal injury two months ago, maintaining their lead at the top of the Premier League and winning crucial European games against Napoli and Borussia Dortmund.
But Arsenal have lacked pace in wide areas and alternatives to Olivier Giroud up front, and the returning Walcott provides both. "He gives us qualities that other players haven't got," Wenger explained last night. "It's a different option."
With Santi Cazorla, Tomas Rosicky, Aaron Ramsey, Jack Wilshere and Mesut Ozil, Arsenal have some excellent passing midfielders but maybe not enough variety when it comes to stretching opposition. "It gives us options to score, to go in behind, to create space in the middle," Wenger explained. "We have a lot of players who like to come to the ball so [it is good] to have one or two who go behind and create space."
Walcott can also play in his favoured centre-forward role, where Arsenal certainly need alternatives. Giroud has started every Premier League and Champions League game this season, and with Nicklas Bendtner still unfit and Lukas Podolski three weeks away from a return, he could well be needed.
"Theo gives us an opportunity to be a mobile striker. If we lose Giroud today we have nobody with body weight up front, apart from Bendtner. I think he has the level but he doesn't get enough games, and, in the head, is he here or has he planned to go?"
The returns of Walcott and Podolski mean that Wenger is less likely to buy a new striker in January, and he made clear that he believes Arsenal can win the league without an addition, in a market that he has often found difficult in the past.
Giroud has more competition at international level, having started the first leg of the World Cup play-off against Ukraine but not the second. "In France we have competition for the striker position, between him and [Karim] Benzema. With Giroud you cannot fault his mentality of commitment. If France had gone out he would continue to fight. He has been mentally tested."
Laurent Koscielny was sent off in the first leg and his suspension has not been set yet, and Wenger said it could have a bearing on whether he makes the final squad. "If he gets four games, it could influence the decision of [Didier] Deschamps to take him or not. If he gets less than three, I think he will go."
Koscielny and Giroud are two of Arsenal's big recent success-stories, having been signed from relatively humble French teams but now as full internationals and starters at Arsenal. "It questions a lot about the academies, because in the French national team you have plenty of players who have been rejected by the academies. Their mental strength has been tested because they had to be ejected and they showed that they love it enough and they are ready to put the effort in enough to come back. That is maybe why they are successful today."
Join our new commenting forum
Join thought-provoking conversations, follow other Independent readers and see their replies