Arsenal back in top four reckoning, Jose Mourinho gives up personal record for Man United's Europa League campaign
Six things we learned: Axel Tuanzebe shines but Chris Smalling and Phil Jones suffer while Danny Welbeck proves a point against his former side in Arsenal's 2-0 victory over United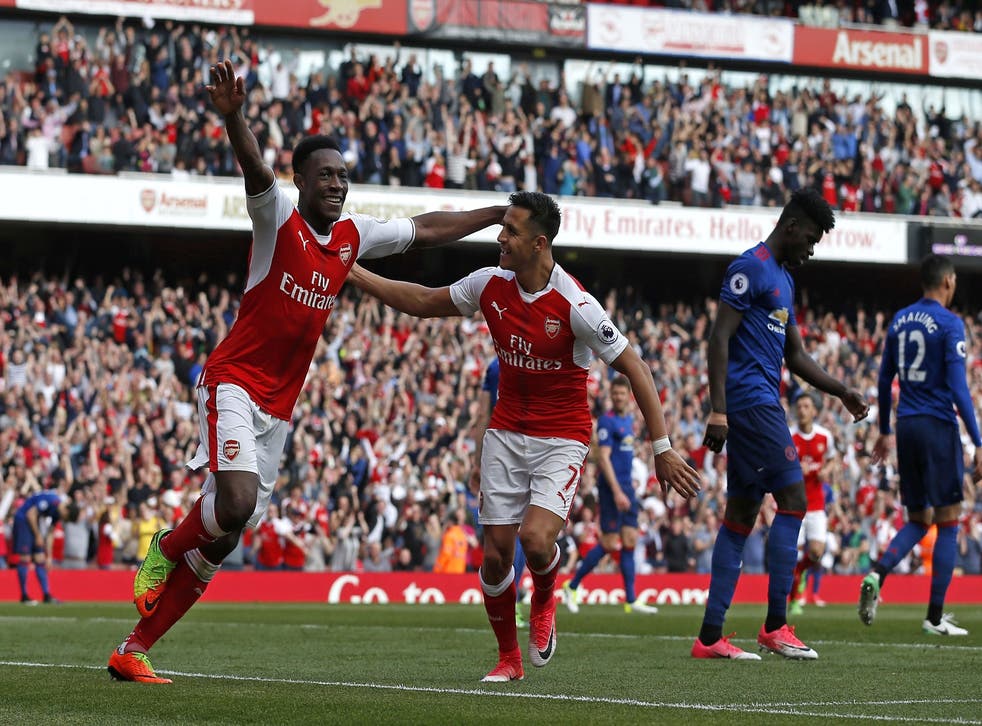 Arsenal can't be ruled out of the top four yet
It would be typical Arsenal to make the top four on the final weekend of the season, but this performance didn't make that scenario seem that farfetched. With two games in hand on Liverpool and United focusing on their Europa League campaign, could Arsenal still feature in next year's Champions League?
They have a long way to go, but games against Southampton, Stoke, Sunderland and Everton – all teams with nothing to play for – will be very winnable. Claim 12 points from 12, which would put the Gunners on 75 points, and Liverpool need to win both of their final games to ensure Arsenal don't replace them in the top four. The battle is on.
Arsenal vs Manchester United player ratings

Show all 22
Mourinho really is serious about United's top four chances
Even when he says he will play a weakened team, you just don't know whether to trust Jose Mourinho or if he has already kick started the mind games when it comes to facing Arsenal. The Manchester United manager holds an impeccable record against Arsenal along with the mental stranglehold that comes with having never lost to them or, more importantly, Arsene Wenger.
So to make eight changes, all bar David De Gea bringing in a weaker player in Mourinho's pecking order, just goes to show how much he believes that United will not finish in the top four. That didn't look as clear come kick-off following Liverpool's failure to beat Southampton, but if he can guarantee United's progression to the Champions League via a Europa League victory – that brings with it a second major trophy of third overall this season – then even his record against Arsenal will be put on the line.
Arsenal would be in even more trouble without Cech
It was Petr Cech who ensured that Arsenal's north London derby defeat was contained to just two goals. It was Cech, again, who bailed out young defender Rob Holding shortly after the half an hour mark, and it was Cech who once again kept Arsenal in the game repeatedly.
The former Chelsea goalkeeper looked a steal for Arsenal in the summer of 2015 at just £7m, and he has proven exactly that. His save from Wayne Rooney's shot, after Holding had foolishly dallies on a deep ball by taking a touch away from goal before playing a lax pass back into the box, gave Rooney a one-on-one chance that he should have scored from, but Cech quickly rushed off his line, closed the space down between them and rushed Rooney into a poor effort that deflected off him and out for a corner.
Cech has been Arsenal's best player since he returned from injury last month, and while that would be easy to say due to the repeated poor showings in front of him, it's a completely deserved accolade.
Tuanzebe justifies Mourinho's hype
Each time Mourinho bemoaned his lack of defenders due to the injury curse his side appear to have been struck down by, his answer was to tease the debut of Axel Tuanzebe. He finally took the risk and deployed the 19-year-old England youth player, albeit at right-back rather than in the centre where he's more accustomed to.
The teenager can be proud of his first Premier League performance, and, hopefully, Mourinho is too. Out of the four defenders Mourinho selected – rather than the 10 that his tactics during the match suggested – Tuanzebe was the most impressive, and he was not afraid to ruffle a few feathers either with a strong legal challenge on Alexis Sanchez leaving the Chilean on the floor complaining to no avail. Most of Arsenal's success came down the right flank, and for that Tuanzebe can be credited with a very impressive showing.
Jones and Smalling struggles show Mourinho he's wrong
Mourinho has drawn out positive responses from a number of his players this season by criticising them, yet his annoyance with Phil Jones and Chris Smalling not playing through injury feels bemusing. Rather than ease the pair back into competition, Mourinho elected to play both of them together for the first time on two months, and their rustiness showed.
Jones was run ragged by Alex Oxlade-Chamberlain in the first half, and while that may not be surprising given the difference in styles, Aaron Ramsey also targeted the England international with plenty of success. It was Smalling who found himself out of position to allow Danny Welbeck to head in Arsenal's second, and given both have not played in more than six weeks, it's hardly surprising they were at fault.
Welbeck proves a point
It's a well-known fact that it was United who were happy to sell local-lad Danny Welbeck to rivals Arsenal in 2014, with former manager Louis van Gaal feeling that the England forward was not good enough to make it in his first team. Welbeck's response has been a sheer determination to show the club they were wrong, and more often than not he does so.
The striker has scored three goals in four appearances against United – a stat that is all the more impressive given he's missed most of two seasons since arriving at the Emirates. With Zlatan Ibrahimovic out for the long-term and Marcus Rashford struggling to carry the workload alone, how United would long for Welbeck right now.
Join our new commenting forum
Join thought-provoking conversations, follow other Independent readers and see their replies