Arsenal vs Swansea City match report: Bad luck and a lack of ruthlessness mean Gunners miss routine home win
Arsenal 0 Swansea City 1: How on earth did Arsenal lose this game?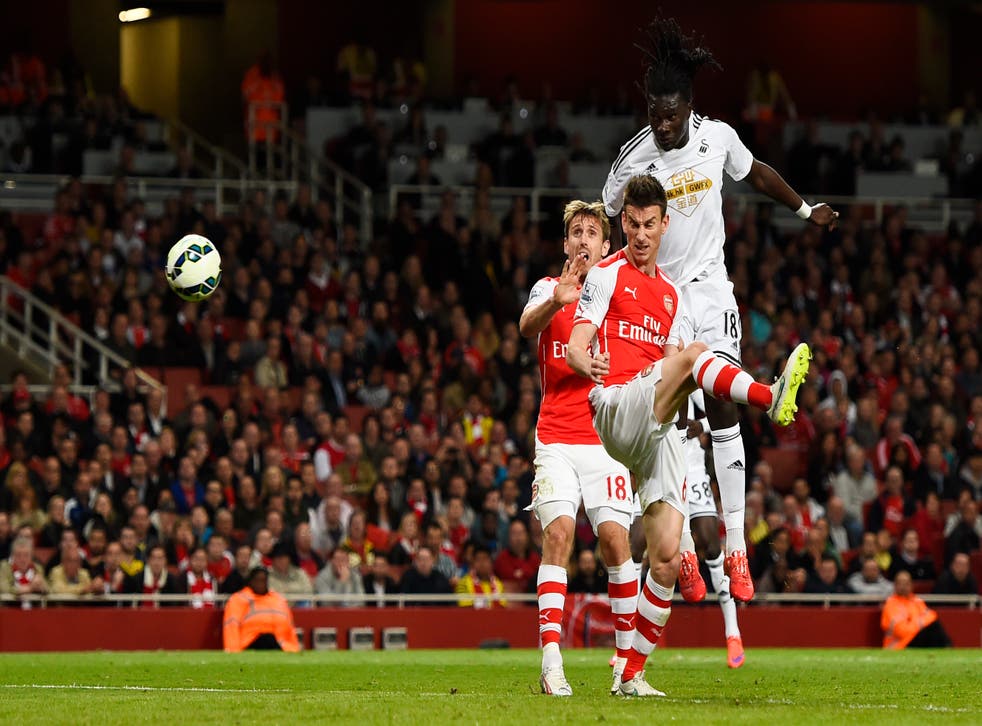 It is a recurring nightmare at the Emirates Stadium that the talented group of players assembled by Arsene Wenger can occasionally do everything bar score the goal that will win them the game, and against Swansea City it was that doomsday scenario that prevailed.
Bafetimbi Gomis' winning goal six minutes from time was the only serious attack that Swansea had in the second half which, by and large, featured a siege on the away side's goal repelled by an outstanding performance from the Arsenal old boy Lukasz Fabianski. This was his 13th clean sheet of the season, and a remarkable effort against an Arsenal attack that nevertheless seemed incapable of putting the ball either side of their former team-mate.
Gomis' goal, given by the goal decision system after David Ospina scooped it back over the line, was a blow that Wenger found just too hard to take. Afterwards, he retreated back to his default setting of complaining about Swansea's defensive approach to the match which, although broadly true, ignored the obvious point about football being a game of competing styles and approaches.
For Garry Monk, this was the season's double over Arsenal to go with the season's double over Manchester United and vindication of what he sees as the adaptability of his team's tactics. Gomis had not been fit enough to start the game and Monk had to play Gylfi Sigurdsson as his most advanced attacker, which was not saying much. Yet Monk was in no mood to worry about Wenger's view.
Arsenal vs Swansea - player ratings

Show all 24
In eighth place just a point behind Southampton, it might turn out that Swansea find themselves in the Europa League next season – with seventh place yielding a berth in that competition should Arsenal win the FA Cup. In that case it would mean Swansea starting in the third qualifying round, with their first game on 30 July, which is a mixed blessing to say the least. Monk was diplomatic about the prospect but hardly enthusiastic.
As for Arsenal, they must now hope Manchester City slip up to yield them a chance of second place. Lose to Manchester United on Sunday and they will be fourth, albeit with a game in hand. An unbeaten run in the league that stretched back to Tottenham on 7 February is now over and Wenger was forced to say that his players were not already allowing their minds to drift to the FA Cup final.
There was an unmistakeable discontent, however, at a stadium that will worry their team are running out of steam. As Fabianski was applauded off by the few remaining Arsenal fans at the end of the game there was a sense of disbelief at how they had blown it.
The slow first half might best be summed up by the trace of an apology with which the stadium announcer introduced the highlights at half-time. Swansea had come with a five-man midfield and a nominal striker in Sigurdsson who spent just as much of his time being the sixth midfielder.
Monk relied on Jefferson Montero's pace on the counter-attack to give the team a way out of Arsenal's suffocating possession. For all that possession in the first half, Arsenal did not manage to operate much in the areas that might unsettle Swansea, which is to say the home team passed the ball in front of their opponents rather than through them.
These are the games which should suit Wenger's team, when they must find a way to goal through the feet and shins but they never got close before the break. In the meantime, Swansea did what they thought was necessary to stop the most dangerous players in the home team, starting with a brutal challenge on Alexis Sanchez by Jonjo Shelvey in the first three minutes.
Arsenal's luck in front of goal was best summed up by a free-kick routine between their two Germans in which the intention seemed to be that Mesut Ozil would strike the ball at the space in the wall vacated by Per Mertesacker. In the end, Ozil succeeded only in hitting Mertsesacker. Later, there was a groan when Aaron Ramsey sliced a throughball straight out of play.
It was a different proposition in the second half when Wenger's team came back out with a bit more purpose about them and the manager shifted his team onto a more attacking footing. Primarily by bringing on Jack Wilshere for Francis Coquelin and then Olivier Giroud was withdrawn in favour of Theo Walcott.
For once, Walcott was entrusted with the central attacking role in the Arsenal team, although by this time they had Swansea pinned back so far that the spaces behind the defence that the Englishman thrives on had closed up. Ozil, Ramsey and Santi Cazorla had all either missed of been thwarted by Fabianski within the first 20 minutes of the half
Very soon it became Fabianski against the world as Arsenal became urgent and committed numbers forward to attack the home side. With about 12 minutes to go, the indefatigable nature of Fabianski's performance became the all-consuming story of the night. He saved from Sanchez and then Walcott; and then he was the equal of yet another shot from Cazorla.
Gomis' goal was a header from a cross from Montero after a break from the substitute Modou Barrow. As Ospina protested, referee Kevin Friend gestured helplessly at the screen on his wrist where the decision was communicated – and everyone knows it is pointless to argue with the technology these days. At times like this all the old fears grip the Emirates stadium which, at the end of a long unbeaten run, saw their team's vulnerable side again.
Arsenal (4-2-3-1): Ospina, Bellerin, Koscielny, Mertesacker, Monreal; Coquelin, Cazorla; Ramsey, Ozil, Sanchez; Giroud.
Subs: Wilshere/Coquelin 66, Walcott/Giroud 68
Swansea (4-1-4-1): Fabianski; Rangel Fernandez, Williams, Taylor; Cork; Dyer, Shelvey, Ki, Montero; Sigurdsson.
Subs: Richards/Rangel 59, Gomis/Ki 74, Barrow/Dyer 79
Booked: Swansea Shelvey
Referee: K Friend
Man of the match: Fabianski
Rating: 5
Register for free to continue reading
Registration is a free and easy way to support our truly independent journalism
By registering, you will also enjoy limited access to Premium articles, exclusive newsletters, commenting, and virtual events with our leading journalists
Already have an account? sign in
Register for free to continue reading
Registration is a free and easy way to support our truly independent journalism
By registering, you will also enjoy limited access to Premium articles, exclusive newsletters, commenting, and virtual events with our leading journalists
Already have an account? sign in
Join our new commenting forum
Join thought-provoking conversations, follow other Independent readers and see their replies