Arsene Wenger outsmarts Mauricio Pochettino as Arsenal leave Tottenham with no answer at all
Arsenal 2 Tottenham 0: Goals from Shkodran Mustafi and Alexis Sanchez secured a deserved win at the Emirates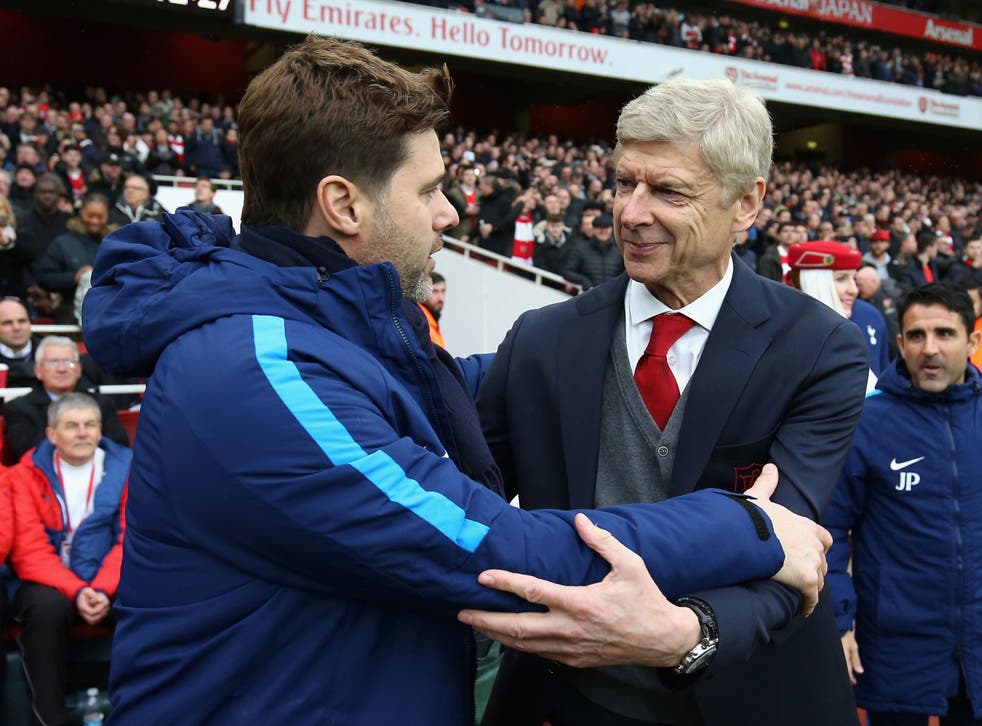 If there is a much-discussed power shift in north London, it was on this occasion Arsenal just shifting up through the gears, for a 2-0 win that should be much admired. A surprisingly tepid Tottenham Hotspur just couldn't live with the home side's ferocious tenacity, or find any response to it. Even if they could complain about key decisions, they couldn't complain about the fairness of the scoreline.
Arsene Wenger ensured his impressively front-loaded side were first to everything from the very start, and thereby got his first league win over Mauricio Pochettino. The Argentine is meanwhile still waiting for what would only be his second win away to one of the top six. It still remains a ceiling that Spurs can't really break even if they have cracked it once at Manchester City, and feels representative of the limitations they still have to overcome if Pochettino is to really overachieve and succeed at this club in the way his talent - and, perhaps more relevantly at the moment, his reputation - suggests he should.
That is all what makes it more surprising that there was an apparent complacency to Spurs here, as if they expected to just turn up and win, but that would is only one side of the story. The more important side was that Arsenal were so comprehensively better. It was a complete performance, a total victory, as befitting a selection that saw that complete front three of an alert Alex Lacazette, a purring Mesut Ozil and an ever-powerful Alexis Sanchez.
Arsenal vs Tottenham: Player ratings

Show all 22
They were just in the zone here, and blew Spurs away.
Arsenal's immediately strong start to the game was all the more striking because, for someone as tactically forensic as Pochettino and in a season where his team have shown such variety to their system, they seemed completely unprepared for Wenger's approach to this match. Hugo Lloris' backline just couldn't handle the hyperactivity of Arsenal's frontline.
This is something else that Wenger deserves credit for. Arsenal's starting line-up looked on paper like the best available to the manager, but also perhaps the one that most played into Spurs' hands, a factor that felt all the more ominous given that the Frenchman has so often been accused of just putting out sides with little thought for the opposition and how he should adapt to them.
That was not this. Arsenal's front three pressed relentlessly high, really taking advantage of the absence of Toby Alderweireld. The rest of Spurs' defenders just weren't ready for it and were regularly caught out.
It wasn't just at the back that Spurs were looking so meek though. A supposedly muscular midfield that included Moussa Sissoko instead seemed immobile rather than imposing, with Arsenal - and especially the excellent Aaron Ramsey - expertly picking holes in it. It suddenly didn't matter that Wenger hadn't put out a proper defensive midfielder, because the way Arsenal were playing meant they had no real need for one. Their proactivity and pressing were the best protection possible.
Ramsey's passing was the source of Arsenal's best attacks, and clear best tactic, as they had seemingly figured out how to get at Spurs: down the left. There were just so many times when one of Hector Bellerin or Sanchez was suddenly free with so much space around him on that side of Lloris' box.
It brought so many moments of danger in the opening half-hour, but not the opening goal. That came in another area that exposed how much Spurs miss Alderweireld: in the air. Sanchez had been breaking down the left only for Davinson Sanchez to be called for fouling him. Mesut Ozil then swung in the free-kick and Shkodran Mustafi headed in the perfect header off the post.
Spurs could again fairly complain of a refereeing error, but only after they'd looked at their own.
It was much the same for the second goal, minutes later. They again failed to stem the flow down that left side, and Sanchez eventually punished them, even if they were also doubly punished by an incorrect linesman ruling he was onside.
What was even more galling for Spurs was that the Mustafi goal had come shortly after Christian Eriksen had hit the post and it looked like the game might be changing, but the core issue was that Pochettino hadn't changed how his side were set up. They were there to be got at, and were.
He eventually changed it rather drastically late on, hauling off the unfit Harry Kane and under-performing Dele Alli, looking to go long to launch it to Fernando Llorente.
The match was already too set, though. Emboldened by their fine start, and so clearly in such an assertive mood from the manner of their lead, Arsenal stood up to everything so easily. Even when Spurs finally got beyond the rock of Laurent Koscielny, Petr Cech was their to pound away Eric Dier's header.
It was another defeat away to one of the other top-six sides for Spurs, but another emphatically comprehensive home win over one of them for Arsenal.
Among of the questions from this result was whether it was their best display since the 3-0 over Chelsea here last season, or the 3-0 over Manchester United the season before, or whether it was actually superior to both?
That should lead to an even bigger question of course. Why is it seemingly only once a season? Why can't Arsenal look like this lively and strong-willed team more often in key matches, rather than the fragile side they usually seem? By the same token, why do Spurs then look so fragile in these big away games, rather than the lively and strong-willed side they otherwise are? Why does that happen five times a season?
They are discussions to come. For now, Arsenal ended any discussion about this game. They were comprehensive and deserving winners, leaving Pochettino with no answers whatsoever.

Join our new commenting forum
Join thought-provoking conversations, follow other Independent readers and see their replies