Arsenal's win over West Brom was characterised by further searching for the fluency of old
The Wenger teams of old were so flowing and effective, and yet Arsenal now look at their fluid best when some of their 'sunshine boys' aren't even in the team
Miguel Delaney
Emirates Stadium
Tuesday 26 September 2017 11:54 Comments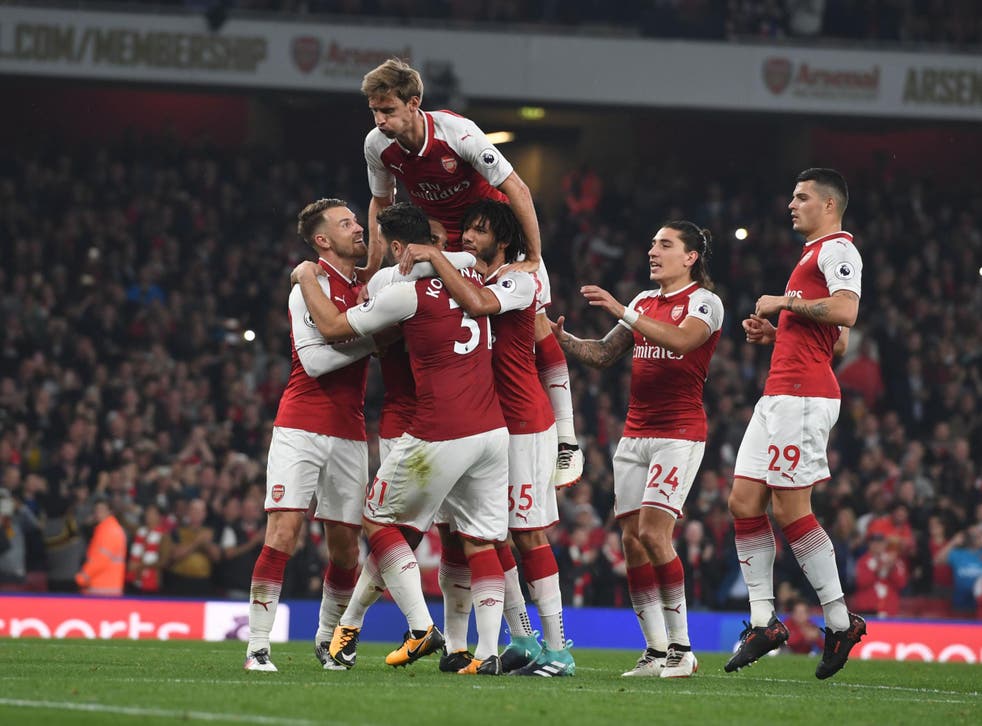 If one of the defining features of Arsene Wenger's very best years was an effortless fluency that made his teams so irresistible, it so often feels like one of the defining struggles of his more difficult last decade has been the stuttering attempts to recreate that; to hit those sweet spots again.
Arsenal's 2-0 win over West Brom was a mostly humdrum Premier League win for one of the big six, but also a match that actually captured much of this. It at once showed what Arsenal are capable of and what Wenger so wants, but also reflected the harsher reality that they so rarely execute that for extended spells or matches of genuine importance. There is always a caveat.
Sure, there were moments when they were so marvellously fluid against West Brom, especially when Alexandre Lacazette was playing with all the confidence from a second goal of the game and fourth in three matches at the Emirates… but they all came after that second goal came in.
Arsenal only really turned it on once they were sure they had turned the game in their favour, and were almost disproportionately bolstered by the confidence that came from that clinching goal that they instantly went from so many "nervy" situations - as Wenger himself put it - to so many moment self-expression, including one lovely double pull-back from Lacazette.
Even this dynamic, and rather natural bit of psychology, is something that feels particularly pronounced with Arsenal. There are many at the top end of the game, and who work with more sophisticated football analytics, who feel that Wenger's side really are the ultimate "confidence team" in this way. While their stats have been superficially promising for the last few years, fostering the idea that the team are only a few tweaks from top quality, the deeper figures suggest that those stats are distorted by how Arsenal are transformed once in a commanding position in a game. That fluency then returns in abundance.
John Giles of course had a more basic term for that kind of dynamic: "sunshine boys", the players who couldn't get enough of the ball when things were going well, but were nowhere near so assertive when they weren't.
Some of this is all the more relevant to Arsenal because of how Wenger works. He actively seeks to build 'confidence teams', to create a mood and vibe around a side so that they get to the point were they interchanging and expressing themselves through what seems like mere instinct.
Why this worked so well with his battle-hardened best teams but hasn't in the last decade has been much discussed over the past few years, and ultimately comes to the old great's long-standing managerial idiosyncrasies clashing with the modern game. There was also something idiosyncratic about this display late on: Arsenal began to find that fluency without their most fluid player - Mesut Ozil.
As the German's contract runs down, it does feel like there is an issue growing at Arsenal, over how the playmaker will be used. That issue is only more pointed when Wenger has so far been reluctant to play Ozil, Lacazette and Alexis Sanchez together - raising all manner of questions.
When they eventually play together, it will be revealing.
Whether they can more regularly find that elusively fleeting fluency will be even more revealing.
Register for free to continue reading
Registration is a free and easy way to support our truly independent journalism
By registering, you will also enjoy limited access to Premium articles, exclusive newsletters, commenting, and virtual events with our leading journalists
Already have an account? sign in
Join our new commenting forum
Join thought-provoking conversations, follow other Independent readers and see their replies